As a kid, I remember spending my days playing outside, eating ice cream bought from the Good Humor man, swinging as high as I could before  jumping off, playing softball in the intersection, catching lightning bugs and playing freeze tag in the dark.  These are things I assumed my kids would do and enjoy.  In a way, to me, they define childhood.

However, my boys' childhood looks dramatically different.  For my oldest, his childhood has involved intensive therapies, starting school full time at the age of three, doctors visits, blood draws, bitter and smelly supplements, and lots of tantrums.  I'm not sure if he understands how much he's been cheated out of because of his Autism.  There are no real lazy summer days full of fun and adventures like on Phineas & Ferb, or like I experienced as a kid.  I had no real rules.  About the only rules I had were to respect my elders and to have fun.  Our oldest has a whole slew of rules.  My boys were both cheated out of what I think childhood should look like.  The little one doesn't have it as bad, but when he was a toddler, he was dragged to and from therapy with his brother.  He got to spend his time in waiting rooms with old broken toys and no one to play with.  When he started asking for things, he would nearly always hear, "No, it'll upset your brother" in reply.  I'll never forget when we dropped off his brother and this little voice asked me, "Mom, can you please buy me some friends?  I want friends to play with.  My brother doesn't play with me and I want friends to play with."  In short, our boys are deprived of what our generation and generations before us knew childhood to be like.
Our nine-year-old was always stubborn.  He's a lot like me in that way (must be the Aries in him).  The older he got, the more defiant he became.  He started refusing his supplements, boycotting therapy, and was/is all-around obstinate.  I was in "fix him" mode and all I really wanted was for him to be this happy little boy again — to see him laugh and play and smile at me.  He still had a long way to go, but he started flat-out refusing all our interventions.  He was so very oppositional with me one night that I was at my wits' end with him. I sat him down and explained that I was doing what I thought he needed to get better.  His response to me was, "No one can help me.  No one can fix me. I'm broken.  Leave me alone." I was crushed and devastated.  No one should feel that way, especially a seven-year-old boy!  Since we were in one of the longest plateaus we've ever experienced with our 'non-responder' son we agreed that we would take a leave from biomed.  Being the stubborn person that I am, still in fix-it mode, I turned to homeopathy.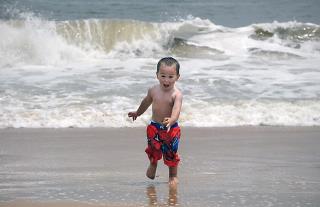 This began my realization that as much as I wanted him to be this happy little boy, I wasn't giving him the room to just be a kid.  I have always been scared to death of the idea of taking the kids on vacation or camping. As much as I want to do those things, it just scares me.  What if he tantrums?  What if he hates it?  The questions just kept coming, fueling my anxiety.  Thank God for my mom.  She got this idea that she was going to start taking our family on a vacation each and every year to the same place.  Maybe the first year will be rocky, but then he'll know what to expect the following year and maybe it'll get better.  So, we spent the last full week of school on vacation on an island, and it had to be one of the rare times we could see our son as if he was neurotypical.  The Autism was gone.  He was a kid.  A happy little kid!  Jumping in and out of the waves, smearing sand on himself, running up and down the beach laughing at the birds that were trying to steal bait from the fishermen.  He was happy!  Everything we ever wanted.
He's still far from being an all-around happy kid without a care in the world, but we actually think we can safely take more vacations with him and maybe try camping this summer.  Just last year we taught the boys how to catch lightning bugs.  They discovered on their own that if you smash them when they're lit up, the goo will still keep glowing and you can use that as glow in the dark war paint!  We roasted marshmallows around our fire pit and watched the bats flutter around the backyard eating those pesky mosquitoes none of us like.  My husband tried to point out different constellations and get them thinking about how big this world really is.  It was great.  We are so looking forward to living more like a 'normal' family and enjoying life.  Maybe we can salvage what is left of their childhood.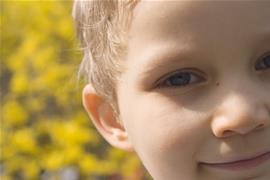 As much as my son insists that I need to leave him alone — that he's not fixable — I intend on learning as much as I can at Autism One this year.  I never get to stay for the full conference because that is when my mom takes us all on our much-needed vacation, but I will definitely be there as long as I can, to learn as much as I can, to get my boy back and to give him his childhood back.  I know he can still get better.  There are things we've still not tried and new therapies coming out all the time.  He can fight me all he wants, but if I didn't do the things I do, he wouldn't have the ability to protest.  He'd still be locked in his own world, self abusing and oblivious to the world around him and most of all… not experiencing a childhood he deserves.
~ Cupcake