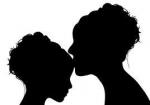 Any Catholic out there knows that today is a holy day of obligation.  All Saint's Day.   It is a day to honor all saints, known and unknown.  As the TMR with the nickname "Saint," I could not resist the opportunity to write a blog for today.  
For many of us, whether we realize it or not, Saints play a role in our daily lives.  C'mon, who hasn't prayed to St. Anthony a time or two when searching for a lost item?   Many people look to their patron saints when in need – and boy, is there a Saint for everyone and everything.  Just check out Dr.standley.com and  you will see for yourself.
Not that parents of special needs children are anti-religion , ( because many I know are as devout as they come), but if you ask them who they think are the real saints, I dare to say the answer will not come from the list above.  The true saints to our kids are their peers that are kind to them, include them, do not judge them, stick up for them, understand them and just "get it". 
Over the years as a parent and School Psychologist, I have met many (too many) that would not fit into that category. Fortunately, I have met a few that would.  I would like to take this opportunity to introduce you to a few of the unknown "saints" that I am honoring today. 
Back in June, through my blog "Onwards and Upwards"  I shared with the TMR readers the details of what my daughter endured throughout her Middle School years.  I mentioned that all but one of her former friends turned their backs on her.  It was one sentence in a lengthy blog, but many readers reached out to me and wanted to know more about that "one".  More importantly, I think people wanted to know how to find someone like her for their child.  
With the permission of her mom, I would like to formally introduce you to Cassie.  I have had the pleasure of knowing Cassie and her family since she was five years old and played t-ball with my daughter.  I have always known her to be a special soul, but this was only validated a few years ago when her mother e-mailed me a poem that Cassie had written.  As a 6th grader, she was given the assignment to write a poem explaining what prejudice meant to her.  The class was studying Martin Luther King, Jr but it was up to each individual to write about any topic they wanted.  Most of the students, following the lead of MLK, Jr wrote about racial prejudice. Not Cassie.  Already an outside of the box thinker, Cassie wrote the following:
It Makes Me Think…
 I see the sweet smile on her face
 I feel the pain in her heart 
As she walks on, she wishes – hopes – that today will be different 
The other kids come by 
Staring, laughing, pointing, joking
Her confidence no longer remains 
Tears flow softly down her cheeks
By-standers only watch in fear 
Fear that if they come close, they, too will be judged 
I come touch her shoulder in a reassuring way 
My faint smile tells her "there's always tomorrow"
Her strength gathers as she urges on 
It makes me think… 
Her medical condition blocks them 
From getting to know the real her
I can try, but I can't do it alone 
Together, we can stop this injustice 
Only together we can stop this prejudice.
Yes – that was written by a 6th grader with more insight into the pain of a peer than many adults I know.  Cassie is as beautiful inside as she is out.  She has the ability to "see" things in an individual that others her age cannot.  Although the girls attend different high schools now, I am happy to report that they have kept in touch and each time they see each other they run to one another with such enthusiasm you are not sure they will actually be able to remain on their feet.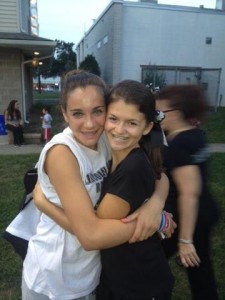 Cassie is kind, loving, empathetic, fair, honest and true.  Everything a saint should be and everything you could wish for in a friend for your child.
Even though Cassie is enough inspiration for this blog, recently, I have been blown away at the saint-like qualities of one of Jazmine's current classmates.  For the most part, as expected, Jaz has made friends and is very happy in high school. However, as also expected, her social difficulties did not disappear overnight.  Sigh.  Unbeknownst to Jazmine, this has caused some peers not to like her – sad, because she describes the very same peers as friends.  Apparently, for fun, one student thought it would be a good idea to create a "team" who would make it their job to torture Jaz throughout her four years of high school. He texted the following "I want the next four years to be hell for her…I want her hs life to be ugly…do whatever you can to make it ugly. I will get everyone to do it ok" – amongst many other things that I am choosing to not repeat. I won't get into the details of how it was resolved, but due to the courage of Jazmine's peer, along with the fast action of a fabulous staff member, this extreme form of bullying was put to rest before it even began.  I told this girl how much character she displayed in coming forward and how by doing so, she put herself at risk of becoming the next target.  She replied that she was not worried about that because what the kids were doing was wrong and Jazmine was undeserving of it.  Amazing fortitude for a 14-year-old in a new school – amazing!  When I spoke to this girl's mom, I thanked her for raising such a wonderful child – one that may be responsible for saving my daughter's life, as we all know too well how tragic many of these situations turn out.  
Yup – another saint on my list.  My daughter is lucky to have people like this who see her for who she is and can overlook her differences.  In addition to these phenomenal young ladies, she is blessed by her "cousins" (my best friend's kids) who were Jazmine's first friends when she joined our family.   Jennifer and Joey would do anything to protect Jaz from harm and from mean kids.  They cry real tears of pain when Jazmine endures bullying for just being herself. Joey – who normally shies away from the plethora of attention Jazmine bestows upon him (can't say I blame him) is now going out of his way to be a protective and caring big cousin at school. Who could ask for more?  Check. Check.  I just added two more saints to my list. 
So, as I will continue to light candles at St. Patrick's cathedral, and the various other churches I visit in honor of the many saints that are important to my family, I will also light candles in honor of these extremely special young adults and the many others just like them.  It takes qualities that many their age do not have – or choose not to use – to stick up – for someone weaker than them. 
So tell me my fellow thinkers, do you have a special "saint" in your life?  One that makes a huge difference for you or your child?  I truly hope so and I would love to hear all about them. 
xoxo
Love,
Saint
To read more blogs by Saint, Click Here.