Recently I shared a picture of my Statement of Accomplishment from Paul Offit's vaccine course.   To catch everyone up, I have been taking courses in a number of different subjects with the intention of learning every possible aspect of autism.  However, this one was different.   I didn't sign up to learn something about vaccines, as I have been studying that for years; I signed up to learn about the opposition.
Last year I realized that our strategy all along has been pretty simple: to share the truth.  After all, who could turn their backs on our beautiful children?  If we just stood together in large numbers, the world would take notice and things would change.  We would share our stories and reach out to everyone we could.   And the more of us that were Thinking, the more of us that did it, the closer we would be to the truth and to change.
And it works, because we do have adorable kids. People are talking, and things are changing.  We have stood together, and people are THINKING.  But this is not about getting a stop sign down on the corner of the street where kids walk: This is a war over the health and future of all children!  And, if ever we were going to really flip this conversation upside down, we were going to have to view this as the battle it is.
So how does this figure into Offit's class?   I was listening to some people from the opposition one day and hearing the same things repeated.  It read like a playbook.  The exact same keywords, phrases, deflection, and denials over and over.  And I realized that this was their strategy.  But they failed in one respect.  They underestimated us.  And in that moment I knew exactly what we needed to do.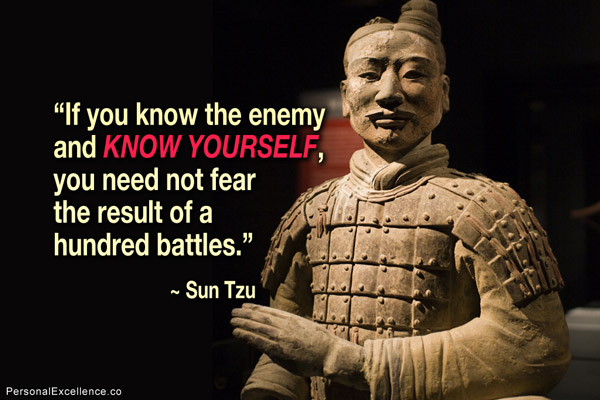 We need to think through, not just our next step, but their next step.  We need to infiltrate the ranks, counter their plan of attack.  And, in order to do this, we need to KNOW who we were up against: not just who they work for or what they stand to lose should the truth come out, but what kind of people they are, how they think, the words they use,  the tactics they use to sway opinion, the way they twist the data to fit their agenda.  We need to understand exactly what it is that we face.
And this class was one way to do this; we could see both the information being taught and the people involved.  So I grabbed a few friends, and we jumped into the course.  Now I imagined that the class would be predominantly vaccine supporters — sprinkled with some curious parents — but even I was shocked.  The names read like a who's who of bloggers known for attacking parents who dare speak out.   It took me less than a week to see that this class was not about learning; it was a free for all.  People were there to stalk and harass.
And that they did.
The first couple weeks Offit presented a basic overview and history of vaccines. I even wrote that it was pretty accurate, and I had very little to say that was negative.  It seemed on par with other classes.  But then I did something crazy: I ventured into the discussion boards and quickly realized that this perception of an actual legitimate class was far from what it really was.  I want to make clear that the discussion area is where the students chat, not necessarily the professor, but it is supposed to be moderated, respectful, and follow an honor code . . . none of which was happening.  My first comment was about MY experience.  I shared the story of my daughter and how she was diagnosed with encephalopathy following her vaccinations and how years later we ended up with those words of vaccine injury conveniently being changed to autism.   I did so respectfully and spoke straight as a parent explaining my concerns of underlying issues and the effect the vaccine had, discussing the word games of encephalopathy and autism, and explaining how autism was little more than a list of these behaviors (not something different than her harm from the vaccines).  Immediately I was bombarded by an "anonymous" person who began posting memes from a well-known opposition blog.  Not to be discouraged, I attempted again to have a real discussion with a few people that genuinely wanted to look at the information, but it was too late. I was already a target.
I realized things I had said in my personal life, not spoken about in the class, were being posted in the forum.   And, while I wasn't thrilled that I was being stalked, I let it be because I wanted to see exactly what these people would do.   I spent the next few weeks of the class watching everything I said or did be screenshot and put on the class discussion board — not in an honest fashion, not with the links or stories that went with my words, but in a warped twisted way that served to feed an agenda.  And it was amusing to watch.  It was like throwing chum into the ocean and watching the sharks circle.   And these people bought right into this person's agenda without a brain cell to question how they were getting this information or why it was only bits and pieces.  Not a thought about how ironic it was that Offit claims he was harassed and fearful of his life, yet these people were doing that exact same thing (making Offit's claims seem backwards).  But, most importantly, it showed very clearly how these people are not THINKERS.  The fact that they can be swayed by some anonymous person who does nothing more than cut and paste from my Facebook status is a little bizarre.  The fact that this class allows this behavior, well, that speaks to the professor, the university, and what we are really battling.
I backed off the discussion boards and just finished the lectures and took the tests.   I quickly realized that the class that started out as factual was actually a propaganda front.  I can't even say that all of the information was bad. It was just that the way it was presented was full of half-truths.  And nothing annoys me more than reading a book with half the pages torn out.  That is exactly what Offit gave us: enough correct information so that what he said wasn't exactly untrue. It just left out half of the important information.  And by doing so, he fed people what he wanted them to hear.  Week by week, it worsened into a class on how to drill into people that there is no connection between vaccines and autism.  Tests were written to perpetuate myths and misinformation.  Topics included a bizarre take on religious exemptions, plenty of discussion on high-profile people in our community, and insulting comments disguised as empathy with us poor parents.   And while I should be very angry and annoyed at the whole thing (and maybe even worried about my stalker), I appreciate the view into their world.  This was exactly what I wanted.
I wanted to see how they think, what they say, how they act.  I wanted to see what they do with information and how they justify their actions.  I wanted to test their claims of integrity and honesty.  I wanted to see how they treat parents.  I wanted to watch for myself how they act when they don't have all the information.  I wanted to know what they say to themselves and to others.  I wanted to know if they really were the enemy or if they were just ignorant.  The answers were clear.
We have an enemy and that enemy will do and say anything.
In the end, it was never about the certificate or the grade. It was a learning experience that further prepared us for the battle.  And while my instinct is to tell everyone not to waste their time doing classes like this, the truth is that this is exactly what we need to do.
We don't need to combat the same old nonsense.  We have the information.  We moved the goal posts.  We won't be dragged into ridiculous debates from ten years ago. There is no debate.  We are not going to allow the same old tactics.  This never was an anti-vaccine or pro-vaccine issue like they claim.  This is a conversation about science, health, and the facts.  This isn't about any one person, group, or any celebrity, and it never has been.  And we are making that clear.  This is about an army of people who did the unthinkable and changed this conversation to be about what it always was really about: the truth.   We are done allowing them to attach "just parents," as a way to discount our stories.  We have NEVER been "just" parents.
We don't walk away from their classes, their groups, their blogs, or anything else.  We are here and holding them accountable now.  These people can no longer hide among those who are afraid to question.  We are beyond hoping that they will just do the right things, we are on to holding them responsible for doing the wrong things.  This is a revolution and we are armed and ready.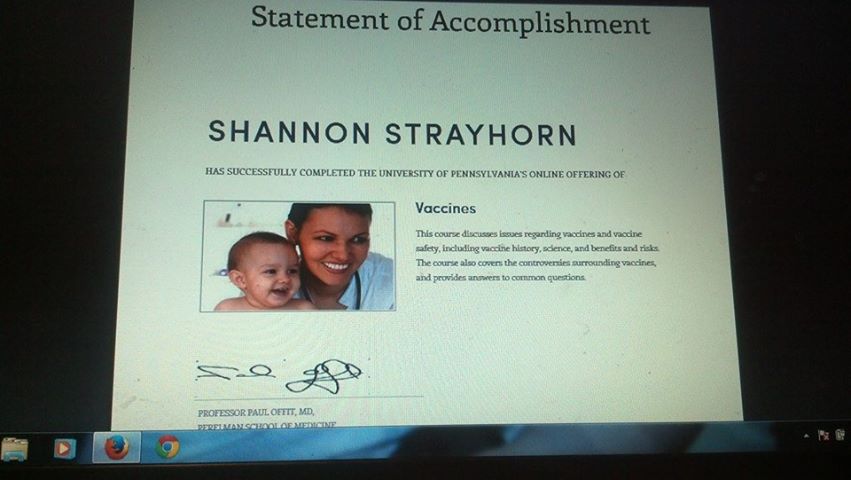 This battle just changed.
BRING IT!
~Shannon Strayhorn