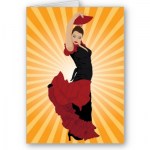 One month left of vacation.  One month of waking whenever and doing whatever.  One month before the school bells ring.  One month to fill backpacks with school supplies.  And for some, there's one month left to get back-to-school vaccinations before ushering in a new school year.
<insert sound of a screeching record>
No, I'm not endorsing lining up for those vaccinations.  I'm just pointing out that a lot of people are going to make a date with their doc to complete school physicals very soon.  They are also going to allow countless toxins to be plunged into their child's body.  They'll be scrambling right up to the first day of school wondering how to fit all those "back-to-school boosters" in not realizing something:  they don't have to get all those shots.
Because of what I know about vaccinations and children and small spaces (their classrooms), the rest of us have one month to get, keep or maintain our health before we too are bombarded with what comes with mass vaccination.  It's called vaccine shedding.  This occurs when the live virus from a vaccine is transmitted or spread to someone else.  The shedding of the live virus spreads to an unvaccinated person which can cause some serious issues for them.   As this occurs, the virus has the capability to be spread to even more people.  It will run its course like any other virus which is actually quite opposite of what the vaccine program set out to do.  Live vaccines are actually spreading diseases instead of eradicating them.
Viral shedding might have less of an impact if more facts about vaccines were properly presented and then adhered to.  The package inserts of these vaccine state that if you've been injected with a live virus you should avoid immune-compromised individuals (usually the elderly, the very sick and children) for the duration of incubation (up to 3 weeks).  Have you ever heard of someone receiving the flu shot and then avoiding human contact for the up to 3 weeks the live virus can do its thing to offer some sort of immunity?  I bet not.
So, what are the rest of us supposed to do to not be shed upon?  Living in a bubble is out of the question, so first it would be helpful to know which vaccines are live virus vaccines, and then boost your own immune system prior to when large masses of people are opting to get their vaccines.  The two most likely times would be now when millions of children are getting ready to go back to school and in about two months time when the "seasonal" flu shot campaign kicks off.
Some live-viruses vaccines are:
Influenza (Trivalent; Quadrivalent; Types A and B)
Rotavirus
Measles
Measles-Mumps-Rubella
Measles-Mumps-Rubella-Varicella
Mumps
Rubella
Varicella (chicken pox)
Other vaccines with the live virus but not usually included on the childhood "recommended" list are:  Adenoid virus (Type 4 and Type 7), Small Pox, Typhoid and Zoster (shingles).
Added to that live-virus list are a slew of other vaccines being "recommended" for school-age children. Some parents are already in the know about vaccine exemptions, but many other are not.   A great site to visit about school shots is VaxTruth.org.  This group responded last year to schools' "recommended" vaccinations with a massive effort.  They wanted to and successfully launched a billboard campaign in several cities promoting parents' vaccination rights.  While many schools across the nation still try to spout the "NO Vaccines?  NO school!" speech, VaxTruth.org did something better, bigger and bolder.
The reason I am typing "recommended" vaccinations is because they are just that.  Only two states in the United States require vaccines for school, while the other 48 states grant religious, philosophical and/or medical vaccine exemptions.  If you are being told you "must" get vaccines or else, check out this informative page from National Vaccine Information Council (NVIC.org) with state-by-state exemptions, laws, forms and more.
When you look at this great visual of birth to age 6 "recommended"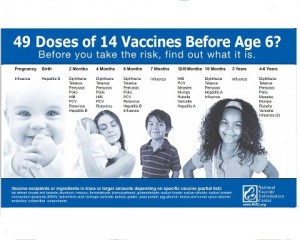 childhood vaccines, also from NVIC, know that you can also say thanks, but no thanks to any or all of those listed starting long before those "back-to-school shot" requests are being made.  You'd be surprised at how many parents are learning that they have more of a say than they've been told when it comes to how full they want their child's vaccination record to be.
Read up on what your rights are.  Learn how to respond to the person pushing the paperwork.  The more you know about your health rights and how to respond to them is empowering.  I know firsthand because I used to put my children on the receiving end of the needle.  I learned the hard way that vaccines didn't work well for my children.  Then I learned that my children didn't have to have them for the reasons I was being told.
No shots?  Yes, school.  Counting down until the first day.
T minus one month…
~Mamacita
For more posts by Mamacita, please click here.