I don't mean to be a total Grinch this time of year. I used to love the holidays.  The lights, the parties, the food . . . and Christmas Eve service with bell ringers, incense, and carols. Then I had a couple of special needs kids.  My kids aren't what you'd call holiday-ready, and neither am I for that matter.  Too much change, too much stress, too many people, too much sugar. It's no fun for me and my crew.
Autism, sensory processing problems, food sensitivities, poor impulse control, phenol sensitivities, anxiety disorder, and the heavy burden of expectation all combine to make the holidays kind of, well, hellish at times.  Too much honesty?  No one with me on this? I can't possibly be the only mom who stares down the calendar and counts the days until the first Monday in January, when we can get back to a regular routine.
I'll let you in on a secret: it's okay to downsize your festivities and match them to what your kids can tolerate.  It will make the holidays happier for everyone.
I know, I know, your family expects (fill in the black); you expect (fill in the blank).  But is that really feasible this year?  I mean, without you and your kids going stark raving bonkers?  The holidays come every single year.  You get a do-over. And if someone gets all . . . oh, what's that word all the kids use . . . butt-hurt?  If someone gets all butt-hurt because you blew their picture-perfect holiday, then they're not taking you and your family into consideration.  And that's not very loving either.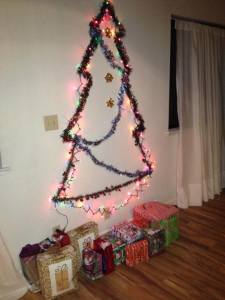 A few years ago, we pulled way back on Christmas.  I had put up a tree, decorated it with non-breakable lights and ornaments, and watched it hit the ground — all in one afternoon.  My kids were so excited and amped up by the very sight of it that they tackled it.  You know what?  No tree for us that year.  I put it down and did this instead.  ====>
And it worked.
You know what else works? Not going nuts in the kitchen! I like to cook, but I don't want to spend the holidays chained to the kitchen.  Here's my simple holiday meal plan and a couple of recipes to help you get through in low-key style.  Oh, I also instituted a traditional Christmas dinner of chili mac.  I also have a standard holiday meal with a roast chicken, breaking the tyranny of turkey or prime rib.  Maybe someday I'll be able to channel my inner Ina Garnter again, but, in the meantime, this approach helps holidays be happier and memorable for the right reasons.
Breakfast:
French toast casserole assembled the night before
Scrambled eggs
Sausage
Coffee(!!)
Lunch:
We're Philistines, and we either have sandwiches or chicken nuggets and oven fries or we go find an open Indian buffet.
Dinner: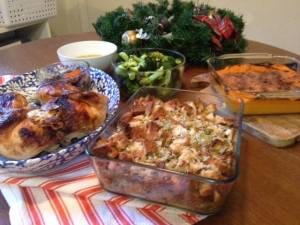 Chili mac or my Go-to Roasted Chicken Holiday Meal (recipes at link):
Easiest roast chicken ever . . . with roasted balsamic veggies and gravy
Roasted broccoli
Mashed sweet potatoes with candied crust
Gluten-free stuffing
Gluten-free brownies (from a mix)
Chili Mac
It's chili . . . with noodles! Maybe it's because my mom's family hails from just outside Cincinnati, Ohio (Skyline Chili!), or maybe I just love to throw as many things into a single pot as possible and call it dinner, but I love me some chili mac. It's uncomplicated, reasonably quick to put together, and I usually have all the ingredients on hand. And bowls are licked clean!
This makes a veritable vat of mac, so plan on freezing half of it for a future meal.
Ingredients:
1 Tbsp cooking fat of choice
1 to 1 and 1/2 lbs ground beef
1/2 large onion, chopped
1-3 cloves garlic, finely minced
2 cans tomatoes, 15 oz each
2-3 cans cooked beans, rinsed
1 and 1/2 c gluten-free pasta, dry
4 c. chicken broth
2-3 tsp chili powder
1/2 tsp cumin powder
1/2 tsp oregano
Salt and pepper to taste
Directions:
Heat oil in large skillet or your favorite soup pot.
Cook chopped onion and minced garlic until soft.
Add ground beef, brown thoroughly. I like to season meat with salt, pepper and 1/2 tsp of chili powder while it cooks.
Throw in everything else. If you are going for the crockpot route, leave out the pasta until the final 30 minutes of cooking.
Continue cooking over med-low heat until the pasta is done.
Happy holidays! May there be Peace on Earth — especially in your home!
~ Zorro