We are at it again. I am driving an hour each way for swimming lessons. Swimming is one of the most important skills a child with autism needs. We are so lucky to have another summer with David. ~Mountain Mama
This blog was first published on July 28, 2012.
Last month, I shared my plan for surviving the summer. Included in the plan was two weeks of swimming lessons. We live in a fairly remote area of Montana that is surrounded by lakes and rivers, but no pool. So, while it is critically important for my kids to learn to swim, it has not been easy to accomplish. I drive 60 miles each way every day for their lessons. I told myself that it was only two weeks, and it would at least help them get over their fear of the water. I had no idea that I would basically be scrapping my entire plan to devote this summer to swimming.
When I registered the kids for lessons, I envisioned the swimming lessons of my youth: kids sitting on the edge of the pool in a line, shivering with blue lips waiting for a turn in the water. I couldn't have been more wrong. My kids are in the water the entire time with no more than three kids to one instructor. If they need 1:1 instruction, they get it. After the first two weeks, they made so much progress, I knew we had to keep going.
By now, you are probably thinking, "Wow. That's great Mountain Mama, but what does this have to do with Autism?" Stay with me, folks. I'm getting there.
My seven-year-old lost his diagnosis a year ago. I wish I could say he "recovered" a year ago, but the truth is, he is nowhere close. He still has OCD, seizures, motor skill delays, motor planning problems and needs a lot of guidance with social skills. BUT, he is in a regular classroom without a dedicated aide. He is in Scouts. He has peers who, despite his struggles, enjoy his company and consider him a friend. Because he is doing so well, and because the lessons are in a different town with people who don't know his background and developmental history, I thought I'd see what would happen if I just let him go to lessons without front-loading the instructors. Honestly, I needed to see for myself how far along we really are. I wanted him to have an experience without the giant "A" tied around his neck. We made it about a minute and a half.
After the first lesson, one of the instructors approached me and quickly said, "He's a challenge." Then she walked away. That was it. Feeling totally defeated, my heart sank to my stomach and my eyes welled with tears. After a few minutes, however, my fighting Mama-bear spirit kicked in and I … was… PISSED! "He's a challenge." I thought to myself, "Lady, you think this is a challenge for you? Do you know how hard my son has had to work to get to this point? Do you have any idea what he has had to overcome?" So I did what any good Thinking Mom Revolutionary would do. I marched myself into the director's office, told her about the comment and explained the situation. I think I said something like, "My son has developmental delays and motor planning problems. He has been in OT for 5 years. If this is going to be too much of a challenge for your instructor, please let me know now so I can make other arrangements and find someone who will be able to accommodate his needs." I was immediately assured by a lovely man named David who was co-instructing the group that it would be fine, that my son was not a problem. The next day, the woman apologized, said that she understood the situation and could tell within seconds that he had some developmental problems. She then asked me what I could tell her about his needs and learning style so they could teach him effectively.
As the weeks passed, my son and David made a real connection. At the end of the third week, David approached me with an offer. He also teaches Tai Chi. He explained that he works with people recovering from strokes and also with kids with Autism. (Keep in mind, I still have not mentioned Autism to anyone involved). He suggested that we start staying after swimming and he would teach the kids a little Tai Chi. I got a huge lump in my throat and my eyes got teary. I expressed to this lovely man how much it means to me when people become invested in my son, can see his potential and want to help him. When your child needs help in so many different areas, it takes more than just one Mom to make him successful.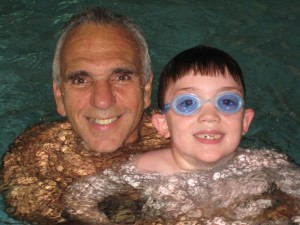 We have been very lucky to have had wonderful therapists and teachers who have been truly invested in my son. We haven't always agreed on everything, but I have always known that the people who work with him hold him in their hearts and want him to succeed. However, few of those people have ever just volunteered to use their free time to go above and beyond. There is no way David will ever understand how much this gesture meant to me. Autism Moms want so desperately for other people to see all of the wonderful, beautiful things that our children have to offer. We need people to see past the Autism, to see the child that we love. I feel so blessed to have met someone who could truly see the beauty in my child.
Even though his developmental differences are still blaringly apparent, I was able to move out of a place of despair, set my disappointment aside and focus on this blessing, this random gift of kindness that has renewed my faith that there ARE good people in the world who want to make a difference. Sometimes when we least expect it, we are given exactly what we need, even when we didn't know we needed it. Our relationship with David may not continue after this summer, but this brief encounter will hold a place in my heart forever. He is now part of our story.
My wish and my prayer is that all of you are blessed with your very own David. And for those readers without kids on the spectrum, I pray that the next time you encounter a child with special needs, you can summon your Inner David and see past the shell of disability to the beautiful soul within. Be a part of someone's story.
~Mountain Mama
For more blogs by Mountain Mama, click here.