(A reader posted this thoughtful letter to Governor Jerry Brown to our Facebook page, and we thought it was so good, we wanted to share it with a wider audience. SB 277 has passed through the California State Assembly and today it passed through the Senate.  The bill is on the way to the governor's office.  We, too, are strongly opposed to SB 277 and wish to do what we can to convince Governor Brown to veto the bill.)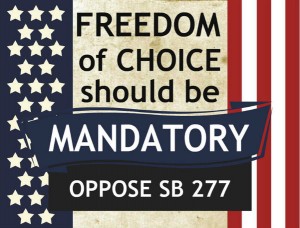 Dear Governor Brown,

I am a pro-vaccine parent who strongly opposes SB 277.

My child, now 20, received all of her childhood vaccines, with my informed consent.

Her pediatrician and I decided together to delay the hepatitis B vaccine until puberty, because it addresses a disease that is spread via needles and sex, and she was at almost no risk of coming in contact with it. We based our decision partly on the congressional testimony provided in 1999 by the Association of American Physicians and Surgeons, which stated:
"With hepatitis B vaccine, the case for mandatory immunization with few exemptions is far less persuasive than with smallpox or polio vaccines, which protected against highly lethal or disabling, relatively common, and easily transmissible diseases. An intelligent and conscientious physician might well recommend AGAINST [emphasis is Ms. Carpenter's] hepatitis B vaccine, especially in newborns, unless a baby is at unusual risk because of an infected mother or household contact or membership in a population in which disease is common . . .  For most children, the risk of a serious vaccine reaction may be 100X greater than the risk of hepatitis B . . . . Striking increases in chronic illnesses have occurred in temporal association with an increase in vaccination rates [Illnesses inc. asthma, diabetes, autism, ADHD] . . . . Measles, mumps, rubella, hepatitis B, and the whole panoply of childhood diseases are a far less serious threat than having a large fraction (say 10%) of a generation afflicted with learning disability and/or uncontrollable aggressive behavior because of an impassioned crusade for universal vaccination . . . . Hepatitis B vaccine as a cause of sudden infant death has not been ruled out."
My point here is that my pediatrician and I were able to discuss this information about this vaccine, and its benefits and risks, and make a medical decision based on all the facts, and not on a poorly-thought-out piece of legislation that removes parental choice and informed consent.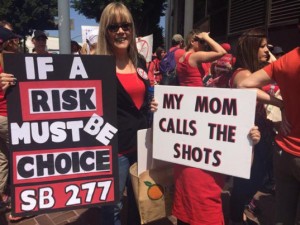 I was fortunate to have a pediatrician who was very knowledgeable about pediatric vaccines and their questionable approval process. Not all physicians meet a high standard of understanding the risks weighed against the benefits of CDCs vaccine schedule. This pediatrician also unbundled some of the vaccines which are routinely administered in one injection, so that my daughter's immune system could better cope with a slower rate of vaccine administration. Additionally, this pediatrician was among the first in the country to recognize the problems with the live polio virus vaccine, and with the DPT whole cell vaccine and its links to sudden infant death syndrome (SIDS).

SB 277 removes parents' ability to have relationships like this with our children's pediatricians, relationships that are based on trust and accurate information, instead of on pharmaceutical industry legislative lobbying and profits.

I would like to share my thoughts about the pharmaceutical industry with you and why its reputation is pertinent to my opposition to SB 277. The U.S. pharmaceutical industry, out of all the industries that make billions, is probably the most ethically challenged. Paying fraud settlements is simply a part of this industry's normal business plan. Currently, Merck, the drug company that may stand to benefit the most from passage of mandatory government vaccine laws, is involved in two separate & serious federal fraud cases, involving its MMR vaccine. U.S. v. Merck Co. alleges that Merck "fraudulently misled the government and omitted, concealed, and adulterated material information regarding the efficacy of its mumps vaccine in violation of the FCA [False Claims Act]." In Chatom Primary Care v. Merck Co., Merck is accused of fraudulently monopolizing the mumps market. Both cases are continuing through the court system. They are not isolated cases, as far as fraud is concerned, in the pharmaceutical industry; indeed, these two cases are a small part of a larger, disturbing pattern within the industry. This is not an industry that should be lobbying for legislation, like SB 277, that will generate multi-billions for itself. I do not want this industry to be between me and my physicians around the issue of vaccinations.

Additionally, four separate government inquiries have been conducted recently into the goings-on within the vaccine division at CDC, and all four inquiries revealed serious and grave conflicts-of-interest on the part of almost every person who sits on the Boards that make the decisions about which vaccines to approve, when to administer them, and how. The only reason these inquiries were not acted on is because of the power and control of the vaccine industry over our elected legislators and the regulatory agencies that oversee this industry.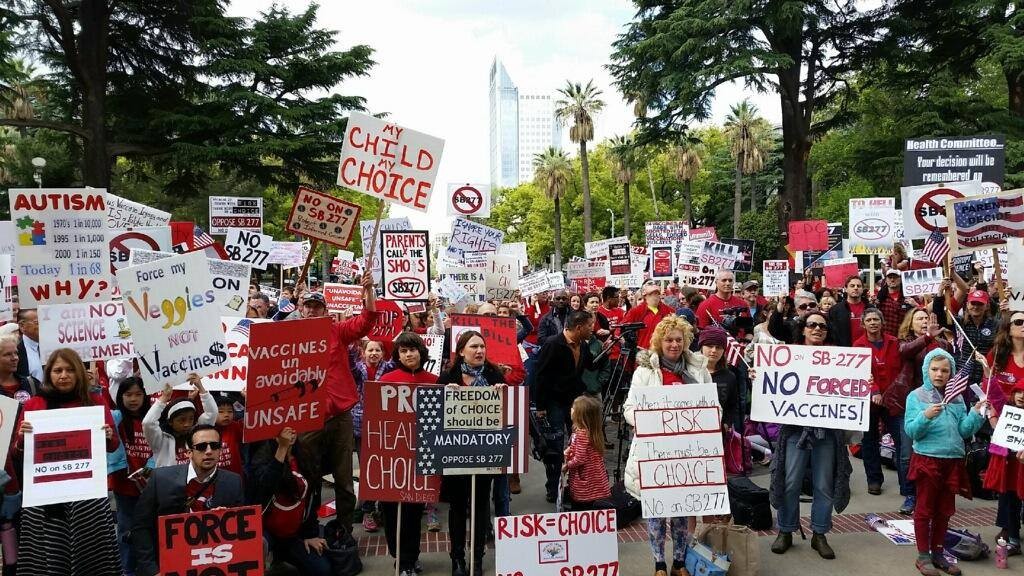 The vaccine industry is pushing for even more legislation to remove Americans' ability to make informed medical decisions, so SB 277 is not where this will end. It is the beginning. An example of this legislation is SB 453, which seeks to mandate psych meds. There are others, not just in California but in other states as well.

Back in 2011, you vetoed SB 105, writing: ". . . I am concerned about the continuing & seemingly inexorable transfer of authority from parents to the state . . . . I believe parents have the ability and responsibility to make good choices for their children." That is exactly how I feel about state-mandated vaccines.

I urge you to veto SB 277 when it comes across your desk. The way to get more children vaccinated in California is to better-regulate the pharmaceutical industry and its vaccine divisions, thus creating a climate of confidence and trust in CDC's recommendations, NOT in force-vaccinating our children according to a one-size-fits-all CDC schedule that overrides the special and important relationship between a physician and patient.

Thank you,

Linda Carpenter
Petaluma, CA
Sign the petition to Governor Brown to Veto SB 277:  Governor Brown Oppose Vaccine Mandates.