While the #CDCwhistleblower scandal and the #hearthiswell campaign have rightfully been the main focus of the past few days, I wanted to pause for a moment and share what is happening in France:
Children with autism are being denied the right to go to school.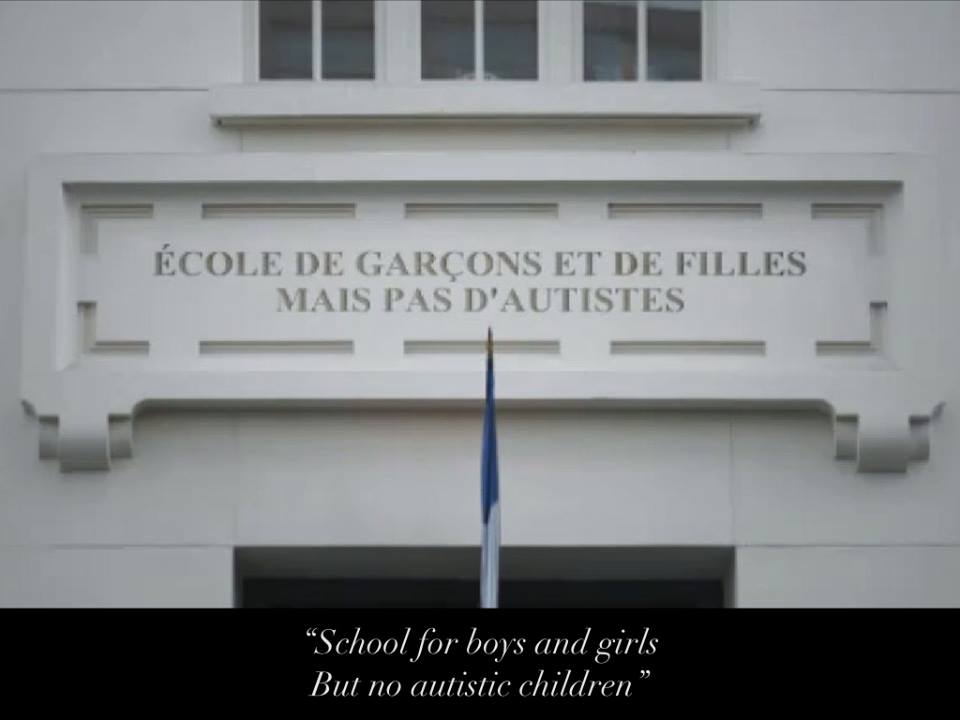 The following video tells the story, but before you view it, here's a little background on what you are seeing:
Tim is 15 and has autism. The video takes place at the junior high school he attended last year where he received good reports from his teachers.
The authorities in charge of the education of children with special needs have decided, against his mother's will, that Tim no longer belongs in a regular school, but rather in what they call a "day center," which is really just a babysitting service for parents who have to go to work. The children aren't given any type of education or stimulation. Tim's mother has taken legal action contesting this decision. In the meantime, she contacted the day center who advised her they had no more spots available for her son.
On Wednesday, December 3, she decided to take him to junior high school, just like any other child, except she didn't recieve the same welcome as all the other children. She decided to film the entire scene.
Please watch. It is heartbreaking to know that in a country as modern, open-minded and advanced as France, children are denied basic rights because they have autism! They are being denied the right to learn and to a better life and future.
Tim's mother is getting pressure from the Regional Inspector for Schools and the local police station to remove the video from the internet (which she has the right to share). The Regional Inspector for Schools is directly linked to the local police station and the media, which has refused to feature the video.
One media outlet finally did an interview, but it was never used due to pressure from the Regional Inspector for Schools.
Meanwhile the video has been seen 107,000 times by parents and people who are outraged by this situation.
BUT NO MEDIA IS COVERING IT!
SOUND FAMILIAR?
In France, only 20% of children with autism attend school, and only part-time. Others are in day centers. Please share and make this video go viral in support of this mother's fight for her son and thousands other children in France to have the right to an education.
PLEASE NOTE THAT ENGLISH SUBTITLES OF THE ENTIRE VIDEO ARE AVAILABLE IF YOU PRESS ON THE CC ICON LOCATED AT THE BOTTOM RIGHT OF THE YOUTUBE SCREEN.
If you are having trouble viewing this video click here, or cut and paste this url into your browser: https://www.youtube.com/watch?v=RbwzYGCQAyo
For more on how autism is treated in France, please read "The forgotten children" (also written in French, "Les enfants oubliés").
~ Prima
"Frenchie" by last name, Prima was born and raised across the seas. She believes that a life without a cause is a life without effect. Prima is the proud mom of two miracle children. Her dream, and her cause, is to heal her beautiful son who is medically fragile — with a resume of autoimmune and neurological conditions. But despite the seriousness of this statement, she still tries to have fun doing it. Dreams are not negotiable in her house. One can only live once, but if one does it right, once is enough!
For more blogs by Prima please click here.