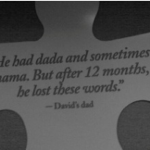 June 15th again!?!  I'm up at 5am staring at the ceiling feeling like I could die.  I haven't FIXED him yet!!  Not another birthday!!  And I cry into my pillow dreading the day…
How many of us "crazy recovery parents" go through that?
David was born during the go ahead goal in the England vs. Trinidad & Tobago match in the 2006 World Cup.  Don't ask how I know that…OK, the TV was still on in the delivery room with the volume off when the Petocin finally did its job.  I went home that day made a small pitch in my front yard, and bought little boots and shin guards for my boy.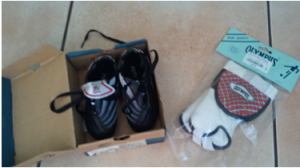 He never wore them…
1
David's first birthday was full of joy.  Not walking yet, but so cute and happy I didn't seem to care that he only crawled.  After all boys are slower, right?  And they all walk eventually said the "autism reseller" aka pediatrician.  We had a little party for David and I noticed other kids were already standing and making a go at walking.  David only crawled.  And most times it was the "wounded soldier" crawl.  How cute!  Or so I thought.
2
David's second birthday was not so fun.  We had an upcoming appointment with the neurologist to see what was going on.  Something was wrong.  And alone with my son I was told about the" little A" word.  It was August 15th, 2008.  I cried alone in the parking lot as I thought I had lost my boy to some unknown mystery condition.  Mystery only to those who cause it…
It was a Friday.  I will never forget that day.
I spent the weekend reading everything I could find on the subject.  So many differing opinions until I came to the now famous Generation Rescue site.  And at that moment everything changed.  As one who has never backed down from a challenge, I saw that window of which JB Handley spoke in "Autism Yesterday", and I dove through.  I read Louder than Words, Changing the Course of Autism, and of course spoke to my children's doctor.  He quoted studies that I now know were done by criminals currently being extradited from Denmark, and told me no connection with vaccines existed.  I read those studies and realized the statistical fraud they represented.  I also realized that my daughter's complete regression after her flu shot was probably caused by the same thing.  (she got the mercury and went from trilingual to non verbal)
The next visit I explained to the pediatrician that my children needed me to be out of jail, and so he should probably put away the MMRV booster and flu shots or I would throw his through the window.   Time to find another doctor…In spite of having new hope I had new rage at the CDC/AAP cover up that was clearly going on.
Birthdays suddenly took on a different meaning.  It was a celestial hourglass with only so much sand in it.  How much sand was left?  What else can I do?
3?
Truth be told I don't even remember David's third birthday.  The blur of autism, divorce, and being broke made celebration difficult.  Therapy was impossibly expensive, and the DAN! Doctor was simply selling supplements.  There was no roadmap, just keep adding one more supplement. See what happens.  One time he was in his crib and said "papa" and I ran around thinking "here come words!"
Wrong.
4…
David's fourth birthday was the first time I felt all the air come out of my lungs at the thought of him being another year older.  He had made some progress on the eye contact and bowel issues, but was on just a roller coaster of off label anti-fungal use.  The symptomatic gains of one day were the disaster of the next.  But one day in July of 2010 I heard Davidino say words for only the second time.
Here is the link to the recording I heard in July 2010.
YES!! I CAN FIX HIM!!!  I shared it on Facebook, emailed it to previous therapists, teachers, etc…I remember walking the streets like I could do anything.  After all, It's all easy compared to fixing David.  Anything I wanted to do, I could do, if I could do THAT.  And then the anti-fungal once again lost the battle, and the words went away…
And this song became my anthem.
The year preceding his fifth birthday was a rough ride for Davidino as he would get better and then worse as the clueless long haired fool I had trusted with his care guessed at what pharmaceutical to throw at my son.  And each time the benefit was less noticeable, and the down side was worse.  Add to it an incompetent staff that rotated on almost a weekly basis, and even getting an OAT result became a 30 day battle.
And the whole time always thinking about that sand falling through the hourglass.  Wasn't there a soap opera with that image in the opening credits?  Just let the next birthday take it's time.  Please!  I haven't fixed him by then for sure!
5!!!
And then he turned five.  The dreaded number 5.  The drop in recovery rates past that age. The "turning five" school transition, the loss of services, and one less year to fix him. He was still non verbal and although I had to present a happy daddy, I was dying inside.  The gifts, the well wishers, the noise around his being alive for 1,825 days meant nothing.  It was his next 25,000 or so days about which I was thinking.  Who cares about these material things for him.  I was thinking about his "hierarchy of needs".  There is no "self actualization" when you don't have food, shelter and safety!
Fast forward to this birthday.  Six years old.  Can I handle today?  It's not going to be easy.  But as they say in the UK.  Keep a stiff upper lip!   I don't have David today.  I'm not one of those "every other weekend fathers." He's with his mother only half the time.  The same mother that blatantly lied to a judge regarding David's needs and opportunity for services during our divorce has my little Dino until this evening.  The mother who is so unlike all the warriors I now call my friends.   All I can do is get through the day until I see him.  And thanks to someone I adore, I made it through OK.  Hi!
6…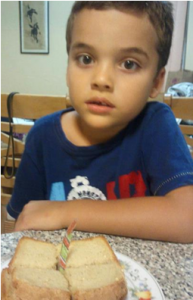 I put on my smiley face and with the help of my recovered daughter (Yes, recovered.  But that's a whole other story…) we made him a little diet compliant birthday cake. I love you Bianca!  Thanks for making the candle!  My little Thinking Kid.
I went to sleep feeling like it will be OK.  Thanks to a community of fearless doctors, parents and some that are both, I have a roadmap to recovery.  I am more determined and confident than ever in David's recovery.  I have the support I need to get him what he needs, and as I sit with my little episode of the "Stimpsons" I can only say I'm truly full of hope & confidence.  Don't get me wrong, there isn't a day that I don't feel the oxygen leave the room.  But, then I take a deep breath, get back to life, and move on.
So if you are watching the sands run through the hourglass crying into your pillow on the morning of each birthday, take this advice…don't dread it.  Instead "go big!  Go really fucking big!"  Because if you're reading this, you are already in the right company.  And that means your child is one of the lucky ones.  And as we see from the recovery stories around us, recovery can happen at any age.
I know there WILL be a birthday when he says.  "Thank you Daddy, I love you too".
I love you Davidino.
Always and all ways,
~ David's Daddy
* About David's Daddy:
I am the parent of two. I have seen one recover and another on his way.
But to me, they are all my children. 
Always learning, always teaching.
Always loving, always fighting.
All ways