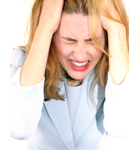 A couple of years ago my husband told me that he was concerned. Over the past few years I have become increasingly stressed and anxiety-ridden, even though nothing has significantly changed for the worse. In fact, some things have actually changed for the better. What gives?
Several studies over recent years highlight the physical effects of chronic stress. Adrenal fatigue is one result. What is the end result of too much stress and fatigue? More stress and fatigue, courtesy of your overworked body.
We thinking moms know too much! We know about the effects of toxins in our environment and food supply. We know all about the damage that has been done to our children. And we know all about the never-ending battle to heal their ravaged bodies. We also know all about those feelings of helplessness when it comes to preventing all of this from happening to others. Sometimes it is just too much!
According to an article in Natural Health magazine, an Ohio State University study showed that caregivers of family members with dementia had fewer defenses against viruses, more inflammation and accelerated cellular aging as compared with those who are not caregivers.
And striking even closer to home was a 2004 study of middle-aged mothers. This study looked at telomeres, which are DNA proteins that are markers of biological aging. 39 of the moms were caring for an ill child while 19 cared for a well one. The chronically stressed mothers with sick children had shorter telomeres than the moms of healthy kids. Researchers surmised that this was about a decade's difference in terms of aging. I believe it because I can feel it.
Chronic stress accelerates inflammation, which is the root of most chronic disease.  It has to be addressed, but how? I am trying to focus in on this, not only for my own sake, but for the sake of my whole family. I so feel the effects of years of stress — physically, mentally and spiritually. I feel it in my weary soul and I need relief.  Living with peace, living in the moment, experiencing JOY every day rather than feeling crushing anxiety that I am not doing enough — that's what I long for.
I just finished a booked called 'One Thousand Gifts,' in which the author chooses to focus on thankfulness, even in the midst of chaos and grief. Her sister was killed when a farm vehicle crushed her. Cancer invaded her life. She is no stranger to pain and suffering. But she is making a daily, conscious choice to find what brings joy and what she can express thanks to the Creator for. She began a journal chronicling one thousand such small moments of joy and grace. She recounts that she began to have more joy due to this choice to view her world through a lens of gratitude.
Inspired by this, I have begun my own gratitude journal of one thousand gifts:
Dappled sunlight coming in through windows.
Watching a thunderstorm on my screened-in porch.
Watching episodes of The Office BEFORE Steve Carell left.
And so on. It seems so simple. It certainly can't hurt, can it?
I would love to hear your secrets for accomplishing what sometimes seems elusive. I had it once, I was a pretty footloose and fancy free gal… how about you, Thinking Moms?
~Sassy
Sassy transitioned from Sheeple to Thinking Mom when her youngest was vaccine-injured in 2002. She lives on an animal rescue ranch in Texas and home schools that same son, now a thriving 5th-grader and talented actor. Sassy is in remission from Lupus, is a former teacher, reads voraciously and enjoys gardening and foraging for wild foods. A Science Gal, she always preferred botany to  toxicology, biochemistry and immunology, but Thinking Moms learn what is necessary, don't we? My most fervent hope is that we Thinking Moms will turn the tide in my lifetime, so people become as aware of vaccine dangers as they are of the dangers of tobacco. https://www.facebook.com/carrie.elsass
For more Featured Guest Blogs click here.