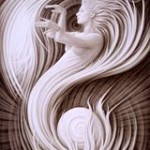 After attending the Thinking Moms' Revolution's food e-conference on October 7th, I am certain that many of you will be in a panic on how to eat a non-GMO diet — especially after listening to two brilliant presenters on the cutting edge of the non-GMO movement, Jeffrey Smith and Stephanie Seneff.  (They were joined by Dr. Natasha Campbell-McBride (GAPS diet), nutritionist Julie Matthews, Heather Fraser (author of The Peanut Allergy Epidemic),  and Kris Barrett. You can get the recording here — the beauty of it is that even if you weren't able to listen live, you have a whole year to listen to it at your convenience!
My family has been non-GMO for quite some time now. I was even featured in the "autism" segment of Jeffrey Smith's documentary: Genetic Roulette: The Gamble of Our Lives.
Many of you will want to eliminate GMOs cold turkey, as I did three years ago, when I learned of the dangers of GMO, especially to children on the spectrum. I threw away a staggering amount of food and started from scratch. To make that process easier for you, here is some guidance on how to get started.
Eat organic: Organic foods cannot intentionally contain genetically engineered ingredients. Look for the USDA Certified Organic label.
Look for the "Non-GMO Project Verified" label: Buy products listed in the Non-GMO Shopping Guide or on the list of Verified Products at www.nongmoproject.org.
Download the Shopping Guide on your iPhone: The free iPhone app is called ShopNoGMO, available in the iTunes App Store.
Avoid high-risk crops and their derivatives: There are eight GM food crops: soy, corn, cotton (used for cottonseed oil), canola, sugar beets (used in most U.S. sugar), Hawaiian and Chinese papaya, some zucchini and yellow crookneck squash, and alfalfa (used for hay).
Avoid invisible GM ingredients: Processed foods often have hidden GM sources. These include Aspartame (Also called AminoSweet, NutraSweet, Equal Spoonful, Canderel, Benevia, E951), baking powder, canola oil (rapeseed oil), caramel color, cellulose, citric acid, cobalamin (vitamin B12), condensed milk, confectioners' sugar, corn flour, corn meal, corn oil, corn sugar, cornstarch, cottonseed oil, cysteine, dextrin, dextrose, diglyceride, food starch, fructose, glucose, glutamate, glutamic acid, glycerin, glycerol, glycine, high fructose corn syrup, hydrogenated starch, hydrolyzed vegetable protein, inositol, invert sugar, lecithin, lysine, maltitol, malt, malt syrup, malt extract, maltodextrin, milk powder, modified food starch, monosodium glutamate (MSG), phenylalanine, protein isolate, sorbitol, soy flour, soy isolates, soy lecithin, soy milk, soy oil, soy protein, soy sauce, starch, stearic acid, sugar (unless specified as cane sugar), tamari, tempeh, teriyaki marinades, tocopherol (vitamin E), tofu, triglyceride, vegetable fat, vegetable oil, whey, whey powder, xanthan gum. (Vitamin C, (ascorbic acid) although usually derived from corn, is probably not GM because it is not likely made in North America.)  *See non-GMO shopping guide for complete list.
Avoid processed foods and fast food: 80 percent of prepackaged grocery store foods contain GMO, as well as most fast food. Start cooking again with organic ingredients.
Buy organic, free-range meats: Animals raised in factory farms are fed GMO feed (corn and alfalfa), and cows are injected with GM bovine growth hormones.
Read labels: You will be shocked at how many foods you are currently eating that are GMO. Go through your fridge and pantry and read the labels, and then replace with non-GMO substitutes. They're out there! It just takes some trial and error. Fruit juices and sodas are also hidden sources of GMO. Read everything!
Vote with your pocketbook: Your purchasing power will take us to the next level in the rejection of GM foods.
GMO Education: Visit the Institute for Responsible Technology's website, the most comprehensive source of GMO health risk information on the web. Sign up for the newsletter, become part of the Non-GMO Tipping Point Network, take local action, sign petitions. Get involved!
Safe eating!
XO,
~ Oracle
Oracle (Laura Hirsch) – has a B.A. in Speech Communications and is the author of three books. She is also a contributing author/editor/publisher of the Team TMR books Evolution of a Revolution: From Hope to Healing and Thinking in the Kitchen. Her first independent book was an autobiography about her experience of being a young widow, which led to her investigation of mediumship as a therapeutic avenue for grief. She remarried and had two sons,  the older one diagnosed at age three with regressive autism.  Her love and devotion to her son led her back to mediumship for answers from her loved ones in spirit and others on how to heal her son. Working with a psychic medium and his wife, a spirit artist, they extended an open invitation to the spirit world to help solve the autism puzzle. Her third book, The Other Side of Autism: Famous Spirits Unveil Regressive Autism's Causes and Remedies is the culmination of their sessions. She is also a non-GMO advocate and is featured in the documentary Genetic Roulette in the autism segment. Her website is www.theothersideofautism.com.