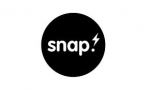 Recovered.  Healed.  Cured. No longer on the spectrum.  Lost diagnosis.   I don't care what the correct term or phrase is, I just want it and cannot understand why it is taking so damn long. I know, "Autism is a marathon not a sprint." "There is no Magic Bullet." I get it.  My son is now 11; he was diagnosed with autism when he was two and a half.  I thought for sure I would have him better by the time he turned five.  He would attend a regular kindergarten class, and all would be well in our world again.  When he turned five, he was not "recovered," but was making progress.  I stopped putting a timeline on him, but continued full force with trying to heal him.  I go through my days remaining positive and being grateful for what I do have.  I rarely cry over autism.  I just keep going.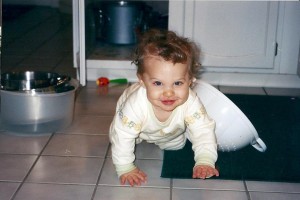 Last week I was watching old videos from when my son was a baby.  He was such a beautiful baby.  His little curls and his cute little face with that huge smile.  I miss that baby.  Why can't they stay that small?
I started watching from when he was six months old.  He was laughing, having fun with me and his grammy.  He was playing peek-a-boo.  I watched him at 11 months old, his fancy footwork dribbling a soccer ball like he was a pro. I watched him playing basketball with his papa.  Tears started; he was "normal," happy, and healthy.   Next, I started watching the video of him at 18 months, I heard myself saying, "Hey, buddy, why are you ignoring me? Look at the camera. Why won't you look at me?"  I called his name, and he didn't respond.  I missed every sign.  Autism wasn't even close to being on my radar.  It was clear as day; it was autism.  I continued to torture myself, watching video after video of him not talking, not responding to his name, not engaging with anyone, not knowing how to blow out a candle at his second birthday, and not interested in anybody at his party.   I missed it all.  Mind you this whole time his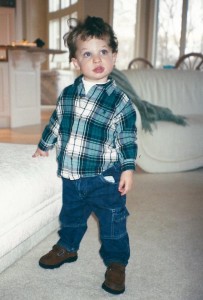 pediatrician continued to tell me, "You have a healthy, happy baby,"  even though we battled ear infections every other month.  I would ask our pediatrician, "Why so many ear infections? And why does he keep getting eczema?"  Her response: "Oh, he is a boy. It's common. Here's a script for amoxicillin."  This was normal?  My son gradually slipped into autism.  It was not overnight.  However, by the age of two he was completely gone.  Full-blown autism.  But nobody knew, not even me, his mom.
I decided to break out our autism therapy session videos.  I started from his very first session.  We took video once a month, so we could track his progress.  When I got to his fourth session I watched how well he was doing.  I was amazed at how much he had changed in four months.  As I continued to watch, I completely and uncontrollably lost it. I cried like I did the day my son was diagnosed.  I asked myself, why the hell is he not recovered by now?  WHY?  WHY? WHY?  What am I doing wrong?  We have spent hundreds of thousands of dollars over these nine years trying to recover him.  We have an HBOT and infrared sauna. We have seen every specialist. We have done every therapy, diet, even voodoo crazy things. EVERYTHING!  And he is still not "recovered." I am angry, I am pissed off.  I feel so much guilt.   What piece to this autism puzzle am I missing?  I am able to help everyone else's child, but when it comes to my own I can't.  I am failing.  I called my dad, who could barely understand me because I was crying so hard. "WHY IS HE NOT BETTER?"  "But he is better," my dad said.  "Look how far he has come."  We will just continue working on it.
When my husband came home that night, I started telling him about my day.  I started telling him how I can't believe our son is not "recovered by now."   He stopped me immediately. "I don't want to have this conversation. I think about it every day."  I stopped.  I know my husband; he holds it inside.  Some may think this is a bad thing, but I accept that this is how he copes.  The next morning as my husband was leaving for work, he looked at me and said, "Hey, I want to talk about that doctor in Canada we went to. I think we need to rethink his treatment as an option."  My husband may not be a talker, but he is a "Thinker," always strategizing with me on what our next game plan will be.  Our hurt and anger turns into adrenaline and keeps us going.  I know my son has come a long way, but we still have a long way to go.
Even though I battle the autism beast everyday, I have to remind myself: My son is making progress.  I can't imagine where he would be if we had done nothing and just "accepted" autism.  He has made many gains and is doing well.  Just the other day, I caught him putting the towels in the washer and he turned the washer on.  Oh, my God, he was doing laundry!  (Yes, he forgot to put the detergent in, but so does my husband.)  He is loving and continues to amaze me everyday.  Most importantly, he is happy.  Patience is not one of my strengths.  I know in my heart he will be healthy someday; he will make it.  I never give up hope.  I just want it now.
(If you are unable to view the video, please click here or copy and paste this url into your web browser:   http://www.youtube.com/watch?v=TRTkCHE1sS4)
~ Snap
For more blogs by Snap, please click here.