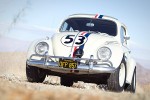 "We can't catch a frickin' break," the hubs and I muttered as we faced yet another blow to our family's security. We sat there feeling sorry for ourselves as we recounted how we seem to get systematically screwed: our son's multiple diagnoses; being pushed out of key work projects; big clients stiffed us; bad business partners; our daughter's health issues; delayed business deals – one after the other – until our budget and our spirits were almost crushed under the pressure.
How were we still surviving after all this? It was amazing that we were still in our house, still married, still kicking ass.
Oh wait – maybe there was a HUGE amount of GOOD luck there all these years.
It's like those bumpy pictures that make the cool sound when you scratch them – you know, the ones that change when you move them around. Tilt it up and it looks like bad luck, but tilt it down and — oh, look! — good luck!!
Perspective.
Not easy to hold onto. Very easy to lose.
Perspective.
Hell yeah, we are permitted to be sad, scared, injured, pissed – that is NOT what I am saying.
But as the hubs and I sat there, focused on the cumulative losses of EIGHTEEN YEARS, it was a bit, um…, overwhelming.
So we never hit the POWERBALL of good luck. That kind of bonanza might look like autism recovery, a perfectly organized home, or the literal Powerball Jackpot. We always seem to get the kind of luck that's like the luck you have when you brush away the sticky silver nubbies of a scratch-off lottery ticket to see the words "Winner: free scratch ticket."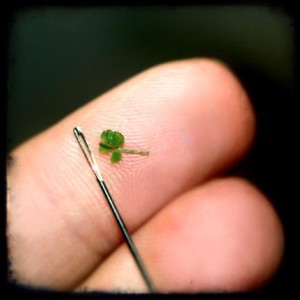 THAT'S IT!!! Hubs and I have the "scratch ticket" variety of luck:
We lost the big contract, BUT we have enough money to figure out our next steps.
We left the iPad and iPod on the train, but it was retrieved and held in safety by that friendly conductor.
No autism recovery here, but we are enjoying much better health and more connectedness.
The sewing machine malfunctioned, but AFTER I finished fixing the boy's snow pants for a day of sledding.
The fan drying the slow leak in the basement tipped over and opened the valve on the water heater in the middle of the night, BUT the sump pump worked perfectly.
The slow leak in the basement is a worst-case scenario for repairs, but homeowner's insurance will cover a large portion of it.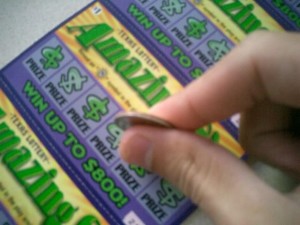 Over the past few weeks, as we've hit minor "wins" in life — like iPhone fell in the toilet, BUT I had not gone to the potty yet (and had insurance) — we'd stop and announce "Scratch Ticket!!" in order to celebrate a small but important triumph.
So here's to those Scratch Ticket wins that happen A LOT more often than the jackpots! If you take notice of them, you'll be celebrating waaaaaaaaaay more.
Try it!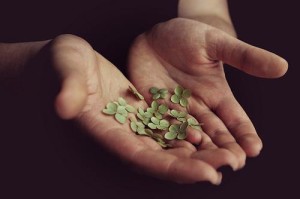 ~ LuvBug
To read more blogs by LuvBug, Click Here.