Within the autism community, we are all used to loss. It comes in many forms and affects us differently and in very personal ways. Some lose speech, some lose eye contact, perhaps we lose a grandparent or the ability to tolerate certain foods. Regardless of the loss, we feel sad and cheated as if life just keeps throwing curve ball after curve ball at us. We mourn, we deal, we move on until the next loss. These sad times bring us closer to our friends and family who lovingly carry us through and make the days tolerable. Today is such a day for me. A day of loss, and a very significant loss indeed. Today we lose our dog Dante who has brought happiness, love and devotion into our home for nine years.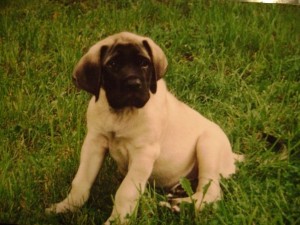 I remember the day I decided to get an English Mastiff. I had researched and read about multiple breeds to ensure that I chose the perfect pet for my growing family. I wanted to make sure that our next dog would be gentle, yet protective, and provide companionship and loyalty to all those who came into contact with him. I never imagined that this particular breed would meet all the rigid standards and requirements I had insisted on. Finding the perfect breeder was quite an ordeal. It is not a popular breed due to the sheer size of the animals. Many don't have the space or means to care for such large dogs. But I loved everything I had learned about the distinguished Mastiff, and was convinced that I had made the right choice for my family.
We waited on a six-month waiting list for our male pup. When the litter was born, there were four females and two males. Problem was that there were three people waiting for males and, of course, I was the third. We got bumped. Although I was disappointed that I'd have to wait longer, I knew that this meant I had pick of the litter on the next round. I got the call the following month and was told that this litter had two females and three males. The breeder chose a female to keep so I had pick of the three beautiful little boys. When the pups turned seven weeks old, my dad and I packed for the long six-hour trip to go pick up my dog. I was five-months pregnant with Nicholas at the time so this trip was a long one to say the least. At this time, I didn't know that my unborn child would someday be diagnosed with ASD.
We arrived in Bumblef%*#, NY around midday and, as we pulled up, my dad asked why they had a black bear caged in a dog pen. Uhhhhhhhh, yeah… It was actually a 265-lb brindle male Mastiff in that pen. He was HUGE!!!!!! I was a little taken aback, but made my way towards the house. We were led to the puppies who were playing in the grass. They were happy and healthy just as I expected. This breeder was truly amazing and she tested each of her dogs for genetic flaws before she allowed them to breed. 
I lowered myself to the ground and sat down Indian style, my big belly resting on my knees. I watched the puppies run around and come close, but then run away again to jump on one of their littermates. I watched their movements, looked at their eyes and went down my mental checklist to make sure I picked the perfect pup. As I sat there, one of the puppies kept circling me and eventually climbed into my lap and sat down. His eyes bright and friendly, he gently licked my face and hands. I wonder now, if he knew something I didn't — if this little dog already had a connection with the life growing inside of me. My dad looked on in disbelief as I decided this would be my next dog, without even asking if it was one of the males. It was. We headed home with our new pet.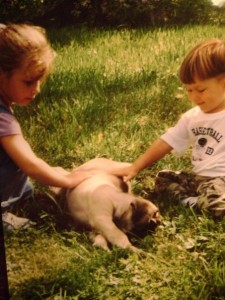 We were told that he would probably cry, not eat and have a hard time sleeping for a few days since he would be away from his mother and littermates for the first time. When we arrived home, my son and daughter ran to greet us. We put Dante on the ground and he played with them as if they had known each other for a lifetime. When he came into the house, he ate and rolled onto his back, bare, pink belly showing and began to snore. He fit in perfectly. He never cried or needed any basic training. He just fit in. It's so hard to explain, but I guess if I had to, I'd say Dante chose US, not the other way around.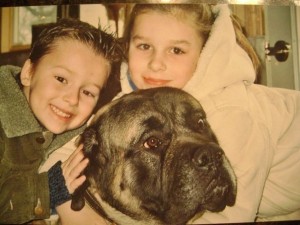 Dante grew rapidly. By the time I gave birth to Nicholas in January, he weighed over 100lbs at seven months. When Nick began to walk at one year, Dante was close to 200 lbs and officially hit his peak weight of 225 lbs soon after. His tail was like a baseball bat, capable of clearing any table with one swipe. I watched this massive animal maneuver his way through the kitchen like a bull, yet when Nicholas waddled in there, he immediately lowered himself to the floor and watched Nicky walk by. He would lick Nicky's face if he was within reach, but was always cautious and gentle around the kids. He sat outside when they played and his eyes would scope his surroundings. He would always place himself between the children and any adult who was in the area. He guarded them in the least aggressive of ways. He truly was a gentle giant.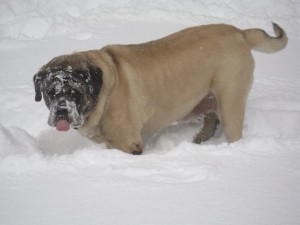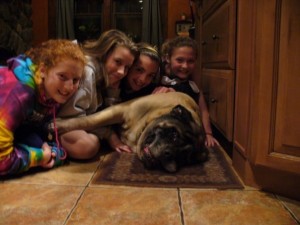 When Nicholas was diagnosed, I sobbed. I sat on the couch and just sobbed. Dante rested his head on my lap and looked up with his big brown eyes. He was completely tuned in to my pain, and I cried with my face buried in his enormous neck. He sat there and allowed me to cry.
Nick was trapped in his own little world. He had lost eye contact and he was not talking at all. He didn't want to be hugged and we didn't know how to reconnect with our son. As time passed, I noticed that Nicky would smile at Dante more and more. He eventually began to lie on the ground next to Dante and just kiss his nose. I would cringe as I watched him grab Dante's ears REALLY HARD and pull so that he could kiss his dog on the nose. Dante loved every moment of it. He would immediately go into a playful and submissive position and lay on his back as Nick pulled, tugged and dove on top of him. Dante was reaching my son in a way I couldn't. Nicky grew more and more affectionate with him, and they became best pals. Nicky never cared about any other dog. He didn't care about the cute puppies people brought to the park, or the dogs that ran to greet him when we visited friends and family. Before Nicholas was able to talk, we introduced him to my parent's pug puppy Tico. We kept gushing over how cute this little dog was. Nicky simply walked over to Dante's cookie jar, took out a dog biscuit, gave it to Dante, kissed him and walked out of the room. It was all about Dante and Nick was as loyal to him as he was to Nick. I then realized that this dog was indeed meant to be part of our family.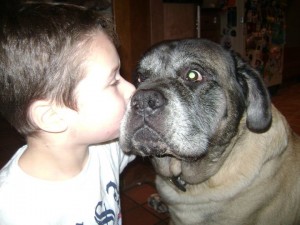 On Monday Dante turns nine and I will have to lay him to rest. Our last veterinary visit revealed that he was riddled with cancerous tumors throughout his body. One of the tumors was pushing up against his trachea and he has stopped eating and drinking. He has tumors within his chest cavity, on his liver, in his abdomen and his lymph nodes. Our vet decided to give him an intravenous shot of steroids so that we could bring him home for the weekend to say our goodbyes. How do I do that? How do I say goodbye to a family member? How do I say goodbye to the dog that brought my son back to me? How do I let go of a family member that gave so much and never asked for anything in return? How do I prepare my kids? How do I prepare Nicky, who does not know a life without this dog? How do I say goodbye??? I sat on the floor with him and buried my face in his enormous neck once again. This time I cried because I was losing him. He looked up at me with the same look as when I cried for my son. HE was comforting ME. Even now he is still looking out for us. 
I wipe my tears and I whisper to my dear friend. "Thank you Dante. Thank you for being there when I needed you. Thank you for loving us. Thank you for bringing Nicky out of his world. Thank you for choosing me on that hot August day when you climbed into my lap." Rest in peace my gentle bear. You will never be replaced in my heart. We love you big boy!!!!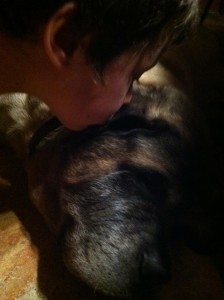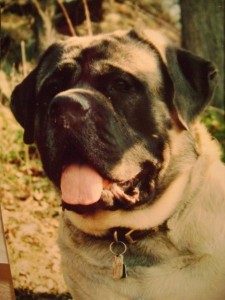 Love,
Mamabear