June 2, 2016
I grew up with epilepsy, and we had to test different medications and dosages to figure out what would work for me. When someone gets cancer, they often test a part of the tumor to ensure that they are using the ideal treatment option to get rid of the cancer. When a child is diagnosed with ADD or ADHD, they have to go through different medications and dosages to see what really works for them. When I was diagnosed with hyperthyroidism, the initial medication worked, but the dosage needed to be higher.
We understand this is a part of our structure, that all people are "wired" differently. We get that some suffer mental illness, metabolism issues, or things like allergies. We are capable of understanding that opening up a bag of peanuts in front of the wrong person could take their life while everyone else in the room is fine. We gripe that we gain 10 pounds by looking at chocolate and our spouse can devour an entire cake with no problem.
So why are vaccines "one size fits all"? How did we go from 7 shots (24 doses) being "fully vaxxed" to 50 (69 doses) in ONE generation and not think twice about the effects of all those chemicals and diseases being injected to our children's newly and still developing bodies, and assume that there cannot possibly be ANY repercussions from this? Why do so many choose to refuse to acknowledge that possibility?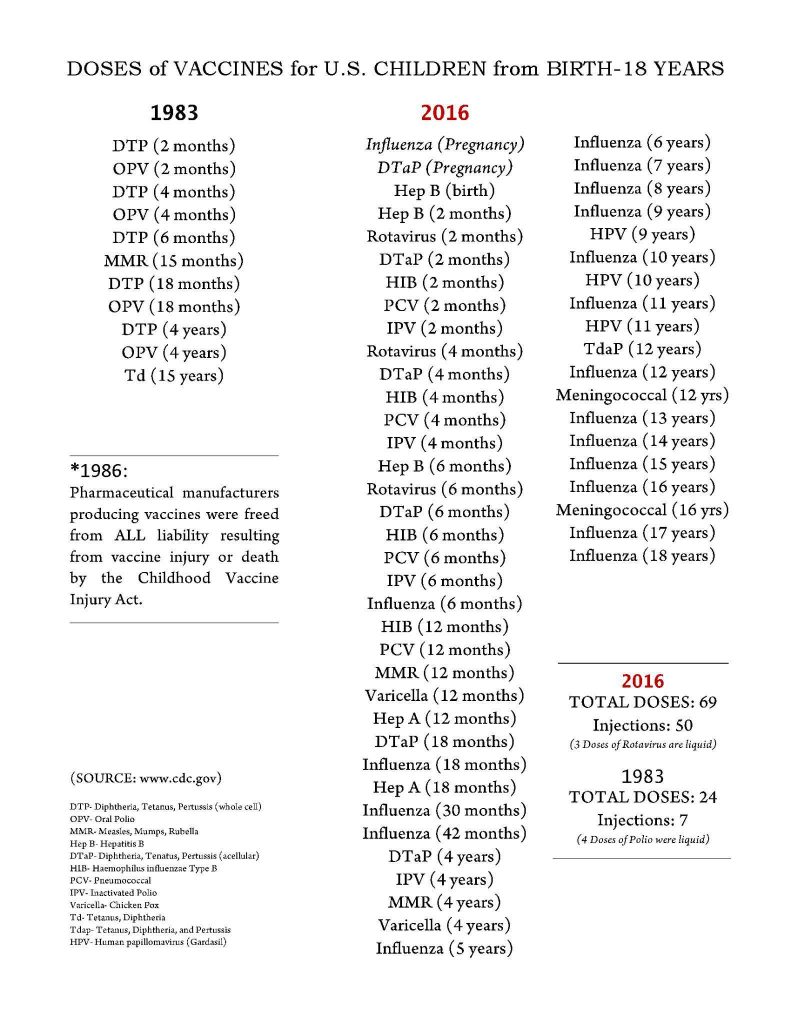 Vaccines are claimed to have "eradicated" so many childhood diseases and to be the reason why so few children die each year because of them. Really? The cold used to kill children by the dozens. We don't have a vaccine for it, and our kids aren't dying off from it. The plague: no vaccine for it, but not really an issue anymore either, is it? Could it possibly be that medical science itself and the progress of things like steroids, antibiotics, and better hygiene practice, both in the home and environmentally, had something to do with this? Maybe the invention of central heat and air, allowing us to keep ourselves a healthy temperature all hours of the day wherever we go? The invention of convenient and quick transportation to medical facilities that did not wear our already-sick bodies to the bone, unlike when we traveled predominantly by foot? Possibly the ability and convenience of getting clothing that suits the area we live in? Of course not. None of these things could possibly contribute to a healthier immune system of their own accord. It was vaccinating for everything else that made the common cold go from life threatening to merely a nuisance, right?
Allow me to explain, but first let me be perfectly clear about one thing: I never wanted my children to be vaccinated. Not even a little bit. And up until today, I have only been honest about that with a few people that I went to for support when I was pregnant with my first. I did not get that support. If you are a believer in vaccines, then anyone that thinks twice about it is "the problem." With my oldest, I was open with our pediatrician about my concerns and the fact that I was totally against what I was about to do. She was completely supportive and offered a *VERY* delayed schedule, and I took it. I felt like I was getting what I wanted, just a little bit. She was constantly sick with colds and ear infections the first two years. She was on Claritin for allergies, but all in all seemed "fine," so we stuck with it.
Then Izzy came along . . .
Izzy was vaccine-injured at six months old. She was a rapidly developing smiley baby that just got her brand-new jumper and playmat and could not be happier jumping all day long, sitting up *almost* unassisted, and holding her head up just fine on her own. She went in for her six-month checkup and first round of shots and became a newborn. She went dormant. Minimal eye contact, no more playing, minimal smiling. No longer holding her head up or sitting up. She wanted to be put in her swing and left alone. By the time her 10-month appointment came around, I was more than worried even though she seemed to be "coming around" again. I explained the situation, my concerns and the sudden changes, but honestly? It had not even crossed my mind at that point that it could have been the vaccine until her doctor piped up. No sooner did the doctor explain that she believed she was vaccine-injured than my heart sank into my feet. I had failed her. I allowed society's opinion of what makes me a "good mother" to determine how I handled her medically, and I failed her. She was in this position because I did not trust my instinct and allowed someone else to influence me. Because I did not want to be labeled "neglectful."
Fast forward a couple months to her one-year checkup. She still isn't even crawling, but she is happy, making eye contact, sitting up again by herself with full head control. She still refuses anything but a bottle and will not have anything to do with "real" food. I am told how lucky we are that the damage wasn't permanent and that she seems to be recovering beautifully. That she will be behind developmentally for a while, but it looks like she is going to completely "snap out of it." This of course brings me relief, but my gut is still talking. Loudly. To top it all off at this point? My daughters' pediatrician (who was also my pediatrician) refers me to another doctor because Promedica now has a "get caught up or get out" policy, and she can no longer see my children. Wonderful.
Fast forward a few more months to the summer. Hives. Everywhere. Her whole body was pink from head to toe.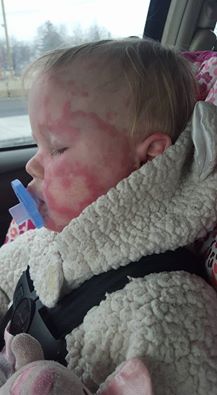 Pediatrician is stumped, and Izzy is on a constant cycle of Benadryl and ibuprofen for weeks at a time with minimal results. The hives are constant. Some weeks are good, and she only has about 75 small ones on her body at a time. Some weeks are awful, and there are so many that all you see when you look at her is solid pink. Specialist sends her for allergy testing, and nothing comes back. The kid isn't allergic to anything. At all. No answers.
August rolls around, and she has an awful breakout again with a new purple tinge to it. Back to the pediatrician who immediately sends us to Toledo Children's Hospital. They keep her overnight, and the meds work. They decide she must have an infection of some kind, coupled with her body having an allergic reaction. New specialist, now they think she must be allergic to her own stress hormone. Placed on a daily med and sent home.
Fast forward to this past January. Hives again. Purple rash again. Toledo Children's Hospital again. She is there a week with the IV in her the entire time. She is diagnosed autoimmune with erythema multiforme. Her pediatrician is adamant we no longer vaccinate (we had not since her six-month checkup anyway) and certain this was caused by the vaccine injury. The hives outbreaks that keep landing her in the hospital? From a cold. This is now what the common cold looks like for my daughter because of vaccines. We face a lengthy hospital stay and a freaked-out, absolutely miserable child when she gets a cold. Why? Because society thinks that *possibly* protecting her against *maybe* getting the chicken pox for a week is somehow, in some way, better for her.
But it doesn't end there, does it? Nope.
Back to my oldest for a minute: their doctor now has her under observation. Her activity-induced asthma? Gone. Her allergies? Getting better with every season. Her constant colds and ear infections? Not like they used to be. But . . . she is about to start kindergarten. Oh, joy.
It's bad enough when you are labeled a "conspiracy theorist" simply because you don't trust that science knows, through some method of testing, that these vaccines can accommodate every possible genetic structure on the planet. What's worse is now I am "neglectful" to my children. They "should be taken away from me." I am the reason why "all these kids are getting sick" (even though I and my children have never had these diseases we are apparently spreading everywhere). My oldest? Should not be allowed in public schools, or parks or anywhere else. She is to be treated like a disease-riddled parasite — and, oddly enough, by those injecting said diseases into their children. But mine is the one carrying them? I have to fill out special forms for her to attend school. All because she does not have a formal diagnosis.
Izzy? Will be protected by the world. They will all bend over backward to protect the autoimmune children. This is what the fight is for, right? Wrong. Not when the vaccines cause the autoimmune disorder. Not when my daughter would be perfectly healthy today had I had the guts to stand my ground in the first place and not care so much about what society thinks of my decisions. It's impossible. It's absolutely everywhere, and my emotion behind it stems from not wanting to do it in the first place.
So before you run around telling everyone that vaccines are "one size fits all" and ranting about all the horrible, neglectful parents whose children should not have the "privilege" to share a classroom with your child, ask yourself when "one size fits all" has ever worked in the medical industry — or anywhere else for that matter. Understand that your judgmental opinion could cause another mother to make the same horrible mistake that I made. Realize that you have no clue what other people are dealing with, and find a way to share your opinions on it respectfully. No matter who is listening.
~ Michaela