Thomas Edison's teachers told him he was "too stupid to learn anything."
Edison also famously invented 1,000 light bulbs before creating one that worked.
Have you ever heard any of the following comments from a teacher or staff member from your child's school?
– Children with autism cognitively will never change.
– We typically don't test kids with autism, because they are difficult to test and don't test well, so why bother.
– She will not be able to write their name, why? Because she has autism.
– He flaps his hands?  Well, that is what autistics do.
– His autism affects his ability to learn.
– She will never read or write.
– I think you should consider medication.
– I know you have your philosophy about what autism is, but you need to understand to everyone else autism is a lifelong mental disability.
– These children need to be somewhere else, they do not belong in public school.
– He can't graduate from high school, he has autism
This is the mentality of educators teaching our children today.  This list could go on and on with the "he can't," "she will never,"  "because of autism."  It puzzles me.  Just as we parents have to take control of our children's medical needs, we also need to take control of their educational needs.  From my experience the medical community and educational systems, still do not understand autism.
I remember when my son was in second grade and his teacher told me, "He can't do math; he can't add."  When I asked her about using manipulatives, she said, "Yes, I have tried; he can't do it."  When my son got home from school I took out my video camera and began taping our math session.  My son was adding with manipulatives and adding on his worksheets.  When we went to school the next day, I showed his teacher the video. She was amazed and commented, "Oh, I will have to see if he will do this for me."
The same thing happened with his speech therapist.  Every time they would tell me my son could not do something I would take a video of him.  I would show them what strategies to use with him.  I often wondered "what is it that you do with him all day."  It appeared they did not even try to teach him.  When my son was in third grade, I was told he will never be able to read.  He has been reading for several years.
A special ed director once said to me, "A lot of parents need a break, and so they send their child to school."   School for my son is not a holding tank so that I can "get things done" or "take a break" while my son is at school.   I am sending my child to school to learn.  I have seen my son excel with good teachers.  The teacher he has now looks for solutions and does not give excuses.  If my son is struggling in an area, she will try a different method or approach, she does not give up.
It frustrates me not only for my child, but for all the children with autism or with developmental, and learning disabilities.  We can't give up, make excuses, or blame the disability.  We need solutions, not excuses.   I am not saying this is every teacher.  I have many friends who are excellent teachers.  As I am writing this blog,  Live with Kelly and Michael is on. They are having their 4th annual Top Teachers Week.  Today's teacher is a teacher of special-needs students.  Her story is amazing.  You can see her dedication and excitement in teaching and watching her students grow and learn.   All teachers should be this way.
I came across this post from Carly Fleischman's FB page.  Carly was diagnosed with severe autism at age two.  I had to add it to this blog, because I could not have said it any better than Carly.
Perfect test!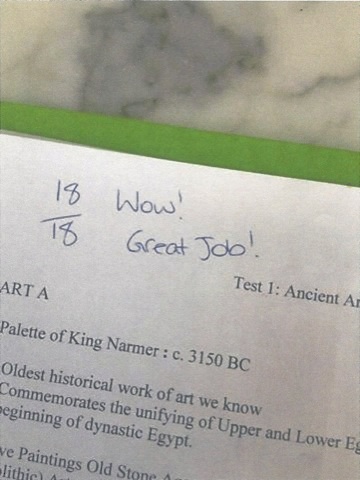 This test cost my parents over a half $1 million. It took me countless hours and years of sitting at a table and working nonstop.
It took many days months and years for me wishing to find a way to communicate.
This test took the strength with in me to find my way into this world.
I heard doctors tell people to give up on me. Countless teachers and principals saying they won't except me.
To all of those professionals who said that to me, all I can say is one thing:
It sucks to be you! 🙂
This test is for every child that is being diagnosed today with autism. We can do it.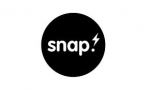 For more blogs by Snap click here.