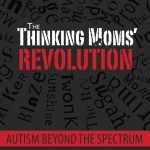 STATEMENT ON TODAY'S NEW AUTISM NUMBERS 1 in 68 FROM LISA JOYCE GOES, PUBLISHED AUTHOR, CO-FOUNDER OF THINKING MOMS' REVOLUTION AND MOTHER OF A CHILD WITH AUTISM
The new autism numbers, 1:68, are a national disgrace.  The medical establishment, the government and those we trust to protect our children have failed miserably.  The reality is we are no closer today than we were 25 years ago to knowing what causes autism or how to cure it.
While Rome burns, our leadership is fiddling with this autism crisis, and our children are paying the price.  The numbers speak for themselves.  Autism rates have soared unchecked from 1 in 10,000 in 1980 to today's new number of 1 in 68.  We are  destroying generations of children, and it is time to make preventing and curing autism priority one as a nation.
Anyone who claims these new autism numbers are not a real increase, but simply better diagnosing, is not living in the real world. Check with the school systems, look on the playgrounds and walk around the malls, and you will see children with autism everywhere. This better diagnosing viewpoint is just smoke and mirrors.  If this were true, then the medical establishment has been asleep at the wheel for the last three decades.
When it comes to autism, everything should be on the table in finding the cause and cure.  We need to fund immediate independent research on what is causing autism in our children, including looking into environmental factors: vaccines and other medications, food additives, pesticides and other factors.
For more information, call
Lisa Joyce Goes
(609) 532-0689