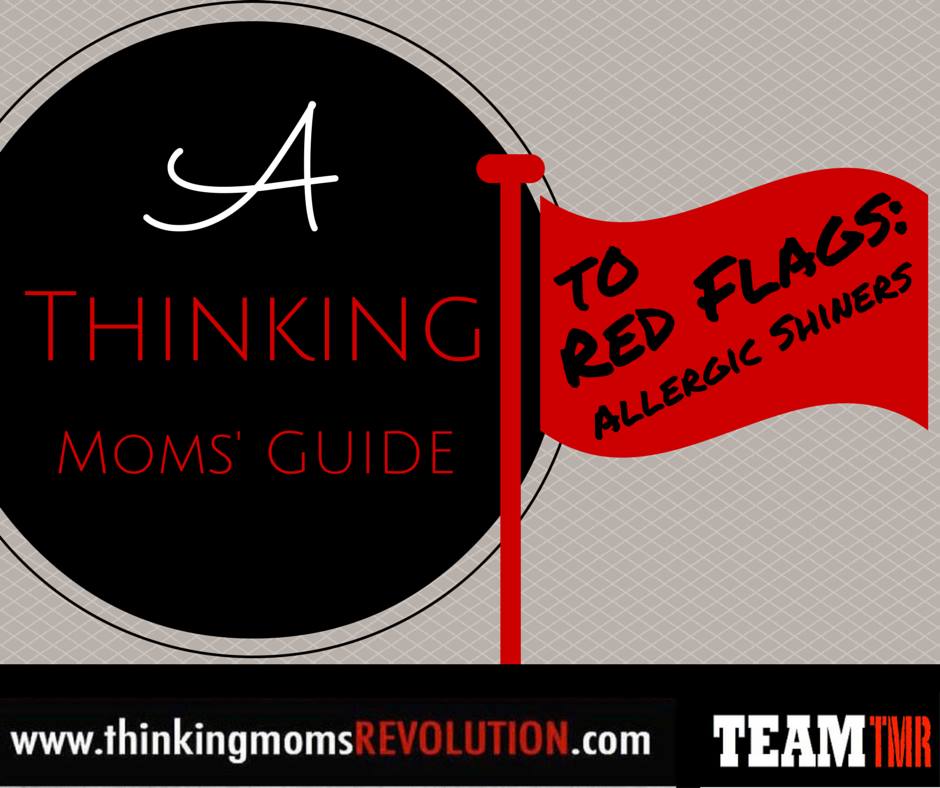 "Oh he's just tired!"
I'm looking at one of my youngest kiddo's school friends, huge blue circles under his eyes. His mom notices me noticing. I'm sure a cloud of concern has moved across my face. She's embarrassed, like she's been keeping her son out until midnight every night and I'm about to lay a little mommy judgement on her.
"He's in bed every night at 7:30, but he still has those dark circles.  I get them too.  Must be genetic."
Newsflash: Not fatigue. Not genetic . . . at least not the way you think is genetic.
Those blue, bruise-y looking bags under your kid's eyes are a RED FLAG for allergies — and not just pollen allergies, but food and mold allergies too.  They're called allergic shiners and are usually associated with allergic rhinitis (runny nose) and sinusitis.  There was a recent study that linked the color of the shiners with the severity of the rhinitis: the darker the color, the worse the allergic rhinitis symptoms.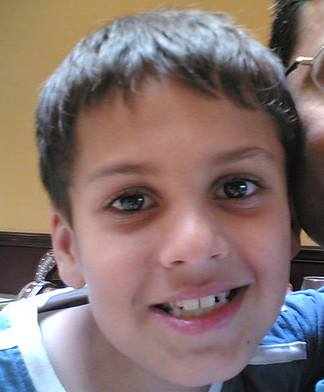 The dark color, which can also include the upper eyelids, for a lovely "punched-out" look, is from blood and fluids pooling in the thin tissue around the eyes.  Congested sinuses and inflammation put the squeeze on tiny blood vessels and make it more difficult for blood and lymph to flow smoothly. The skin around they eyes is especially thin and delicate so the effects are more readily visible.
Why is this a RED FLAG?
 chronic sinusitis
 allergies
 food allergies
 chronic inflammation
 mast cell activation
 chronic infection
 chronic high histamine affects attention and brain arousal neurotransmitters and can contribute to cognitive problems.
Let me repeat that last one . . . chronic high histamine affects attention and brain arousal neurotransmitters and can contribute to cognitive problems.
Why should you care?
 Your kid has allergies that need to be addressed for optimal health.
 High histamine levels contributes to total allostatic load.
Allostatic load is the body's "wear and tear" in the face of stress.  High allostatic load can contribute to poor digestion, over-exposure to cortisol, hypercoagulation, and acceleration of any diseases lurking in the body.  It is a constant stessor and a heavy allostatic load can lead to neurological changes, disturbed sleep patterns, and autonomic nervous system issues — think "fight-or-flight" all the time.
By themselves, allergic shiners are a visible effect of an internal imbalance.  However, if your child has allergic shiners and a speech delay or digestive problems, something else could be going on.  Don't be surprised if removing a few allergenic foods like wheat, soy, or dairy, or adding a little quercitin to stabilize mast cells results in a reduction of neurological symptoms.  It's all connected.
Researchers, like Dr. Theo Theoharides, are just now digging in to the role of the immune system in developmental delays to uncover possible causes and treatment options.  Thinking Moms can get ahead of the pack and use this information to help their kids feel better and function better.
What can you do? Here are a few things you can do to help turn down allergic response and minimize those shiners:
 Try an elimination diet
 Nasal irrigation, with either a neti pot, saline mist, or xylitol nose spray
 Use an air filter, particularly in your child's bedroom
 Change pillowcases nightly
 Wash hands and face as soon as you get home, including eyebrows!
 Change shirt when you get in as well.
Some additional resources, research and things to think about:
Mast cell activation and autism
Quantitative assessment of allergic shiners in children with allergic rhinitis.
Acetylcholine, Histamine, and Cognition: Two Sides of the Same Coin
Autism Prevention: Mast Cell Activation Disorders
 ~ Zorro