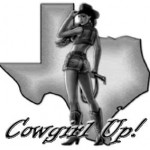 Temple Grandin. She needs no introduction. Unless you've been living under a rock, you know her as the most famous person with autism in the world. She was voted into Time's top 100 most influential people in the category of "Heroes." She was portrayed by Claire Danes in the biographical HBO movie "Temple Grandin," and she is an author of many books on both autism and animal behavior. How on earth did lil' ol' me score an interview with her during a tour for her new book release? I'm not sure I fully understand that either. I'm just grateful for the time I was given to chat with her. I hope you all enjoy the interview as much as I did. Scroll down below and leave comment for your chance to win a copy of her new book "The Autistic Brain" and a copy of our own book "The Thinking Moms' Revolution." The runner up with receive Audible.com copies. Be sure to leave your email address!!!
If you are unable to view the above video, please click here. Alternatively, please copy and paste this url on your web browser http://www.youtube.com/watch?v=A_MFCrMLGqw
~ Tex
* For more blogs by Tex click here. For more Thinking Out Loud videos, please click here.
TMR's Temple Grandin Giveaway:
This contest is a random drawing. The first name drawn will receive a hardcopy of Temple Grandin's new book "The Autistic Brain: Thinking Beyond the Spectrum" as well as a copy of "The Thinking Moms' Revolution: Autism Beyond the Spectrum". The second name drawn will receive Audible.com copies of each book.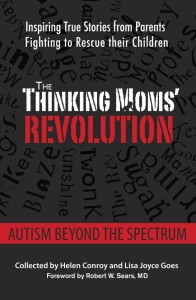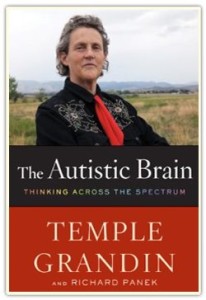 How to Enter:
Leave a comment/reply below about today's interview OR about how Temple Grandin has inspired you or someone you know. Be sure to include your email address!!!! Each valid comment is the equivalent of one entry into the drawing.
Rules:
1. This contest is open to residents of the 50 United States, Canada, and Puerto Rico.
2. No founding member of Thinking Moms' Revolution or their household is eligible to enter.
3. Winners will be selected by random drawing.
4. Contest ends Wednesday May 15 at 11:59pm Eastern Standard Time.
5. Winners will be announced on Thursday May 16 and will be contacted via email to arrange prize delivery. Contest winners will have 48 hours to respond to their notification email and claim their prize. New winners will be selected for prizes not claimed within 48 hours.
6. Only entries with valid email addresses will be considered eligible.
7. Comments/replies not approved for public posting on the TMR blog will be considered ineligible for the drawing.
8. TMR reserves the right not to post comments considered inappropriate, crude, or disrespectful.
9. The first place prize books will be shipped via Media Mail through the US postal service. Second place prize books will be sent through Audible.com to the winner's email address. An Audible.com account may be required to receive the second place prize. The second place prize is subject to any and all Audible.com regulations and procedures.