Sometimes as parents  who choose not to vaccinate or to vaccinate selectively, our children are faced with teachers or other people in authority who have strong beliefs that are in direct opposition to our own. Often that is not a problem, but sometimes the teacher behaves in such a way that the parent needs to address it. Striking the right note can be a very difficult task for a parent. Today's blog is a letter that a mother sent to her child's teacher when the teacher overstepped her authority. We thought this mother handled it so beautifully, we wanted others to be inspired by her example. The names have been changed to protect their privacy. This was sent to the teacher and copied to six administrators.
Dear Mrs.______________,
I delayed sending this email, as I needed to take time to seriously consider how to approach you. I believe incidents my daughter shared with me this past week warrant my involvement.
My daughter Bethany told me about an interaction between you and her on December 2, 2015, where the topic of vaccination came up. Bethany said there were two other students present at that time. She told me that you shared your opinion that all students should get a flu shot, and Bethany replied by telling you that her family has concerns about the safety of vaccines. She told me that she spoke to you about her younger brother specifically and our belief that vaccines played a role in his abnormal neurological development, his developmental regression and subsequent autoimmune disease. Bethany told me your reply was that he was born with autism, and after having taught for as many years as you have, you know this to be true. Bethany told me she shared with you that she remembers her brother's early years, when he did not have autism, and you replied by calling her a liar. I believe it is worth noting that you have never met her brother, who you stated was born with autism. [Editor's note: many children were not "born with it." The evidence is all around, but for a good introduction see the Hear This Well website.]
Bethany told me that the following day, there were several students absent from class. She said that you made a statement to the class that everyone should just get their flu shot. And then, reportedly, you added something to the effect of "Except for Bethany, because she does not like them."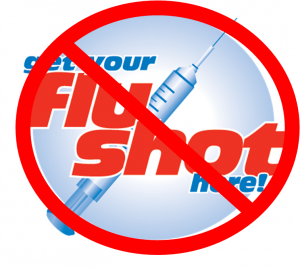 My knee-jerk response would have been to inform you that there are no less than five doctors (pediatrician, immunologist, audiologist, neurologist, and internal medicine) who share the professional opinion that my son suffered a vaccine injury which led to his regression into autism and severe, lasting, multi-systemic disease. The actual term used is iatrogenic illness — caused by a medical treatment. I would have also been inclined to encourage you to read a flu shot package insert, available at any location which administers this product, before recommending a class of students receive that product. I would have also reminded you of the fact that to date, in Illinois, [flu] vaccination is a recommendation, not a requirement, for attendance in public school.
Instead, I will focus on what reportedly occurred between you and my daughter. In my opinion, you behaved in an intimidating and bullying manner on December 2, 2015. Also in my opinion, you attempted to publicly humiliate my daughter on December 3, 2015, which also qualifies to me as bullying. I am shocked and disappointed that an educator would behave in such a manner. What Bethany shared with you about her brother is both deeply personal and tragic.
I was frankly surprised that Bethany chose to open up in such a way about the truth of what happened to her brother. She is well aware of the controversy and politics around the topic of vaccination. She took a tremendous chance in being open and honest with you. I have to believe that she will be quite hesitant to share anything so personal with school staff in the future. The shame in this is that, up until now, my children have held school district staff in very high regard.
It is my expectation that, moving forward, should you have any further comments to make about my family or opinions about our medical decisions, such comments will be made to me directly, rather than one of my children. I also expect that you will refrain from bringing this topic up to my daughter unless I am physically present. For the remainder of the time Bethany is a student of yours, I ask that you will focus only on the content of your class and her performance therein.
If you, or any other administrator copied here would like to discuss this issue with me, I would be willing to arrange a meeting convenient to my work and personal schedule.
Thank you,
Jennifer Miller
Ms. Miller received two emails in response:
First, from the principal, thanking her for her Parental Concern letter, and letting her know a meeting would be scheduled later that day or the next with him, the assistant principal, the department chair and the teacher. He said he would touch base after they met.
Second, from the teacher, apologizing and saying it was not her intention to make Ms. Miller's daughter uncomfortable, a statement that she will be more sensitive regarding this topic, and her assurance she will not bring it up in class.
Ms. Miller says she is okay with where things stand right now. If nothing else, she gave the teacher pause. And her reputation as "One of Those Parents" has been elevated a bit.