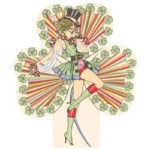 What could 18th century Ireland have to do with SB 277, the new California law severely restricting personal belief exemptions to vaccines that threatens to keep many non-vaccinated or partially vaccinated children out of school? Ireland happens to have a very interesting and colorful history, which is often overlooked because it has been overshadowed by its neighbor and once occupier, Great Britain.
Europe was a place of war and kingdoms — in fact, warring kingdoms — with often barbaric behavior. Religion (mainly Catholic) was the backbone of every society, and to question it could get you imprisoned or hung, drawn, and quartered, depending upon whom you offended. Most of the wars involved religion and, depending on who won, resulted in many new 'revolutionary' religions. In the almost 150 years of the movement known as the Reformation, a tumultuous period of marked by a great deal of death and destruction, Protestantism was born, including the Lutheran, Calvinist, Huegenot, Presbyterian, Puritan, Reformist, Baptist, and Quaker sects.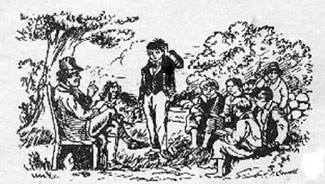 Ireland, however, remained staunchly Catholic, despite the barbaric Cromwellian War, which ravaged the Irish Catholic Church from 1649-53. Ireland managed to maintain its culture, traditions and identity in spite of being ruled by Great Britain for the better part of 800 years. Many attempts were made to thwart Ireland's nationalistic pride. (In fact, there is a side of the history of Ireland and Great Britain that is still not fully resolved.) So how does this have any bearing on SB 277?
The Irish at the time spoke Gaelic, not English. They were scholars and poets, religious and traditionally devout. Religious leaders spoke Latin and Greek. Beginning in 1702, a series of Penal Laws were passed in Ireland by Great Britain aimed at extinguishing this rich Irish culture. One of the first laws stated, "Whereas it has been found by experience that tolerating at papists keeping schools or instructing youth in literature is one great reason of many of the natives continuing ignorant of the principles of the true religion, and strangers to the scriptures, and of their neglecting to conform themselves to the laws of this realm, and of their not using the English habit and language, no person of the popish religion shall publicly teach school or instruct youth, or in private houses teach youth, except only the children of the master or mistress of the private house, upon pain of twenty pounds, and prison for three months for every such offence. 7 Will III c.4 (1695)" [Editor's note: don't you love it when educational reformers sound like they themselves haven't been educated?] As noted here, "The Punishment Laws passed by the Anglo-Irish parliament were so harmful to the Irish people that the Frenchman Montesquieu described them as "conceived by demons, written in blood, and registered in Hell." Sound familiar? One commentator said that "It was not merely the persecution of a religion, it was an attempt to degrade and demoralize a whole nation." Or, to put it mildly, a kind of religious apartheid.
SB 277 threatens a similar apartheid based upon the vaccine status of California's children. Perhaps what transpired in Ireland could serve as inspiration for the future of California.
Facing a law that would abolish the teaching of religion, Irish language, and culture in schools, the Irish people chose to stand up for their rights and keep their kids out of the new British schools which were based on the the tenet of "wherein the Children of the Irish Natives should be instructed in the English Tongue and in the Fundamental Principles of the True Religion." Catholics were not barred from these schools, but the curriculum had changed to one that ignored traditional Irish values, history, and culture. Shockingly, the Irish people refused to believe the English settlers were not trying to Anglicize them and decided to protest.
So how were Irish children educated? Local villages formed their own schools called Hedge Schools — sort of like outdoor homeschools. Travelling scholars, who were former schoolmasters and students, would go around Ireland educating the children in towns and villages so that the history and culture of Ireland would never be forgotten. Under the law, these schoolmasters were now criminals. Therefore, their instruction was done in secret; it took place in hedgerows, barns and abandoned cottages. Parents were equally criminalized for educating their children at home if they were Catholic.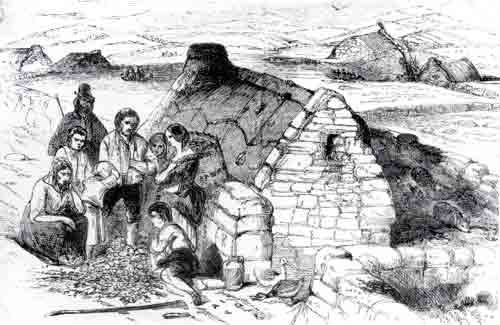 Despite being incredibly risky for both the teacher and the pupil, for 120 years the Irish stuck to their principles — such was their passion for their beliefs. It was extremely brave, and some might say foolish, but it was the cherished belief of the parents of Ireland that their children be taught their heritage, and for that reason the danger was worth it to them. In 1829, the Papal Law was officially repealed, and the school system in Ireland was slowly rebuilt. It's not to say that it was rebuilt as before, but at least it was free of oppression.
I don't see the "vaccine debate" as being different from a religious debate. By their nature, it's impossible to debate people's personal religious beliefs — simply because they are beliefs that are personal. That's why we have the First Amendment. In a similar way, it has become equally impossible to debate the merits and demerits of vaccination in a civil manner because of the collision of personal beliefs on both sides of the question.  Obviously, those who use personal belief exemptions are doing so based upon their personal beliefs, but the rationale for mandating vaccines is also hinged on personal beliefs, albeit scientific-sounding dogma about "herd immunity," "resurging disease," "debunked theories," and vaccine reactions being rare, that have little basis in fact, logic, or science.
We live in a complex world and unless we build a wall around each state, that ever-elusive perfect "herd immunity" cannot be achieved. California already has high rates of vaccination, including measles vaccine, and we can see that their high rates of vaccination did protect them in the Disney outbreak, keeping rates of infection quite low, despite the high number of adults who either were never immune or are no longer, thereby invalidating that justification in the Pan/Allen bill. No panic. No spread of disease in schools. Not one school was shut down. No national emergency at all — except for media-propagated hysteria. Vaccinating the remaining tiny percentage of shoolchildren who have not been vaccinated already cannot prevent future outbreaks of measles as long as people are free to travel to places where measles is still endemic.  In spite of all that, heavily influenced by pharmaceutical company donations and political posturing (see Doctor Bob's Daily for June 25th at 3:35 p.m.), SB 277 emerged and fast-tracked its way through the legislature to become law, and children whose parents wish to abstain or delay even one vaccine are being marginalized. They are being denied their basic rights as citizens afforded to them by the constitutions of California and the United States, based on their religious or personal beliefs. Religious segregation if you will.
The United States was founded on the principle that people should be free to practice their religion based on their own beliefs. That principle is being tested right now in California. Constitutional rights must and will prevail, but only the will of the people will see it through. It is going to be a fight, maybe the fight of our lives. The lesson from Ireland is that it can be done — even if it takes 120 years. We don't have 120 years; we have only a matter of months. But there was no social media in 18th century Ireland . . .
Governor Brown, get ready!
~ ShamROCK
For more by ShamROCK, click here.