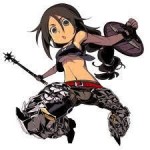 It's been awhile since I've written a blog–summer is such a busy time and it seemed to fly right by this year!  I wanted to share with all of you a little of what I've been up to these past few months.  Positive energy and energy healing.  My focus has shifted from that of panicked mom worrying over EVERYTHING to one of that is trying to learn to stop and smell the roses.  It certainly hasn't been an easy transition, let me tell you! For the past 7 years, I've been living in sheer panic mode and barely hanging on to my sanity.  I've been researching treatments, supplements, therapies, etc.  I've been in autism warrior mode for a LONG time now.  I've learned so much and made some really good connections with some really wonderful parents over the years, but something was missing.  I wasn't really enjoying life.  I hadn't realized just how much of a dark cloud I had been living under.  I was barely participating in my own life.  Sure, I was going through the motions of the day to day, but I wasn't really enjoying any of it.  For so long I was just maintaining–and that is no way to live.
A very dear friend of mine recommended a book to me and it has literally changed my life. From the moment I started reading this book, I knew this was the path that was meant for me. Everything about it made perfect sense. It's called
The Healing Code: 6 Minutes to Heal the Source of Your Health, Success, or Relationship Issue
 by Alexander Loyd, PhD, ND.  The Healing Code has been a game changer for me in many ways. The author gives a great description of Quantum physics and how positive and negative energy affects us at a cellular level every day, even traumatic events from generations ago can still be in our DNA and passed on to our children. This book has opened my eyes in so many ways. I realized I was living a fear based life. Always waiting for the other shoe to drop and being prepared for a disaster. And it was EXHAUSTING. There was no real joy or real happiness in my day to day. I started to realize that words matter. Intentions matter. What you put out into the Universe matters. My negative energy affected everyone around me. I would constantly be on guard for the next seizure. I'd stare at my son always looking and making sure he was okay. I was literally willing him to have one and putting all of MY fears and worry onto him! After reading the book and reading about how negative energy can be transferred to other people, I did a 180 and started to relax. I stopped being afraid and worrying all the time. We started to go out more and do things as a family.
One of my son's favorite things to do is go to the library. Every time we went I would go into panic mode. Loud meltdowns and the quiet stillness of a library don't exactly mix, so I was on guard the minute we walked in. I would be a wreck on the drive over preparing for the worst. I would instruct my daughter to get her books as quickly as possible so we could get in and out quickly before any outburst that would send us fleeing for the exits! Talk about sucking all the life and joy out of a family outing!
Today, our outings are much different. I visualize our trip to the library going smoothly. I feel at ease knowing that my son will handle himself beautifully and we will sit and enjoy the books and our time together. I don't even allow myself to think about meltdowns anymore. I even allow him to explore the shelves on his own instead of hovering over him. Guess what? Our library trips are the highlight of our week, relaxed and full of joy. No more fear!
The power of visualization is enormous. It has had an incredible impact on me and my family. I'm able to handle my fear and worry so much better. My children's behavior has improved. They are more relaxed and happy. My son is doing things that surprise me on a daily basis. His anxiety is way down, and the tics he had because of the anxiety are nonexistent. He is becoming more expressive in his thoughts and feelings. He looks happy and healthy. People who haven't seen him in awhile note how healthy he looks.
I came across a website and what this author wrote really resonated with me:
"Visualization is a powerful tool because it creates for us a reality that is as real as it can be before becoming manifested in physical form. The mind is an extremely powerful machine; it is what creates our understanding of the world outside of us. We receive input from our senses, which in turn affect our psyche by stimulating reactions of different emotions and triggering memories, always drawing links from our past. The world that we know truly only exists in our minds. The physical world only exists to us as far as we can experience it. This is why visualization is so important. By visualizing, we experience events without them occurring anywhere other than in our minds. If we are able to focus on one single event that we wish for ourselves and we focus on it intensely, we begin to experience the emotions and begin to feel what we would feel if the event were to actually transpire. In a way, we are living that moment without it yet being a reality. With this reality being your only focus, you will almost automatically move towards that dream. You will begin living the life you want to live before living the life you want to live. There is no need to wait to reap the benefits of success. Sit down, close your eyes and visualize it. Do this often enough for long enough and one day you will open your eyes and come to realize that you are already living your dream."
I took this picture a few weeks ago on an impromptu trip to the lake. No planning, no scheduling. I visualized us having a great time and we did! There were no sensory agitations from the wind and the sunlight, only love and laughter.  As each day passes, I feel like we are moving toward the dream! We are starting to live the life we want to live! Without fear.  Just Joy.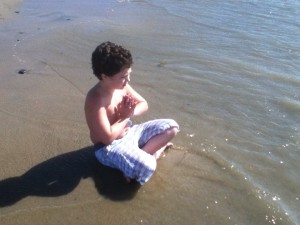 Namaste, Savage xo