July 12, 2018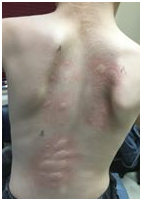 It was a moment that changed my life forever and my trust in the medical profession, a moment of such clarity and insight that I still feel it was divine led.  It changed who I am, it transformed me from a sweet, trusting, happy mom to the questioning mom, the mom who thinks, the mom who asks before she acts.
I had been such a diligent allergy mom—taking my daughter, who has a life-threatening peanut allergy, in for her regular skin prick tests. I wanted to know, I needed to be sure, what precisely is she allergic to? Was she truly allergic to peanuts (which I had observed with my own eyes when she was two years old)? I had followed the recommendations to the letter and had waited to introduce peanut butter. Upon one smear of that peanut butter, her mouth was instantly covered in large hives; a dramatic drop in blood pressure followed. And what about tree nuts? What about shellfish, dairy, soya? If one food had the potential to kill her, what about all the other potentially allergenic foods? The appointment with the pediatric allergist could not come soon enough.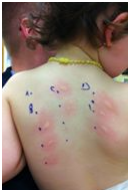 Allergy parents are all too familiar with the skin prick test—it is the go-to test for allergists to help figure out what their patients may be allergic to. A solution of the diluted allergen is placed on the skin, and a device is used to gently poke the solution into the body. If welts appear, that is a good sign that the patient may have an allergy. The welts can be big or small—the larger the welt, the more severe the allergy.
And so for nearly five years, I had diligently followed-up with the allergist, eager to make sure my allergy child was safe and eager to see if she had outgrown her peanut allergy.  Her first skin prick test had shown a fairly mild reaction to peanuts, and the allergist was confident she would even outgrow the allergy. Of course, we also tested for every known tree nut. Thankfully, she was negative to all tree nuts at that first appointment. Still, being the conscientious allergy parent that I am, I never allowed my child to have tree nuts—I was too scared.
Every couple of years I found myself in the allergist's office, testing once again for tree nuts—could she eat them? Could she not? There never was a definitive answer from the allergists, but they were helpful and kind, and we always tested for the tree nuts: pistachio, almond, brazil nut, you name it. Every time her allergies to tree nuts worsened, every time we added a new tree nut allergy to the list. The allergist was perplexed—he had been certain she was going to outgrow her peanut allergy, why was it worsening? And, again, keep in mind she started with no allergies to tree nuts. And we never, ever had tree nuts in our home, ever. And so, it suddenly crossed my mind—she had never eaten a tree nut. There never was really an opportunity for her to be exposed to tree nuts, the only place was in the allergist's office through the skin prick test. Could it be? Could it be that the skin prick test was contributing to her allergies? And, could her peanut allergy have grown worse through the continual exposure to peanut only in the allergist's office? I needed to know.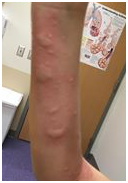 I went home and immediately spoke to a friend who is a brilliant biochemist from one of the best universities in Canada. "Could the skin prick test be causing and worsening my child's allergies?" I inquired.
"Of course," she said with confidence. "Isn't that how we used to vaccinate people against smallpox? They used to employ a lancet to gently scrape the skin and place the smallpox antigen into the skin. And, every scientist knows this basic rule: Blood + antigen = antibody. This is the same for food protein and blood as well."
(Allergy parents will tell you that sometimes there are a few drops of blood with the skin prick test—but also, the food protein solution can seep or soak into the bloodstream, similar to hormone patches.) My biochemist friend also told me how she never allowed her own children to have skin prick tests and that avoiding the potential allergen might just have the advantage of helping the immune system forget about the allergy. (Imagine the skin prick test as being a type of "booster shot" for the child's allergy.)
I then went on to read anything I could get my hands on in terms of how the immune system worked. I read all the pioneers in immunology, like Dr. Charles Richet—he had won the Nobel prize for his experiments with antibodies and vaccination. He had learned that whatever was injected into the body (and thus could bypass the normal routes of entry to the bloodstream) resulted in the creation of antibodies, and this could also apply to food. It worked like magic.  (You can read his crystal clear discussion of his experiments with this principle in this Nobel prize acceptance speech.)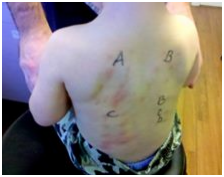 I also heard, through the grapevine, of a well-known allergist (who cannot be named here) who advised their patients to avoid skin prick testing altogether.  And again, through the divine, I had a strange visit with our well-educated optometrist—their (I use the gender-neutral pronoun to preserve the anonymity of these doctors) child had a peanut allergy.  They furtively whispered to me during an eye check-up for the children, "What do you think of the skin-prick test?"—they then went on to explain how their child had suffered an anaphylactic type event during skin testing. The insanity of it all became increasingly baffling—here we are in everyday life, as allergy parents, doing all we can to keep our children safe from their allergies, yet in the allergist's office we invite them to put these allergens directly into our children's system.
Then came the Dr. Lack study which suggests that children with eczema develop food allergies through exposure to peanut dust floating around their homes that creeps into their wounds. Again, the scientific principle remains: Protein (antigen) + blood = antibody. I remember excitedly writing to Dr. Lack; clearly he must see the connection between the skin prick test and his eczema study—it's all so much the same.  Should we not be using the precautionary principle and avoid skin prick testing given the risks? Silence.
Recently another study points towards baby wipes as also breaking down the skin barrier and allowing food proteins to soak into children's bloodstreams.  All these studies remind us of the basic biological principle—don't mess with Mother Nature's natural barriers, especially when it comes to food. Again, remember how the body processes food—digestion begins in the mouth where saliva begins to break down food protein, then the stomach where stomach acid continues this process, then the long journey through the intestines—but again, undigested food proteins do not belong in the bloodstream, they belong in the digestive tract.
Yet, in the allergist's office it seems there is some magic fairy dust that appears to circumvent this biological fact.  In the allergist's office, it seems we can violate the skin barrier and suffer no consequence: we can do this in name of medical science and safety and security and the need to know, the need to be sure.  It needs to be pointed out that there is a blood test that is reliable for food-allergy testing, there are other avenues to help us figure out what our children are allergic to.
In my journey for answers, for credible science, I found one brave female immunologist who was willing to speak out. Dr. Janice Joneja is a courageous doctor with impressive credentials—a Ph.D. in microbiology and immunology.  She is also a pioneer in the field of food allergy due to her own experience with her son who struggled with food allergy growing up.
Through the years she would hear stories from moms who found, just like me, that their children were developing allergies to foods they had only been exposed to through the skin prick test. And, unlike other allergists, when they told her this, she listened. Not only that, she spoke out—at great risk to her own career. After my own life-defining moment with the skin prick test, I remember suggesting at a follow-up appointment with a male allergist that I believed the skin-prick test was risky. I said to him, "I have observed new allergies developing in my child, and I believe the skin prick test may be to blame. There is another immunologist who also feels that the skin prick test needs further investigation, Dr. Janice Joneja." This allergist sneered at me, and condescendingly dismissed my concerns, and he said, "As for Dr. Joneja, she is highly, highly controversial." As so many of us thinking moms know, even in this era of feminism, of female empowerment, asking questions of the medical establishment is forever risky.
But Dr. Joneja has not given up caring about our children.  When I contacted her, she implored me to go into allergy groups and share the risks of skin prick testing. So, today, with her blessing and encouragement, I am sharing with the TMR community a reprint of Dr. Joneja's most recent exploration of skin prick testing (this too comes with the approval of the kind editor of the foodsmatter site).
Dr. Joneja is incredibly well-educated and has dedicated her life to understanding allergy: Again, she holds a Ph.D. in medical microbiology and immunology.  She has held faculty positions at several universities, including the University of British Columbia (Vancouver, BC, Canada), and has taught at universities and colleges throughout Canada, the U.S.A., the U.K. and other English-speaking countries. She was a registered dietitian (RD) in British Columbia for 27 years and a member of the Academy of Nutrition and Dietetics in the U.S.A. For 13 years she was head of the Allergy Nutrition Clinic at the Vancouver Hospital and Health Science Centre.
Dr. Joneja is the author of 10 books and dietetic practice manuals on immunology and food allergy, a textbook on Irritable Bowel Syndrome, and a number of distance education courses. Her work has been published in peer-reviewed scientific and medical journals as well as in popular magazines.  She is a respected lecturer at universities, colleges and hospitals internationally and regularly appears on television, radio call-in shows, and online webinars as an expert in her field.
She is president of Vickerstaff Health Services Inc, a practice that provides individual counseling for people suffering from all aspects of adverse reactions to food, and resources for the professionals and caregivers who support them.
Allergy moms and dads, I understand your anxiety, your desire to do the right thing, the urge to keep your children safe. So I present to you the most up-to-the-minute scientific evidence to help you decide for yourself whether or not the skin prick test is worth the risk. I also look forward to hearing your stories: Did you notice a worsening of your child's allergies after the skin prick test? Did your child develop new allergies after skin prick testing? Did your child have an anaphylactic event during this test?
Remember, medicine is always changing its opinion on what is safe and unsafe—at one time smoking was considered safe, at one time they x-rayed pregnant women, and at one time doctor's delivered babies with filthy hands.
It is your child: Be brave. Ask questions. Be kind, but not too trusting.
With love and encouragement,
~ The Allergy Whisperer
For more by The Allergy Whisperer, click here.
And with no further ado, I present Dr. Joneja, reprinted from foodsmatter:
Skin Prick Testing as a Cause of Food Allergy?
Could skin prick tests cause the allergies that they are designed to diagnose? Dr Janice Joneja believes that they could.
See here for comment from allergist Dr Adam Fox.
The accurate diagnosis of food allergy and food intolerance is fraught with difficulties. No single test can definitively identify the food components responsible for the clinical expression of an immunological or non-immunological reaction to a food. In the end, elimination and challenge must be undertaken to determine the precise role of a food component in triggering symptoms.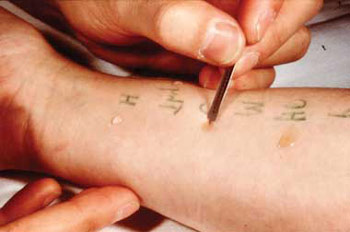 Although skin testing is still the only in vivo test that is universally employed in clinical practice, its potential hazards have been greatly underestimated.
(Image of skin prick test being performed courtesy of the Medical Journal of Australia.) 
It is well known that many agents can be effectively delivered to the body via the skin. Hormones, vaccines, antitoxins and proteins are efficiently introduced into the body via this route, circumventing the digestive tract and powerfully targeting the effector system for which they are designed. There is no reason to suppose that allergens delivered through the skin by absorption (in a patch), by injection (intradermally) or by pricking or scratching, should not induce allergen-specific IgE in a similar manner.
Tolerance versus sensitisation; the gut versus the skin
Our immune system is designed to protect the body from any foreign substance that enters. In this way we are protected from invading micro-organisms, toxins and other noxious agents that pose a threat to our health and survival. Of course, all food is entirely foreign to the body, and as such should logically be rejected by the immune system. So, how and why does this not occur?
It is all due to a process known as "oral tolerance", which distinguishes between "foreign and a threat" and "foreign but safe". Oral tolerance is achieved by a very complex series of reactions of immune cells lining the gastrointestinal (digestive) tract, directed by T-cell lymphocytes. The molecules in the intestinal contents from food, beverages and other ingested material are sampled, analysed and responded to by the immune cells. If safe, the material is then allowed into the body. When the same material is ingested on future occasions, it is recognised as safe and no adverse immunological response occurs.
However, if tolerance to the substance does not occur, the immune system will reject it; in the case of food, this response results in allergy. When the food material enters the body via a route other than the digestive tract, it is assumed to be a threat unless previous tolerance has been established via the oral route. Exposure to food antigens through the skin is more likely to lead to allergy compared to early oral consumption, which is more likely to lead to tolerance. I have provided details about the processes of immunological tolerance and sensitisation in my books and articles on food allergy,  and a good review of the topic can be found in reference Izadi 2015 below.
Allergen exposure via the skin
Allergen exposure and sensitisation through inflamed skin has been proven in a number of studies. There are several reports that demonstrate that primary sensitisation occurred through the skin, especially in food handlers (Saloga and Knop 2000).
A 2003 study showed that exposure to peanut oil in creams used as emollients for the treatment of diaper rashes, eczema, dry skin, and inflammatory cutaneous conditions in infancy was the eliciting factor for a number of cases of peanut allergy in infants and young children (Lack et al 2003).
There have been several similar reports of food allergy developing after exposure to a food allergen in topically applied creams and lotions. In 2016 researchers at Monash University in Melbourne, Australia reported a case of anaphylaxis to oat-containing food after cutaneous sensitization with skin products that contained oatmeal, used for the treatment of atopic dermatitis (Radhakrishna et al 2016). They confirmed this route of sensitisation by the immunological techniques of specific in vitro basophil activation, and inhibition serum IgE immunoblotting.
Researchers at the same university used similar immunological tests to prove that exposure to goat's milk through the skin in a moisturizer used to treat eczema caused subsequent anaphylaxis to goat's cheese, even though the patient had eaten goat's milk and cheese in the past with impunity (Voskamp et al 2014).
An excellent review of how allergic sensitisation occurs through the skin was published in the journal Children in September 2015 (Izadi et al 2015). The authors state that a damaged skin barrier may play a crucial role in the development of food sensitization and suggest that a better understanding of how patients initially become sensitised through routes other than the digestive tract may help lead to the development of better prevention strategies.
New research confirms this route to sensitisation
A recent research study at Northwestern University in Chicago demonstrated that in genetically predisposed mice, exposure to food and environmental allergens through the skin led to the development of allergic markers such as inflammation, inflammatory mediators and anaphylactic reactions after the mice were fed the allergenic food (Walker et al 2018). Interestingly, mice of allergic mothers were more likely to develop reactions to lower sensitising doses of the allergenic food.
Following publication of this research, the idea that human babies could be similarly predisposed to be at risk of allergic sensitisation was suggested. An article in the popular press warned parents that using baby wipes could initiate food allergy by facilitating the passage of the food through the skin (Bodkin 2018).
Scratch and prick tests
It is ironic that the authors should suggest baby wipes as a means of facilitating the introduction of the allergenic food to the immune system, while ignoring the most obvious mechanism of intradermal exposure, namely scratch and prick tests commonly used in an effort to diagnose allergy to a specific food.
In such tests, allergen extracts are placed on the skin, which is scarified with a lancet or pricked with a needle, to ensure that the allergen encounters immune cells beneath the surface. In intradermal testing, the allergen is actually injected into the skin, thus ensuring an even greater exposure to the immune system.
All of these tests are incredibly efficient methods of delivering the allergen to the immune cells, which are more than ready to respond, with rapid development of food-specific IgE that, in predisposed children can, and will, lead to food allergy, and in severe cases, anaphylaxis—as demonstrated by the 2018 article mentioned above.
Many allergists will not skin test their atopic patients with highly allergenic foods, such as peanuts and nuts, because they are aware that antigen delivered via this route can trigger an anaphylactic reaction. It is only logical to assume that primary sensitisation can occur by this route. After all, vaccination using antigen delivered on skin patches is proving very effective (Partidos et al 2002).
Have allergies been caused by these diagnostic methods?
I often wonder how many innocent children and their unwitting families have been sentenced to a life-time of dealing with the miseries of allergies as a result of the tests so commonly used in diagnosis. I have actively discouraged my patients, especially atopic children, from having skin tests performed because of the risk of inducing IgE via this route. In good conscience I could never condone any action that might result, in an extreme case, in a life-threatening anaphylactic reaction. Even milder reactions can result in a life-time of misery.  Until I see well-conducted scientific research that proves that there is no possibility of immunological sensitisation through this route, I shall continue to dissuade my patients from undergoing this method of allergy testing.
Alternative methods diagnostic procedures
There are alternative in vitro methods for detecting allergen-specific IgE; RAST, FAST and ELISA tests have the potential for providing information that in most cases is as useful as any skin test. The cost and need for laboratory facilities might limit their use for the present, but refinement of the technique should make them more economical and universally available in the near future. The newer techniques of component resolved diagnosis (CRD) which are currently being developed may prove to be a concise method for allergen identification in the future. Hopefully, awareness by clinicians of the potential for primary sensitisation to allergens through the skin will stimulate the speedy development of more specific in vitro tests, and discontinuance of the risky practice of skin testing in all its forms.
References
Blyth T, Lack G.  Are we generating peanut allergy?  Asthma J  2002;7:120-122
Bodkin, Henry.  Baby wet wipes 'cause food allergy', new study warns. Daily Telegraph April 7 2018
Izadi N, Luu M, Ong PY, Tam JS. The role of skin barrier in the pathogenesis of food allergy.  Children 2015;2:382-402
Khakoo A, Lack G.  Preventing food allergy. Current Allergy and Asthma Reports  2004  Jan;4(1):36-42
Lack G, Fox D, Northstone K, Golding J.  Factors associated with the development of peanut allergy in childhood.  New Eng J Med 2003;348:977-985
Matsuoko H, Maki N, Yoshida S, Arai M, Wang J, Oikawa Y, Ikeda T, Hirota 
N, Nakagawa H, Ishii A.  A mouse model of the atopic eczema/dermatitis syndrome by repeated application of a crude extract of house-dust mite Dermatophagoides farinae. Allergy 2003 Feb;58(2):139-145
Partidos CD, Beignon AS, Brown F, Kramer E, Briand JP, Muller S. Applying peptide antigens onto bare skin: induction of humoral and cellular immune responses and potential for vaccination.  J Control Release  2002 Dec 13;85(1-3):27-34
Radhakrishna N, Prickett S, Phan T, Rolland JM, Puy R, O'Hehir RE.  Anaphylaxis to oats after cutaneous sensitization by oatmeal in skin products used for the treatment of atopic dermatitis. J Allergy Clin Immunol Pract. 2016 Jan-Feb;4(1):152-3.
Saloga J, Knop J.  Does sensitization through the skin occur?  Allergy 2000;55:<905-909
Voskamp AL, Zubrinich CM, Abramovitch JB, Rolland JM, O'Hehir RE. Goat's cheese anaphylaxis after cutaneous sensitization by moisturizer that contained goat's milk.  J Allergy Clin Immunol Pract 2014 Sep-Oct; 2(5):629-30
Walker M, Green J, Ferrie R, Queener A, Kaplan MH, Cook-Mills JM.  Mechanism for initiation of food allergy: Dependence on skin barrier mutations and environmental allergen co-stimulation.  J Allergy Clin Immunol 2018 Feb 15;[Epub ahead of print]
April 2018