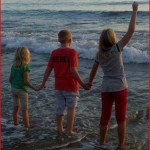 "Anti-vaxxers need to shut up and listen to 'REAL' doctors!"
This is the sentiment of many media pieces that have come out over the last few months as the debate over vaccine mandates vs. parental choice heats up. Recently, a certain video by Sarah Silverman's ex-boyfriend made it clear that we should be listening to 'REAL' doctors. 'REAL', meaning : pro-one-size-fits-all vaccine schedule – no-room-for-debate, you-shut-your-mouth-when-you're-talking-to-me  medical practicioners.
For the record, I would like to say that many of us "anti-vaxxers" DID, in fact, listen to those 'REAL' doctors. I know I did. Actually, that's ALL I did during those early years when I was having babies and raising toddlers. I listened to, and accepted without question, doctor's orders. Flu shot while pregnant? Sure thing! Terbutaline during the entire third trimester? If you say so! Load them up with a double dose of Tylenol before and after their shots? I'm your girl!
As infants, my children received every single shot and on time, even early on some rounds, because that's how the military rolls and . . . well, I was an excellent soldier.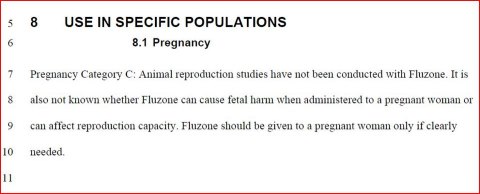 If you actually take the time to listen to the stories of parents who watched their kids regress into autism – in a matter of days/weeks/months saw their child's development stop and their health deteriorate – you will start to see a common thread woven among their experiences. Most of us followed our doctor's advice and vaccinated blindly. When we started to notice these regressions in our children and brought it to the attention of those same doctors, our concerns were dismissed. Our children eventually ended up with a diagnosis of autism somewhere on the spectrum, and we were then sent to a slew of specialists, under the impression they would give us some guidance on what to do next. Now, this is usually where we began to lose faith in these so-called 'REAL' doctors. We were bounced from one specialist to the next, and, inevitably, one of these doctors said some version of the following: "Your child will likely never speak or function independently. The best use of your resources is to save up for assisted living for when your child ages out of the system. Alternative treatments like diet and supplements are a waste, and the doctors who offer such treatments are quacks. We don't know what causes autism, but we do know it's not the vaccines."
This. This is where we decided to stop listening to those 'REAL' doctors. It's not because of Google, or Jenny McCarthy; it's because when someone tells you there isn't any hope for your child, it ignites something within you. I couldn't listen to those doctors any longer because doing so would mean giving up on my kid. And that's not going to happen. Ever.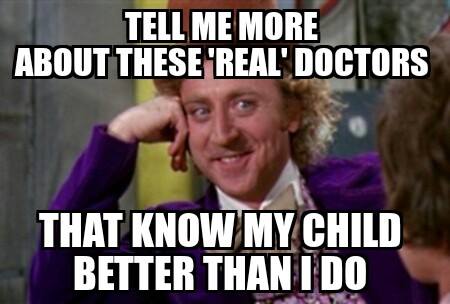 So we looked into those alternative treatments we were warned against, like diet and supplements, and, with nothing left to lose, we took a chance on them. And guess what? It was the first time many of us saw improvements in our kids. This further convinced us that those 'REAL' doctors were misinformed and that choosing to no longer blindly follow their advice was the right path. We began to question everything they told us. We read books and studies and shared information with other parents having the same experience. WE. DID. THE. WORK.
Doctors we were told were 'quacks' worked alongside us as we tried to unravel the complex medical issues our children suffer from. These doctors understand that nothing in medicine is one-size-fits-all, nor should it be. These are the doctors healing our children. They hail from Harvard, MIT, UCLA, Cornell . . .  Quacks? Sorry to disappoint, but no, they are not. I think the label of 'quack' is more befitting a medical practitioner who thinks donning a white coat gives them all the answers or one who claims to know what is best for your child without ever having met them, and makes a joke out of the suffering of children in a video for a late-night talk show host who used to date Sarah Silverman.
~ Frankie
For more by Frankie, click here.