Thank you to everyone who responded to my previous blogpost "Autism and The Church". As a result of that article, I have been offered the opportunity to attend the Orange Conference Special Needs Track in Atlanta next week. This conference will have workshops designed to educate and assist churches in starting inclusion programs for special needs kids.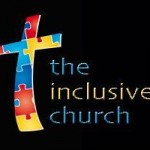 I am excited to attend and pass on the information I will learn with my church leaders. I will also be sharing my experience with you here the following week.
Thank you to Amy Fenton Lee from The Inclusive Church who extended this amazing opportunity to me. I am so excited and can't wait to share with you all about my experience! Please keep me, and this conference, in your prayers.
"What I am realizing is this:  As long as we parents keep our children at home, our church and our community are allowed to remain blissfully unaware of the autism epidemic.  Families who have not been affected by autism have no real idea of how autism affects families and children, and if we don't expose them to our children we will not make any progress with them." – excerpt from Autism and The Church
~ B.K.