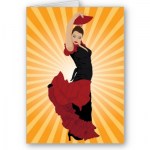 We're rerunning this post with revisions.  It was originally on our blog summer of 2012, and then rerun August 2013.
One month left of summer vacation, of waking whenever and doing whatever.  One month to fill backpacks with supplies before the school bells ring.  And for some, there's one month left to get back-to-school vaccinations before ushering in a new school year.
Wait. What?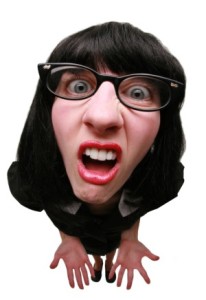 No, I'm not saying you need to go get those vaccinations.  I'm just pointing out that a lot of people are going to make a date with their doctor to complete yearly school physicals very soon.  Part of that appointment might include getting, or "catching up" with, vaccines.  Some folks will be scrambling right up to the first day of school wondering how to fit in all those "back-to-school boosters" not realizing something:  they don't have to get them.
More on that fact in a bit.  First, some information on those "school shots" and what can be done about them.
Because of what I know about vaccinations and children and small spaces (their classrooms), the rest of us have one month to get, keep or maintain our health before we too are bombarded with what comes with mass vaccination.  It's called vaccine shedding.  This occurs when the live virus from a vaccine is transmitted or spread to someone else.  The shedding of the live virus can spread to an unvaccinated person which can cause some serious issues for them.
As shedding occurs, the virus has the capability to be spread to even more people.  It will run its course like any other virus which is actually quite the opposite of what the vaccine program set out to do.  Instead of reducing communicable diseases, they actually proliferate them.  Live vaccines can spread diseases instead of eradicating them through viral shedding.
Viral shedding might have less of an impact if more facts about vaccines were properly presented and then adhered to.  Not only do the package inserts state this, but common sense dictates that if you've been injected with a live virus, you should avoid immune-compromised individuals for the duration of incubation.  This means avoid contact with the elderly, the very sick and children for 3-6 weeks time post vaccination.  Have you ever heard of someone receiving the flu shot or other live-virus vaccine and then avoiding human contact so that the live virus can do its thing to offer some sort of immunity?  I bet not.
It would be helpful to know which vaccines are live virus vaccines.
Some live-viruses vaccines are:
Influenza (Trivalent; Quadrivalent; Types A and B) 
Rotavirus 
Measles 
Measles-Mumps-Rubella (MMR) 
Measles-Mumps-Rubella-Varicella (MMRV) 
Mumps 
Rubella 
Varicella (chicken pox) 
Other vaccines with the live virus but not usually included on the childhood "recommended" list are:  Adenoid virus (Type 4 and Type 7), Smallpox, Typhoid and Zoster (shingles)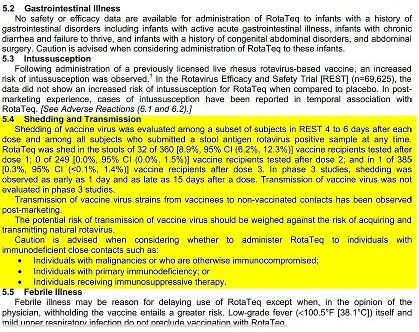 From the RotaTeq vaccine package insert. The highlighted area shows that those injected with the vaccine were transmitting the virus and very soon after.  Did your provider caution you about this?  Did you quarantine your baby for the duration of the virus's incubation period?  How much do we really know about vaccines unless we go read the fine print ourselves?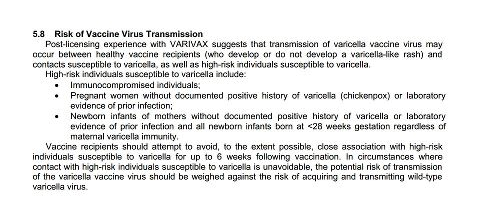 From the ProQuad (M-M-R-Varicella) live-virus vaccine package insert page—clearly states to avoid contact for up to SIX weeks following vaccination.
So, what are the rest of us supposed to do to not be shed upon?  Unfortunately, living in a bubble is out of the question and so is camping out on a deserted island for the next few weeks.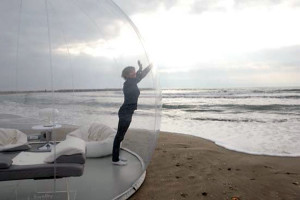 Here are some ideas to boost your own health as the vaccine shedding bombards you.
When large masses of people opt to get their vaccines, some of the Thinking Moms use vitamins and supplements like vitamin D, vitamin C to boost the immune system.  Others add omegas, vitamin A, garlic and coconut oil.  Washing hands with soap and water, getting extra sleep and exercise can help too.  This may be hard, but do your best to avoid contact with anyone you know who has gotten a live-virus vaccine.  So that they don't endanger anyone else, you could gently remind them the implications of their actions.  You may lose the friend depending on how they respond, but it would be interesting to find out first if they were aware of the repercussions, and second, if they were told by their provider that the package insert states to stay away from certain populations during the shedding period.
Why share this important information?  The two times when viral shedding is most important are mass vaccinations and back-to-school shots.  You are most likely to be affected as the new school year starts and millions of school-aged children prepare to head back to their classrooms and when people line up when the flu shot campaign kicks off.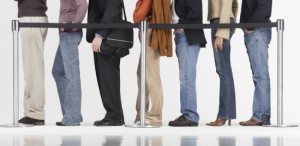 Now, onto vaccine exemptions and why those back-to-school shots don't have to be injected.
Some parents are already in the know about vaccine exemptions, but many others are not.   Thankfully, quite a few are learning that they have more of a say than they've been told when it comes to how full they want their child's vaccination record to be.  A great site to visit about school shots is www.vaxtruth.org.
VaxTruth.org responded to schools' "recommended" vaccinations with a massive effort.  They successfully launched a billboard campaign in several cities across the United States promoting parents' vaccination rights.  While many schools across the nation still try to spout the "NO Vaccines?  NO school!" speech, VaxTruth.org did something better, bigger and bolder.

Started by VaxTruth.org, their mission is to educate people on vaccination laws INCLUDING all information within the law like how to obtain exemptions."
And, please note that the reason I am typing "recommended" vaccinations is because it's just that; vaccines, for the majority, are recommended, not required.  Only two states in the United States (West Virginia and Mississippi) mandate vaccines while the other 48 states grant religious, philosophical and/or medical vaccine exemptions.
If you are being told that you must get vaccines or else, check out this informative page from National Vaccine Information Council (NVIC.org) with state-by-state exemptions, laws, forms and more: http://www.nvic.org/Vaccine-Laws/state-vaccine-requirements.aspx
When you look at this great visual of birth to age five "recommended" childhood vaccines, also from NVIC know that you have the right to say "thanks, but no thanks" to any or all of those listed, starting long before those "back-to-school shot" requests that are being made.
As always, read up on what your health rights are.  The more informed you are, the better able you are to make decisions for yourself and your children.   Plus, it can empower you when you respond to the person pushing the paperwork if their information is incomplete or even inaccurate.  I know firsthand that this information can be useful for all parents because I used to think I had to put my children on the receiving end of the needle.  I learned the hard way that vaccines didn't work well for my children.  Then I learned that my children didn't have to have them for the reasons I was being told.
NO shots?  YES, school.  Counting down until the first day.
T-minus one month…
~Mamacita
To read more blogs by Mamacita, Click Here.