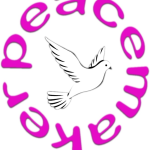 There are times when I forget that not everybody sees things the same way I do. It doesn't take long to be reminded, however. It might be when I am speaking to another parent of a child with autism, and they look at me strangely when I mention my child's doctor is treating him for yeast. Or when I comment on an autism Facebook page, mentioning that we follow a specific diet that has helped my child to become more aware, sleep better and generally be healthier. That's when I tend to get flamed and told I should mind my own business, and stop judging others for choosing to use drugs. And one of the most frequent comments is, "You should love your children – accept their autism, and stop trying to change them."
What?
I do love my children, I accept their uniqueness, their struggles, their dreams and desires, their miraculous growth of body and mind.
But . . . stop trying to change them? What exactly do they mean by that?
Do they mean, "Stop doing things to try and make my children different from how they are now"? Stop giving my kids special diets and supplements, stop the therapies, stop taking them to doctors – is that what they mean? Because if it is, I'm really confused.
I live in a town that is aware of autism. There are a lot of children here that have been diagnosed as being on the spectrum. There are also a large number of adults on the spectrum – diagnosed and undiagnosed, which makes me wonder why my town would have so many people with autism compared to other towns if it's all genetic. But maybe that's just me.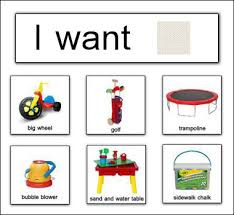 Most of the local autism parents I know seem to be of the opinion that we shouldn't be trying to "change" our children. Yet those same parents send their kids to school, give them speech therapy and occupational therapy, send them to Riding for the Disabled programs, teach them how to use PECS cards or use sign language. Why is that? Isn't that "changing" their children? If their children can't speak, shouldn't they be "loving" those children and "accepting" them just the way they are, instead of dragging them to speech therapists? If their child can't hold a pencil, but they truly believe their child is being the best he can be, why are they working with an occupational therapist?
One of my daughters, who doesn't have autism, participates in a choir. Last year I dragged her along, encouraging her to learn something new, make some friends and learn some independence. She loves it now, has made quite a few friends and is seriously considering singing as a career. Yet since it was my idea, wasn't I "trying to change her"? So according to the people in my town, and quite a few on the internet, I shouldn't have done that.
Maybe learning a new skill is considered permissible, though – so learning to speak,or hold a pencil, or sing is fine and not considered "changing" a child. If it's okay for a child to learn a new skill, what exactly is meant by "trying to change my child"? Maybe it's the autism itself that I shouldn't be changing?
At this stage I check Google – what exactly is autism? I know, it's not as good as going straight to Hans Asperger or Leo Kanner to get the definition, but it's all I've got.
Autism [ˈɔːtɪz(ə)m] noun – A mental condition, present from early childhood, characterized by great difficulty in communicating and forming relationships with other people and in using language and abstract concepts.
Hmmmm . . .
A mental condition – like depression? Or like anxiety disorder or schizophrenia? Aren't those considered disabilities, and aren't people are usually given drugs for them? A lot of mothers on a local autism support group give their children psychotropic drugs, like antidepressants and anti-anxiety drugs, so I guess they can't be concerned about "changing" the mental aspects.
Difficulties in communicating – that brings me right back to speech therapy which these mothers are also doing, so that "change" must be all right in their eyes.
Difficulties in forming relationships – a local occupational therapist offers social skills classes to help children learn how to form and maintain relationships. I've never heard anyone complain about that. Another "change" that must be okay.
Difficulties in using language – using language is different from speech, as most autism parents know. Those of us with children who don't know when to stop talking about train timetables, or the flight patterns of homing pigeons, certainly do. Working on appropriate use of language is also a skill that speech therapists teach to children with autism, so I can't see any problems with that.
Which leaves me with difficulties in abstract concepts. I guess that's a bit abstract for me – this could be referring to algebra (something my daughters all struggle with), emotional concepts such as love or sadness, or ideas that cannot be translated into the physical straight away. It seems to me that most children have difficulties with those concepts and need to learn them, and no one seems to be calling for my daughters' school to stop teaching algebra.
As I'm a research fanatic, I look at the definition of autism as per the DSM-IV – the Diagnostic and Statistical Manual of Mental Disorders. It lists a set number of items that have to be met from the following areas:
Impairment in social interaction domain
Impairment in Communication
Restricted repetitive and stereotyped patterns of behavior, interests, and activities
Delays or abnormal functioning in at least one area of social interaction, social communication, or imaginative play
Coming back to my original question — what do they mean by "stop trying to change my child?" — I've ruled out the areas of communication, social communication or social interaction. That leaves me with restricted repetitive and stereotyped patterns of behaviour, interests and activities, as well as delays in imaginative play.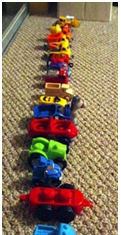 My son is five years old. He was diagnosed with severe autism and developmental delay before he turned three. My son likes to line things up — toy soldiers, stuffed toys, cars, people, he's not fussy — he just likes to line them up. He also likes to watch the same DVDs – they may change over time, but usually he has two or three that he prefers to watch. Do I stop him doing that and change his repetitive play or what he watches? No, actually, because it makes him happy and helps him to self-regulate. I often use it as a reward or a way to calm him down.
One of my daughters with Asperger's is a bird fanatic. She loves birds, she reads bird books, she has an aviary with budgies and quails, and she draws pictures of birds that she puts up all over the walls of our house. She is even a member of the state Budgie Society (where the average age is probably about 60). She talks about birds and tells us a whole heap of things we never knew about them. It's not something I'm wanting to change; she's got a hobby and she's excited about it.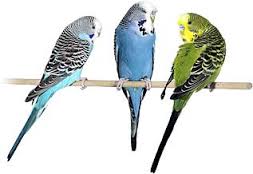 So I'm thinking that maybe those mothers aren't talking to me, personally. I'm not trying to stop my children from learning how to speak, change their way of looking at the world, their interests or activities that they enjoy. I may not be giving my children psychotropic drugs, but not every autism mother I know does that either.
Now that I feel better about all of that, please excuse me while I get back to work.
You see, my son has some digestive issues that mean he has chronic diarrhoea and systemic inflammation unless I monitor his food intake. Thankfully we've also been able to keep his tics under control since changing his diet. I have to give him nutritional supplements to support his mitochondrial function, as well as boost his depleted nutritional levels due to his eating disorder. He's been prescribed courses of antifungal as well as anti-parasitic medications that have made a big difference to his bowel dysbiosis. Given the results of his blood tests, there's a possibility that he has issues with his folate receptor alpha autoantibodies; so we're about to start a new treatment for that as well.
If "accepting" my son's autism means ignoring his health issues, then no, I can't do that. If accepting my son's autism means not giving him every opportunity to live his life to the best of his ability, then I can't accept it.
I love my son far too much to "accept" those limitations on him. I am the only voice he has right now, so it is my duty to never stop fighting for his right to be healthy, happy and fulfilled.
~ Peacemaker
Peacemaker is a mum to six children. Three of her girls have been diagnosed with Asperger's, and one of her sons has severe autism. Their quirky family lives in Australia, where every day presents a new dietary challenge. When she's not busy homeschooling her kids, Peacemaker can be found researching autism or reading a relaxing autism biography.