Happy Monday Revolutionaries!  We'd be remiss if we didn't thank everyone for giving us such a warm welcome last week!  The excitement of our followers and Facebook friends is what this Revolution is all about.  Well, that and insipiration.   Today's post gave us all a boost of inspiration and it's from our very own Jerry….
I often won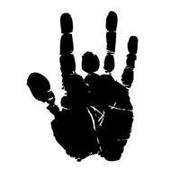 der where she lies on this spectrum.  I certainly know where she was seven years ago and that place wasn't pretty.
I was quite the clueless mother back then.  So what if she wouldn't give Bradley a moment's notice as he tried to kiss her?  I suppose Elmo is really more interesting than six firemen in the living room dressed in full gear.  Well, she really isn't interested in answering to her name unless there's a "do you want a cookie" attached to it.
Those might be humorous, but having her disappear with the pinwheel at a street fair, lost in a sea of people as she stimmed on the swirling colors in the thirty seconds it took for me to a get a dollar out of my wallet, was not.  Neither was banging her head on the refrigerator.
The analogy I've assigned to getting our diagnosis of an Autism Spectrum Disorder has always been the cast iron skillet over the head.  I never saw it coming.  Ignorance is bliss, I suppose.  My thrust into a not-so-blissful-existence happened at my dining room table on July 29, 2005.
Over the years we've been around the block in terms of treatments.  Our current protocols include homeopathy, low dose oral chelation and neurofeedback.  But we've been through many, many more.  Injections of Methyl B12, Hyperbaric Oxygen Treatment, Intravenous Chelation, Phyosphytidalcholine, Glutathione.
We have a fully verbal well-behaved child who tends to get in arguments with Daddy when she doesn't get what she wants.   If she wants to call a friend, she does.  She gets jokes.  She has found her passion in painting and drawing and takes a class at the local art center.  This summer she's going to a new camp where she'll focus on visual arts in the morning and creative writing in the afternoon.  She reads chapter books and has figured out how to get the answer in math.  She has a few friends.  But I'm her BFF.
We're off from school this week, so we get to do some special stuff.  We're headed for our second visit to American Girl Place for lunch and some spa work on Kanani's unruly hair.  We'll chitchat at the table with the help of the conversation starter box.  And grandma is coming with us.  Grandma.  That might be my clue we're approaching typical.
Jerry