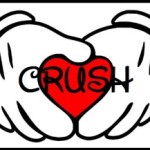 I've been sitting here debating whether or not it is appropriate to start a book review with "STOP WHATEVER YOU ARE DOING, AND GO GET THIS BOOK!"   I don't know the exact etiquette of book reviews, but surely if that's what I am thinking it deserves to be said, in spite of any rules there may be.
Many of us have a special moment that we can point to that was our "Aha" moment, when, for whatever reason, the stars aligned and someone or something came into our lives that awoke us and changed the course for our children.  This book, Almost Autism: Recovering Children from Sensory Processing Disorder, A Reference for Parents and Practitioners, by Maria Rickert Hong, CHHC, AADP, is going to be one of those things for so many families.  It will change lives.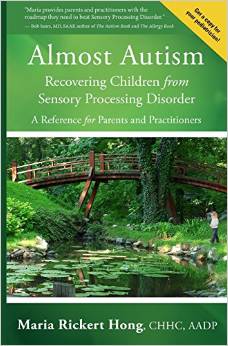 When I first read the title, I knew I had to have it.  I have family and friends with children who, despite sharing so many common traits as my own daughter on the spectrum, don't quite fit the diagnostic criteria for an autism spectrum disorder label.  These are the children who are being lost in a world of "almost autism."  Where their needs are addressed even less often than those who fall on the spectrum as we have this whole new category that isn't yet a formal diagnosis.  These families and practitioners are venturing into uncharted waters and often are left without a direction, until now.
Hong combines both her experience of tackling this issue with her own children, as well as the knowledge she has gained with many others through her work at Epidemic Answers.  Thankfully this book is going to make sure that those who fall into that "almost autism" category, those with sensory processing disorder, as well as those with autism or other related disorders, have an easy-to-access path, and aren't left out, alone, to muddle through the "What now?" stage.
I think the biggest take away, as I was reading, was the idea that these families will finally be able to connect — that, even though their child doesn't have "autism," there are still answers.  There are reasons for what is happening and things that can be done to address it.  For practitioners, I think it will be such an asset to their practices, allowing them to be able to help these families.   It is not uncommon for families to take their children to be evaluated for autism because they know something is going on, only to be left with a sensory processing disorder label and stop there because nobody has any guidance for them.  Nobody has explained to them that the difference in label is just that, a difference in label.  It isn't a difference in what is happening, nor how to approach it.  As the number of families in this category grow, I was so excited to see that Hong was tackling this important subject.
What I don't want to do is limit this book to the "almost autism" families, because in truth it is an amazing book for all of us, part reference guide and part book to sit and read cover to cover.  There isn't a subject that she doesn't address, and I don't say that lightly.  The table of contents is nine pages (yes, nine!), because Hong walks you through it all.  I am shocked that she managed to get so much together in one little book and still keep it simple and easy to read.
We often say that we just need someone to give us some step-by-step instructions, some guidance as what to do.  Well here you go!  She begins with a thorough overview of what it is that you are dealing with and what sensory processing disorder actually is.   Then Hong manages to simplify all the things that so many of us just don't connect; from ear infections, or red cheeks, to sleep problems.  From there she takes you through understanding the causes and how to address everything from anxiety, reflexes, adrenals, therapies, gut health, underlying conditions, and toxicity.  She leaves no stone unturned.  Whether you want to know what therapies exist to help your child, what MTHFR is and how that may affect your child, or what inflammation does, you can find it in these pages.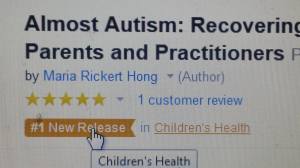 Almost Autism: Recovering Children from Sensory Processing Disorder, A Reference for Parents and Practitioners recently hit #1 on Amazon's new releases in children's health books.  She packed the house for a New York book launch and is going to be featured on the upcoming Epidemic Answers webinar, Tuesday, November 18th at 1:00pm ET.   (You can register for it here: webinar registration.)  Hong is definitely taking the world of "almost autism" by storm and bringing hope everywhere.
You can purchase this best-selling book at Amazon in paperback or as an e-book for your Kindle.  NOW, STOP WHATEVER YOU ARE DOING, AND GO GET THIS BOOK!
~ Crush
Crush is a mom to two amazing little girls. Cali is her recovered eleven-year-old daughter who is going to change this world, and Melia is her eight-year-old daughter, who is her sister's best friend and strongest advocate. In her home life she is a silly, laid back mom who has the good fortune of being married to her best friend.  She celebrates life, and loves nothing more than family, laughter, and time at the beach. In her "autism" life, she is a feisty, sarcastic, common sense thinker who is on a mission to CRUSH the limitations placed on our children, CRUSH the lies of these epidemics, and CRUSH the people standing in the way of truth, hope, and healing.
For more blogs by CRUSH please click here.