"Wandering," also known as "bolting," "eloping" or "absconding," is a huge concern in the autism community.
Half of all children with autism engage in wandering behaviors; many die alone without the ability to answer to their names or call out for help. According to the National Autism Association, 15% of autism-related wandering cases in recent years have ended in death.
Please ask your senators to attend a briefing on Autism & Wandering on Tuesday, May 19 from 1:00 p.m. to 2:30 p.m. in the Russell Senate Building, Room 485.
Four of the leading experts on autism and wandering will be speaking on the risks of autism-related wandering and the associated costs of search-and-rescue efforts.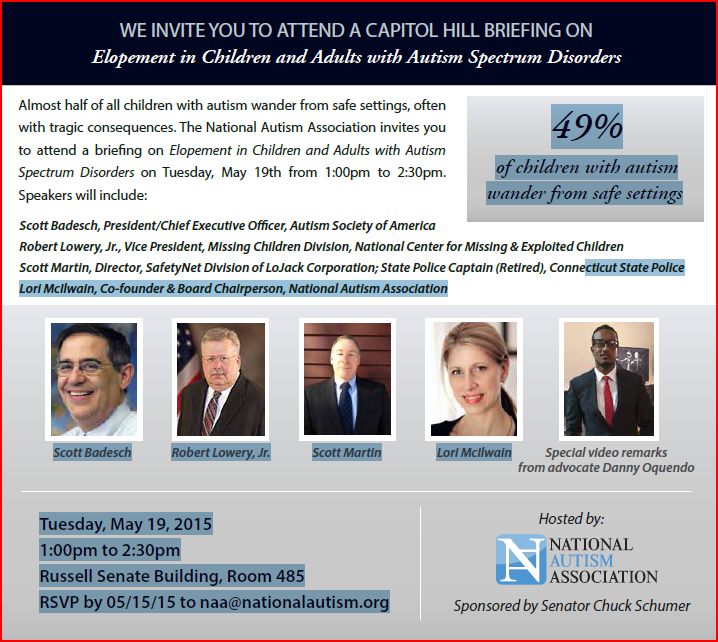 Children and adults who are unable to speak or recognize danger are the most vulnerable citizens in our country. We hope that you can persuade your senators to support them.
PLEASE CALL YOUR UNITED STATES SENATORS TODAY
(CONTACT INFORMATION CAN BE FOUND AT WWW.SENATE.GOV.)
ASK FOR THE OFFICE'S LEGISLATIVE DIRECTOR.  IF HE OR SHE IS NOT AVAILABLE, ASK FOR THE LEGISLATIVE ASSISTANT WHO COVERS CRIMINAL JUSTICE ISSUES.  TELL THE LD OR LA HOW IMPORTANT IT IS FOR YOUR SENATOR TO ATTEND TUESDAY'S BRIEFING.
FACTS ABOUT AUTISM & WANDERING
49% of children with autism engage in wandering behaviors
35% attempt to wander at least once per week
More than one-third of children with autism who wander are rarely or never able to their names, addresses or phone numbers
29% of wandering happens from a classroom or school
53% of those who exhibited elopement behavior went missing long enough to cause concern
Accidental drowning accounts for approximately 90% of lethal outcomes
AVONTE'S LAW ACT OF 2015 (S.163) WOULD
Help reduce the risk of injury and death due to wandering in individuals with autism and other disabilities
Safeguard the well-being of individuals with disabilities during interactions with law enforcement
Provide education and resources to law enforcement agencies, first responders, schools, clinicians, and the public in order to reduce the risk of wandering by such individuals
Help to identify signs of abuse in such individuals
Increase their personal safety and survival skills
Facilitate effective communication with individuals who have communication-related disabilities
Provide training and emergency protocols for school administrators, staff, and families
Provide response tools and training for law enforcement and search-and-rescue agencies, including tracking technology or provide response tools and training to law enforcement agencies in order to recognize and respond to individuals with intellectual and developmental disabilities
Requires a law enforcement agency that receives a grant to comply with any such standards and best practices
~ Thinking Moms' Revolution