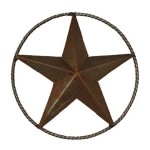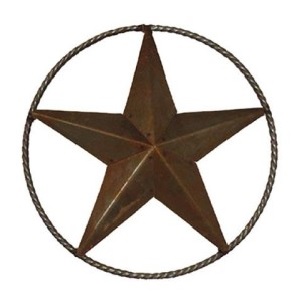 Last week it came out that William Thompson, a CDC researcher and whistleblower, has revealed that he was complicit in manipulating data on a 2004 study on the correlation between autism rates and the timing of the MMR vaccine.  The CDC found that the relative risk for African-American boys receiving the MMR on time is more than three times higher than boys who received the vaccine later.  They knew this and they deliberately hid it, claiming there was no link between MMR timing and autism rates.  This study has been referred to by hundreds of other studies.  In addition, when you know they've lied once to cover up a connection, how do we trust anything that has been put out by those five researchers or the CDC as a whole?  This is a huge story that is being completely and utterly ignored by the mainstream media, therefore, we are "taking it to the streets," or in this case, Twitter — the 21st century equivalent of the streets.  Join us! 
Tonight, from 7-10 p.m. EST, we are gathering for a Twitter party to push hashtag #CDCwhistleblower into "trending" status. We will share a variety of links, photos, memes, etc. over the course of the three hours. These will be uniform and follow "tweeting points," which are outlined below. First, though, we need some ground rules:
Ground Rules
Use #CDCwhistleblower ONLY. In order to ensure the most saturation, we need to focus on this hashtag ONLY. And it must look just like that – hashtag, CDC in all caps, whistleblower in all lower case.
Retweeting, favoriting, and replying are key. Do not repeat a statement once you've used it; instead, retweet, favorite and reply to others' tweets. When replying, put a period in front of the @.  For example, when replying to @ThinkerMichelle's tweet, use [email protected] in order to reach all of ThinkerMichelle's followers and not just the people in the tweet thread.
Do not use profanity, defamatory language, or make lewd comments.DO NOT engage with nay-sayers, pro-vax people or pharma trolls. I CANNOT EMPHASIZE THIS ENOUGH: DO NOT ARGUE! If you feel the need to reply to them, simply repeat #CDCwhistleblower with no other wording. DO NOT ARGUE.
Do not refer to lawsuits, personal or class action. That talk is way too premature.
Do not express negativity toward William Thompson. Just don't.
Do not exceed 116 original tweets in an hour or your account will be suspended. Do not go to individual users' profiles and tweet them directly.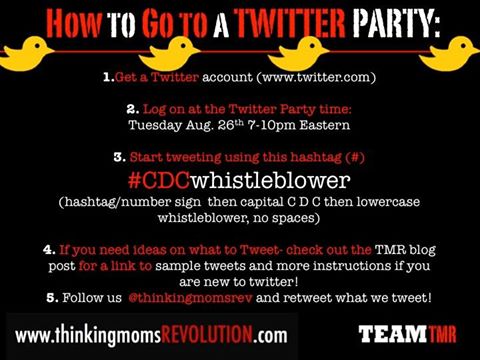 "Tweeting Points" COPY AND PASTE
#CDCwhistleblower vaccine-autism link is Tuskegee revisited. "REAL STORY OF REAL FRAUD" http://tinyurl.com/oqrhezc
#CDCwhistleblower says former boss & current Merck head Gerberding complicit in cover-up http://tinyurl.com/nubcyef
#CDCwhistleblower in letter to Gerberding: "problematic" findings linking MMR timing to autism http://tinyurl.com/keb8ymu
fraud study cited in 344 subsequent papers – all relying on lies & house of cards should fall #CDCwhistleblower http://tinyurl.com/jvo93z2
#CDCwhistleblower helps researcher with real data, showing 3-fold higher risk of autism in African-American boys who get MMR http://tinyurl.com/omujczd
tell @AmerAcadPeds to retract fraud study #CDCwhistleblower http://tinyurl.com/nh9fsnn
@CDCgov responds to #CDCwhistleblower claims by blaming parents for following CDC vax schedule, doesn't deny fraud http://tinyurl.com/mwrv3cb
@CNN investigate #CDCwhistleblower story & end media blackout. 150K hits for ireport http://tinyurl.com/n53kzbq
@CNN taking down ireports over & over in media blackout of #CDCwhistleblower story http://tinyurl.com/k74jy5z
what happens when #CDCwhistleblower reveals federal agency fraud of taxpayer funded study…nothing
@CNN complicit in media cover-up of #CDCwhistleblower story http://tinyurl.com/pc2766g
@RobSchneider stands by parents & facts asking @JerryBrownGov to address #CDCwhistleblower revelations http://tinyurl.com/nrbe75j
now we want investigations for perjury & fraud. now we want apologies for negligence & harm #CDCwhistleblower http://tinyurl.com/ld7bmo8
@thinkingmomsrev #CDCwhistleblower fraud claims prove MOMS WERE RIGHT ALL ALONG http://tinyurl.com/mp6r94d
At this point, I encourage people to continue sharing their stories of vaccine injury, whether MMR-related or not. Please include photos if you are comfortable and tag @RobSchneider, asking him to Pls RT (please retweet).
~ Lone Star