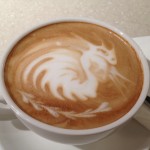 Many of us are overcome with shock by the disappearance of the Malaysian Airlines flight MH370. The entire nation of Malaysia is reeling in grief. The media scrutiny over my beloved nation is fierce and intense. The entire world is keeping abreast with the news, hungry for updates from my country. My social media newsfeed is clogged with news, press conference recaps and expert opinions. Our tv news stations render blow by blow accounts of the shocking disappearance of the aircraft. The plight of the 239 passengers and crew members remains unknown. The uncertainty of the situation gives rise to rising panic, fuelling anger and grief. Speculations as to the fate of the aircraft and the souls onboard is rife with controversy and various theories abound.
On Saturday, the mood in the streets and malls of Kuala Lumpur was muted and somber. You can see the same look on everyone's face, complexions ashen with shock. When I look in the mirror, I see the same expression on my face. The same thoughts fleet through our minds, that could have been MY flight. I have taken that exact same flight from Kuala Lumpur to Beijing several times. Or it could have been my husband's flight. My husband travels frequently on business, he flies on Malaysia Airlines nearly every week. He just returned home from Vietnam on Friday, just one day before the disappearance of MH370. His aircraft would have been flying over the same path as the Kuala Lumpur – Beijing flight. When the news broke out, friends and family from all over the world called and texted, asking how we were. My TMR sisters were worried sick. I am touched by the outpouring of love and concern.

My heart is heavy with 'what ifs.' Shadows of depression looms in my horizon. The heart of a wife married to a man whose job demands frequent travel over half the world, carries it's own special burden. Especially knowing that come Monday morning, my husband will be boarding a Malaysian Airline Boeing 777 flight to yet another Asian destination.
I know my husband is as worried as I am. He is torn between fear, and the heavy responsibility of supporting our family and paying the bills. Without his income, we wouldn't have been able to afford all the autism therapies and treatments to recover our two daughters. We struggled financially, but we managed to do our best. My girls are used to Daddy's frequent trips on business, ever since they were born. But that doesn't make it any easier. Whenever he's away, we miss him terribly. Though my girls are now recovered from autism, I still continue with certain remedies and treatments to maintain and support their health as they are catching up with their peers. My girls have lost many years due to autism, and we are lucky that they are able to keep up with their contemporaries. However it does not come easily. The cost of caring and recovering one child with autism is staggering. My husband worked himself to the bone so that we could afford to recover TWO children with autism. He took on the full financial responsibility of the family, so that I could stay home to take care of our children full time. It takes a great man to shoulder that responsibility.
I try to shake the cobwebs of anxiety and worry away. I try to shield my young daughters from the news. I mask my worries and hope they don't notice my somber mood. Yet I find that I can't pull away from surfing the web and watching the news channel, hoping for some good news. We are still waiting. And praying for the missing passengers and crew members. My thoughts go to the family members who are waiting and grieving for their loved ones.
In times of shock and grief, I find myself drawing my children and husband closer to me. In this uncertain world, I feel comforted knowing that we are all together, safe under the same roof. My hugs and kisses are longer and more meaningful. I force myself to stay in the present, and truly experience every single moment with my loved ones. I immediately called my parents and my brother on the telephone to tell them I loved them.  Hearing their voices brings me peace. How I wish I could gather all of us together and hug everyone. But just knowing that they are safe is enough.
I turn the tv off. I avoid watching the news and reading the posts on Facebook. I spend my time just being with my husband and children, holding them tight. When I feel the waves of grief threatening to wash over me, I apply and diffuse essential oils to settle my nerves, keep myself centered and grounded. I take adrenal cortex extract to prevent adrenal fatigue which often occurs in times of great stress. And homeopathic remedies to manage the shock and emotional trauma. I focus my breathing, balance my energies and seek to maintain my own vibrational frequency high. AND I PRAY.
~ Dragon Slayer
For more by Dragon Slayer, please CLICK HERE
Photo credit: Yahoo Malaysia