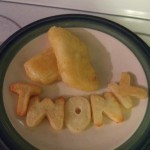 (This blog originally ran in 2012.)
I think for most of us it sticks in our minds:  the first time the 'Big A' was used, the confirmation of our fears.  For my son it came months after I had recognised what I was witnessing in him.  His regression into a clinical autistic state was dramatic, my mother described it best as "watching him teeter over the edge of an abyss."  The part I couldn't accept (and didn't expect) was being told that he had always been this way and that I had simply missed the signs.
When I first sought evaluation for my son, it was with the intention of having the medical profession identify the cause of his constant sickness and stop the regression.  I knew that his cognitive abilities were being impacted by infection after infection because, when he had 'good days' (and they became fewer and fewer as time was wasted), he was perfectly fine.  They were the 'in-between days':  in between vomiting, in between diarrhea, in between constipation, in between throat infections, in between ear infections . . . You get the gist.  On those in-between days he would laugh and play and smile and wave and speak as he had before.  But on all the other days he was high-functioning autistic, and that's how I described him to the health visitor when I asked her to arrange for the evaluation.  It took over five months for the appointment to come through.  During that wasted time, he spent so many days in the doctor's office and ER that staff began to make jokes about him having his own room.  When the evaluation finally came around, he was burning a temperature of 103 degrees, so definitely not an in-between day.  The NHS (National Health Service) refused to postpone, saying that failure to show would be considered a cancelation and I'd have to start the entire process over again.  Another five months . . . I kept the appointment.
In the United Kingdom, childhood vaccines are administered by nurses at monthly clinics. A child does not automatically have access to a pediatrician unless he or she is seriously ill, and since the NHS still views autism as a psychiatric condition (or the child's choice) an autistic kid may never receive any medical attention beyond five minutes with their generally clueless General Practitioner (family doctor).  So, as you might imagine, I was thrilled to finally have a real bona fide God of Pediatrics involved (who, incidentally, introduced himself as 'the baby doctor' because as a parent I couldn't be trusted with big words).
The evaluation took two days to complete, both days R was burning a temperature. I had complete faith that this higher intellect would observe my child and realise how physically ill he was.  I knew that as soon as he took my son's temperature, felt his abdomen, drew bloods . . . Except nothing like that happened.  The bloods taken that day were simply sent away to check for Fragile X, which I already knew he didn't have.  He wasn't born this way.  Instead I was offered water from a plastic beaker, in the absence of brandy, and told that my son had low-functioning autism, which simply wasn't true at the time.  He still hadn't regressed that far.  The doctor even went so far to say, "Don't believe anything you read on the internet. If you have any questions about autism you should contact me directly."  I never spoke to him again.
A short time after diagnosis, I paid privately to see another pediatrician on what turned out to be an in-between day.  R flirted with her, took turns playing with a toy, gave her his shoes to put on, stroked her hair, chatted, and finally, as we left, said "bye" and waved.  She, in return, gave him a second diagnosis of 'unlucky.' These things you just don't forget.
That time was key to R's potential to recover.  If all the self-appointed demigods of the NHS and beyond had listened to what was being said, if they had acted appropriately based on the physical symptoms as they were presented, my son's life could have been so very different. My trust in the system was so absolute and naive and misplaced. The truth is, my son wasn't given a diagnosis at all; he was given a prediction of what he would become if left untreated. After raising the alarm I wasted a year waiting for help to arrive.  Help which was never even deemed necessary, let alone dispatched.
I made R a promise:  that no matter what else happened I would do everything humanly possible to take his pain away. It wasn't until I came to America that I started to understand the full extent of the damage which has been visited upon my child. With access to proper medical testing, we were able to identify yeast and bacteria issues, food and environmental allergies, vitamin and hormone deficiencies, and an underlying mitochondrial dysfunction.
"Unlucky." 
Thanks to a combination of internet support groups, Facebook and attending the AutismOne/Generation Rescue Conference last year I have been able to identify other, more complex, pieces of my son's autism puzzle such as CFD (cerebral folate deficiency), PANDAS and an autoimmune response to his own brain cells.
"Don't believe anything you read on the internet. If you have any questions about autism you should contact me directly."
What would have happened if I had done as I was told?  If it wasn't for organisations like Generation Rescue, TACA, VaxTruth, PANDAS network . . . so many amazing groups set up by the parents of autistic children to help new parents coming through diagnosis. I am so in awe of them all for marching ahead  in this battle to save a generation of children — my children.  I am so grateful to them for looking back over their shoulders and leaving a trail so that others might follow them.  I can't imagine what our lives would be if they hadn't.  I am indebted to the doctors and scientists who have risked everything to help us and who have been persecuted and ostracized for their efforts.  The FDA and CDC refuses to acknowledge us.  Mainstream medicine has turned its back on us. The pharmaceutical industry cynically campaigns to discredit us.  We have no choice but to rely on each other.  There is no help unless we help ourselves.  The issue is where to start.  For my family getting started involved an extreme, life-changing move, but apparently it doesn't have to be that way.  Who knew?
May 23rd sees the start of the  AutismOne/Generation Rescue Conference 2012 in Chicago.  It's a pretty comprehensive gathering of scientific and medical minds.  It's a place to learn about ground-breaking research, new treatment protocols, dietary interventions, and therapy programmes. It's a place full of knowledge, belief and hope.  It's the ultimate gathering of our autistic family, and it's where calls for help will be answered.  The Thinking Moms will be there in full force, hosting the Karaoke Night and doing our best to pay it forward.
~ Twonk