I only recently started looking at my children's baby photos, those unprinted memories stored on a computer.  In this digital photography day and age, I realize most people slack on populating photo albums or scrapbooks.  However, I was avoiding those photos for reasons other than lack of time or motivation.  Pictures of my son were painful to look at because they were reminders of how much I judged myself as a failure of a mother of an autistic son.  It sounds completely harsh and ridiculous to say out loud, but looking back at my son in cloth diapers reminded me of the horrible yeast diaper rashes we were constantly attending to.  The toddler years were flooded with allergies and eczema — glaring cheeks.  The preschool years were a giant red flag of how different he really was from other kids and that it was about time I get that autism diagnosis that wouldn't be a surprise at all.  Of course, when we were living life we had fun and laughed and I researched everything I could get my hands on — and researched and then researched some more.  I can look back at any picture and tell you what diet we were on, what therapy we were paying out of pocket for and what new bio-medical treatment we were trying.
The painful part seemed to come out only when looking at pictures.  In looking back at those events it was hard to see the happiness, what came up were all the feelings which fueled my energy including a whole lot of anger, fear, and judgment.  I was running hard, but with my head down and my eyes closed which just generated more anger, fear, and judgment.  Why didn't I feel like I was getting anywhere with all my efforts and love for my child?
I did look at photos this past weekend.  I immediately felt the bubbling of those emotions start to well up inside again as I saw pictures of my son so completely in his own world and oblivious to everyone else.  Then something new happened!  I found myself letting go of those feelings because they don't serve me anymore.  I don't need to be fueled by such negative emotions to help my son.  I still have the unwavering love and want to help him in any and every way possible, but now I have something else to drive me.
When I got to our most recent family photo, taken for our 10-year wedding anniversary, I saw it clearly.  It wasn't the perfectly posed, well-dressed family photo but it was true, fun, and happy!  I saw myself and I saw direction, clarity, conviction and inner strength.  I saw my family with a head held high, eyes wide open, full of love and acceptance.  Acceptance that this is my life and this is the situation I was given.  From this point of acceptance, I am living in the present and working toward our future.  The transformation was all mine but the catalyst was the Son-Rise Program I am running in a dedicated playroom at home with my son.  Through learning their techniques since December 2012, I have been able to set my son on the path toward recovery from autism.  It is the missing link to accompany the diets and physical healing of my son's body.  It's a tall order for me to fill, but we are already on our way, and we are having a blast on this journey.
I am so grateful for finding the Autism Treatment Center of America and their Son-Rise Program.  It has allowed me to embrace my son's autism and see the real him as it has also allowed me to become reacquainted with the real me – the woman in the picture having fun, loving mothering, and clearly welcoming life as it comes.
~Sara Ryza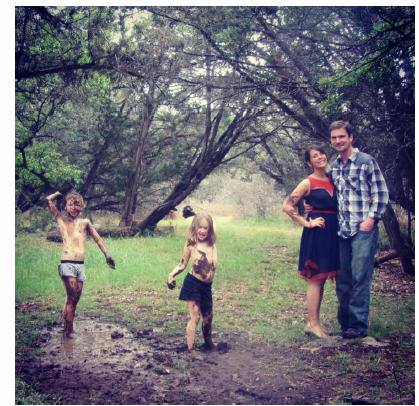 My oldest child is seven and on the Autism Spectrum.  I have known my son was different pretty much from the beginning of his life.  So basically I have felt pretty clueless about parenting from the beginning!  After seven years of diets, stress, research and all the other things we do to try and understand our autistic children I found the Son Rise Program.  For the past six months we have been running this home based therapy program for my son and are seeing fantastic results.  At the same time, I am also undergoing a transformation in how I love and live (and am seeing fantastic results!).  My blog (http://loverecoverydragons.wordpress.com/ ) is chronicling the journey of myself and my son through our Son Rise journey.