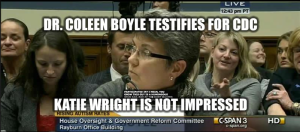 Katie Wright's presence at the Congressional Committee on Oversight and Government Reform Hearing on the Federal Response to Autism was a balm for all of us listening to the usual platitudes coming from the mouths of Dr. Coleen Boyle and Dr. Alan Guttmacher.  Her expressive face said everything we wished we could be saying, and it said it on national television.  We asked Katie if she would like to comment on what she experienced that day
I love "The Thinking Moms' Revolution." The simple act of thinking and thinking carefully seems like a lost art at the CDC.
As  I walked into the congressional hearings I was so happy to see all the  "Thinking Moms"  T-shirts. It was game day but these moms were not there to play. The "Thinking Moms" and all the ASD parents wanted to hear some answers regarding the utter lack of progress in autism research at the CDC and the NIH.
About every other answer by Dr. Coleen Boyle and Dr. Alan Guttmacher was "I don't know."  I take that to mean either, "I never think about that," or "I don't want to tell you."
Congresswoman Maloney asked Dr. Boyle if the CDC is studying the vaccine schedule, "I don't know," said Dr. Boyle.
Congressman Posey asked Dr. Guttmacher, "How many vaccines do babies under two receive?"  "I don't know," said Dr. Guttmacher.
Congressman Jim Matheson asked Dr. Boyle why Utah's rate of autism was so much higher than the rest of the country.  "I don't know," said Dr. Boyle.
Congressman Meehan asked Dr. Boyle if there had been any other disease that had risen as fast as autism over the past 20 years? "I don't know,"  said Dr. Boyle.
As a follow up Congressman Meehan asked if Dr. Boyle thought that the 1,000 % increase in autism represented something other than better detection. Dr. Boyle's answer was, "I don't know."
And my favorite: What did Dr. Guttmacher say when asked if the CDC or the NIH had developed any new therapies over the past dozen years?  Dr.  Guttmacher responded, "behavioral therapies." Behavioral therapies!  ABA was developed over 25 yrs ago!  I am counting that embarrassingly wrong answer as an "I don't know."
My  nine-year-old  knows more about autism than these two.  You know why he knows more?  Yes, partially because he lives with an autistic brother, but mainly because he cares, he actually cares, and feels invested in the  lives of people with autism.  And you know what else?  Even he knows that there is a lot more going on besides early detection behind these astronomical numbers.
~ Katie Wright
Katie Wright has two young boys. Her oldest son, Christian, is severely affected by autism. He developed normally; smiling, talking, walking; only to lose every skill and every word by the age of 2 and a half. Upon the advice of medical professionals Katie and her husband were advised to pursue only high quality behavioral therapy, speech and OT for Christian. It had no meaningful impact on Christian until his parents sought help from DAN! doctors who treated the underlying causes of Christian's descent into autism. Christian has improved but still has far to go. He has Inflammatory Bowel Disease, the measles virus in his gut and an immune system akin to a late stage AIDS patient. Christian does not have a psychiatric disorder. Before autism, Katie Wright was the Clinical Director of Sexual Assault Crisis Center in Stamford Connecticut. Katie is a Contributing Editor at Age of Autism and is proud to serve on the Boards of NAA and SafeMinds.