I spent the bulk of my week following Autism One doing what most attendees do: looking at pictures and wishing I was still there.  Pictures of Thinking Moms at our booth, pictures of us with celebrities, authors, doctors, scientists – pictures of us at karaoke, pictures of us on a roof-top deck partying into the wee hours of the night.    Happy pictures of hopeful people letting off steam and letting go in the company of the only people we trust with all our hearts, other autism parents and activists.
Of course, I stole these picture-coveting moments during the final week of the school year.  A time when inconsistency, schedule upheavals, and sleep-stealing sickness make life in an already difficult autism household seem almost unbearable.
Looking at these images has been both life-affirming and life-saving.  "Yes," I hear the quiet whisper in the back of my mind as my husband and I try to get our son to take his medicine.  "Yes, LJ there is indeed, much more than this."
My friends currently epitomize the hope and vigor I wish to have.  In fact, our facebook community is on fire with positive posts about treatment, results and exciting new protocols since Autism One.  Good things are happening for my friend Alison. My friend Kim?  P is indiscernible from his peers. While he engaged in jovial dinnertime banter with his aunt, Jill's son said, "I'm going to tell you a secret. Something you don't know about me.  Something no one knows about me.  I used to have autism.  AND (pause for dramatic effect) I. am.  Austrian."
I suddenly find all the happy, hopeful people terribly annoying.  I delude myself with the notion that I have it harder than all of them.  I tell myself, I am suffering alone, on an island with a crazy person. Benign things bother me.  My neighbors took the whole last week of school off to take a family cruise.  Awfully brazen of them to just diss the educational system like that.  They just pick up and take off whenever they like.  Party invitations arrive day after day for summer activities requesting my daughter's presence.  What is everybody so darned happy about?
These poisonous thoughts float around in my head as I clean my kitchen for the fifth time today.   Vigorously scrubbing I lose the present, categorizing my private litany of hurts, slights and injustices.  I ruminate on this morning's trip to Noah's new ABA center.  I had to stop the car 9 times on a 10 mile trip to put him, kicking and screaming, back into his carseat.  His brother and sister cried and covered their ears and begged me to make him stop.  As I relive the recent memory, Noah screams, and screams and screams.  I allow my mind to go to the forbidden place. I think of calling a residential home for him.   He is now balancing on the back of a chair, completely naked, cramming his penis into the window as passersby look on and point.  Will they call CPS?  My heart starts to pound and panic sets in (I've felt this feeling more times today than I have cleaned the kitchen).  My vertebrae smash together as I whisk him out of view.  I watch for their reactions.  They are laughing.  Hysterically.
So glad my incredibly ill son, who has coughed to the point of vomiting for the past three weeks, has not slept three hours straight in 4 weeks,  is covered in gaping die off sores, rashes and eczema  and suffers mitochondrial disease that promotes this nudity and penis smudging behavior, could provide entertainment for  these ignorant f*%ks.  I hope all their grandchildren get fully vaccinated according to the CDC schedule.
At this hate-filled moment a glass I'd washed escapes my attention and falls from the island and lands on my foot, slashing it in three places.  Blood spouts out like lava.  I feel no pain.  Complete aggravation and annoyance, but no pain.  Reams of paper towel are needed to clean the floor.  The stupid cuts will not stop bleeding.  I take my bloodied self into the bathroom to clean up as quickly as I can.  "Mom! MOM!  Noah is…"  I hear my daughter Mads shouting over our son Liam's cries.  I've not even shut the door yet.
Blood is everywhere.  I start scrubbing the hell out of my face (how did it get there?) agitated at the prospect of how much time this stupid mistake is taking away from my kids, research, meal prep, medicine charts and Facebook.
And then I look in the mirror.  Really look—for the first time in a long time.  It's been a year.
I look older, but, not in a way that makes me feel angry at the aging process.  I'm almost 42.  I should look older.  That's not it.  I look sick.  Puffy.  Sad.  A little desperate.  My eyes are small, lost in heaps of skin and ashen waves of facial flesh that should not be there.  So much face.  So much fear.   I take a deep breath.  It's a wheeze.
Autism took Noah and in the fight to bring him back, it's destroying me too.
I sat on the floor and tried to bring myself back into my body, something my friend, fellow activist, Karen Kain, taught me how to do.  I tried to center my thoughts and become aware of my body.  All I could really feel was violence, confusion and fear. My own body is at war with itself and I have been ignoring the fight like an old woman sitting on her dilapidated porch in Compton oblivious to the bullets from gang violence whizzing past her cheek.   A zombie.   A fully activated, extremely busy, highly articulate, very fat zombie.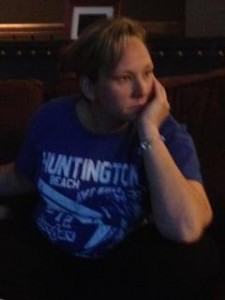 My food groups consist of bread and sugar (which is really gluten and high fructose corn syrup) coffee, and wine.  I eat my pain.  I eat to keep myself from feeling anything. Because what will happen if I stop?  WHAT WILL HAPPEN?   What will happen if I start living in the moments between my first sip of sugary coffee, that holds me over until my first bite of GMO bread, that soaks up the first sips of wine, that anesthetize me so I can start the whole process over again tomorrow?  What will happen?  Really?  I am asking you.  Who will take care of this and make life happen for three children on a daily basis and reverse the damage preventative medicine did to my incredibly sick middle child? WHO?  She asks, as she sips her ginormous syrupy coffee.  WHO?
Several weeks ago, while driving I began to obsess about Noah's latest treatment regimen.  For those of you who have been treating your child medically, biomedically or homeopathically for chronic neurological inflammatory illness, you know this spiral.  You've just invested money in yet another protocol.  You've run another panel of tests.  Maybe you've just returned from another trip across the country visiting a new physician. You are enthusiastic.  You are told the inevitable.  "It will get worse, before it gets better."  In the beginning, you are prepared, or so you think.  Then it does get worse.   The first thing to go for Noah when we work on addressing his damaged liver, kidneys and immune system, is sleep.  Without it, life becomes a series of dramatic and often violent moments that I alone must predict and diffuse.   My husband is a huge help, but he is gone, working.  His job pays for EVERYTHING.  He's also taken up the political fight for Health Freedom for our Noah and for all our children.  He's gone even more. I began questioning our decision, circling the treatment, his symptoms and behavior in my head over and over again in an endless loop.  Anxiety set in.  I heard a voice.
"Heal yourself and you will heal your son."  
I HEARD IT.   I ignored it.
I got bitter.  My friends tried to reach out and help me.  I ignored them.
The bitterness turned to hateful thoughts over benign things.
The hateful thought led to absentmindedness (took me out of the present).
The absentmindedness led me to break the glass.
My bloody foot sent me to the bathroom—to the mirror that would reflect my physical reality back at me for the first time in over a year.  Hmmmm.  Would have been so much easier just to listen to the voice.
I know many, many of you have seen these signs in your own lives.  I know many of you know the self-destructive loop of which I speak.  We read books on nutrition (like GAPS) while we sip Diet Coke and munch on Doritos.  We buy the best food for our children while we hoard garbage food like addicts alone in our pantry.  We slave over GF/CF/HFCSF/SCD meals for the kids while we eat Kentucky Fried.  We spend hours cooking clean food for them that they reject.  We eat it. We drink a bottle of wine after they go to bed, while we do the laundry, clean the kitchen, plan their week, and do the bills. We keep complex charts and diaries of their therapies, diets, medicines, and behavior but we cannot remember the last time we read a book for pleasure.  Pleasure?!  What's that? I know research, progress, regression, damage control, progress, repeat.
I know you friend, and I know you know me.   We cannot go on like this.
So here is what I propose.  God knows, we know our sh*t, so I won't bore you to tears with some regimen, plan or additional checklist you need to add to your already over-the-top life.  You know how to eat.  You know how to live.  You know what is right for your body.  You just need to do it.  Just like, I need to do it.  Can we do it together?   If we heal ourselves, maybe, just maybe, in the process we heal our children.
I am going "dry".  No sugar, alcohol or gluten for the next 10 weeks.   No bread.  Just the stuff every authentic book on the market about nourishment tells us.  If it comes from the earth (and is not corrupted with pesticides), it's good.  If it comes from man, it's bad.   S-I-M-P-L-E self care in a complicated world of iatrogenic disease.  Please contact me through The Thinking Moms.  We can support, uplift and HELP each other.  We must grow stronger.   The healthier we are, the healthier our kids will be and the more powerful our voices will become!  All summer long I will be writing about my journey to health, and I am sure, my adventures in die off. If you are crying and convicted right now, this was written for YOU.  If your first thought is, "I can't do it (insert reason here)" let me remind you of something.  YOU ARE A PART OF THE MOST POWERFUL GRASSROOTS MOVEMENT IN CONTEMPORARY HISTORY.  YOU ARE SAVING CHILDREN'S LIVES!  You can indeed, make a doughnut your b*tch.  Hope my boy Em gets you motivated!  I can't wait to hear from you!
Much love and respect, LJ Goes (The Rev)
P.S.  I do not sincerely hope the passersby grandkids get fully vaccinated according to the CDC Schedule.  That would make me a monster.