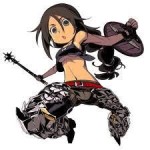 I love Fall.  The colors, the cooler temperatures and the beginning of the holidays are in full swing!  I treasure this time because in Western New York, Fall is about 6 weeks long if we're lucky–and then I'm pulling out winter coats and shoveling the first snow fall of the season!
What I really love about Fall is the food.  Walking into the grocery store the other day, I noticed the bounty of root veggies and other new foods that come with the season change.  There was a new delivery of leeks that day and they looked too good to pass up!  I posted a picture on my FB wall and got lots of inquires about the recipe, so I thought I would make a blog out of it and share it with all of you.  This soup has evolved to sort of a very hearty version than what a traditional potato leek soup looks like.  Feel free to adapt my recipe to your own liking or accounting for your own food allergies/sensitivities.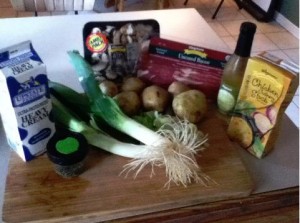 1 Box (32 fl oz.) Chicken broth
2 Leeks
1 3-lb. bag of potatoes
1 container of baby bella mushrooms
1 pint heavy cream (you can omit this for a dairy free soup)
Fresh thyme
1/2 cup white cooking wine
Bacon
Of course, you can double the measurements to make more soup! This soup doesn't last long around here so I make a big batch every time!
Directions:
Chop up the leeks and rinse them well under cold water.  They tend to be pretty dirty once you start peeling the layers.  Saute them in a hot pan with a little olive oil for 5-7 minutes.  Pour the chicken broth and heavy cream (omit if dairy free) in a stock pot and simmer.  Once the leeks are done, transfer them to the stock pot. Chop up the mushrooms into desired size pieces and saute them in the same pan as the leeks for 5 minutes, adding more olive oil if necessary.  Transfer them to the stock pot.  As the mushrooms are cooking, peel and chop the potatoes and boil them until soft, but not mushy.  When done, rinse the potatoes and transfer them to the stock pot.  Add the fresh thyme to the stock pot. (I tie the thyme in a bunch to keep it together and avoid getting the woody stems floating in the soup!)  Pour in 1/2 cup cooking wine to the stock pot and simmer.
If you omitted the heavy cream and want a thicker soup, take out a cup or two of the soup and put it in the blender and pour the puree back in the stock pot.
Once all the ingredients are heated through, fry up the bacon. Garnish each bowl with a the crumbled bacon on top.  Salt and pepper to taste.
This soup has a very mild flavor and it's very hearty and filling.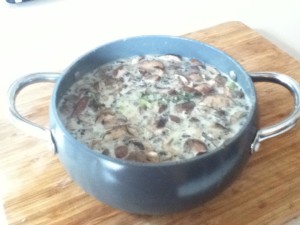 Just for fun I thought I'd throw in a recipe for a smoothie I'm currently obsessed with right now.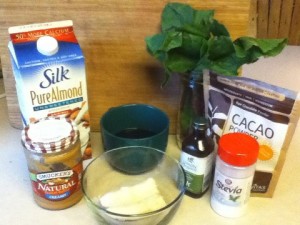 Recipe:
1 cup almond milk
1 cup room temperature coffee
1 frozen banana
1 handful greens of your choice (I used beet greens here)
1 tbsp peanut butter
1 tbsp raw cacao powder
1 tsp vanilla extract
Dash of stevia to sweeten (omit if you don't like a sweet taste)
Put all ingredients in a blender and blend until smooth. (I have a Blend-Tec and it pulvarizes pretty much everything!)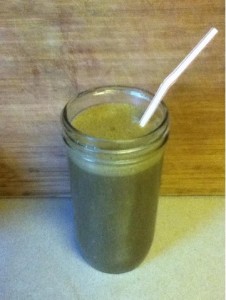 This is so good and healthy too!  Enjoy!
For more blogs by Savage, Click Here.