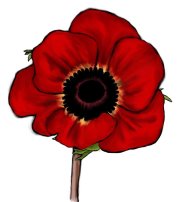 I've been off the blogging circuit for a while to tend to my own health as well as care for my two guys, but I had to fire up Word and comment on something I saw in my feed. What I saw is probably one of the most irresponsible things put out by the medical establishment in a long time.
Ready for this??
"Flu shots during pregnancy reduce autism risk."
Yes, you read that right. I did a double take myself.
On Wednesday October 16th, 2013 the Mayo Clinic released an article claiming that the flu shot should be thought of as the anti-autism vaccine. Chew on that for a minute.
"Women who are pregnant, or may become pregnant, may have extra incentives for getting their flu shots. According to several recent studies, influenza infections in pregnant women may create potentially life-changing risks for their unborn children, such as bipolar disorder and autism."
They've since taken the link down…glad I downloaded the transcript file and took some screenshots. Things have a way of vanishing from the intrawebs these days…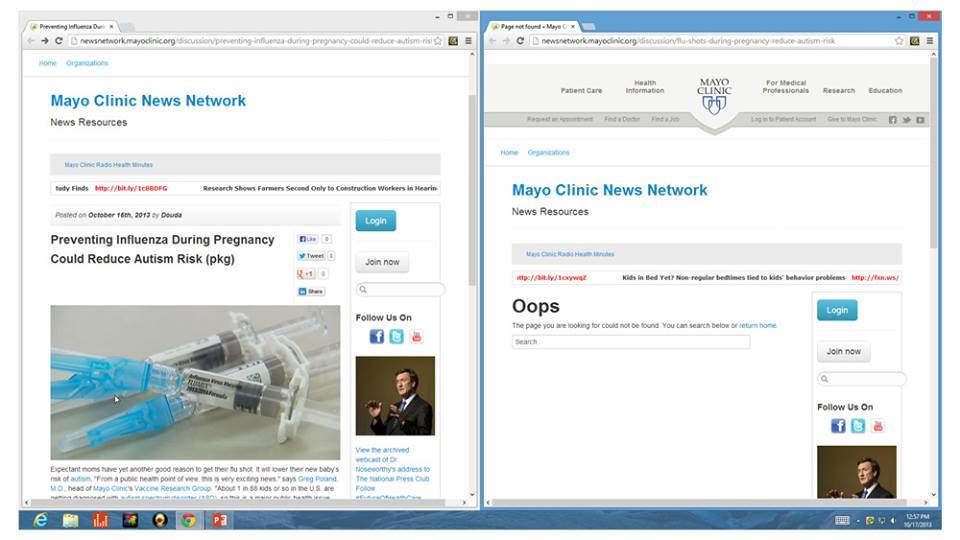 "Ooops" is right….idiots.
From the original transcript:
"Expectant moms may have yet another good reason to get their flu shot. Pregnant women who develop influenza have a higher rate of autism in their newborns. The Centers for Disease Control, or CDC, says autism has increased tenfold over the past 40 years. Autism Spectrum Disorder (ADS) now affects one in 88 American children. So, who wouldn't roll up their sleeve to lower the risk? "
The flu shot. The one shoved down your throats at every Walgreen's, CVS, Target, Walmart, Publix, (insert your local store here) that you walk into.
The flu shot. The one that hasn't even been studied or safety tested for the pregnant mother population.

The flu shot. The one that's caused a 4250% increase in miscarriages and stillbirths according to VAERS.
Just when I thought the medical establishment couldn't sink any lower….tapping into one of the biggest fears an expectant mom could have to sell a flu shot. Autism….if it isn't the biggest fear, well, it sure as hell should be.
"It's nice to know that you can help a little bit, that it isn't all in somebody else's hands, that there's something you can do to reduce the risk of autism." –an expectant mother in the clip
I asked the Mayo clinic why they pulled the link on their Facebook page. The reply I got was typical backpeddling BS and was told people were misinterpreting the content.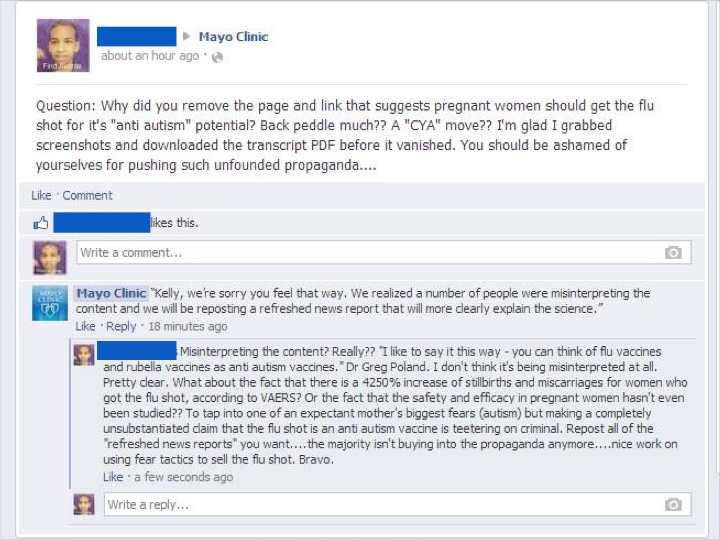 Don't know about you, but I think that's a pretty clear and concise statement. Fear mongering at it's finest. But what do I know? I'm just an autism mom.
"I like to say it this way – you can think of flu vaccines and rubella vaccines as anti-autism vaccines." –Dr. Greg Poland
Ahhh, Dr Gregory Poland. Dr. Greg Poland serves on the CDC's Advisory Committee on Immunization Practices and heads the Vaccine Research Group at Mayo Clinic.
A busy man, that Doctor Greg!!
Dr. Gregory Poland also works for Merck, serving as Chair – eDMC and receiving honoraria from Avianax, Dynavax, Liquidia Technologies, Inc., Novartis Vaccines and Diagnostics, PaxVax Inc., and Theraclone Sciences for consulting services
No conflict of interest there though, right Doc?? But I digress….
They push this stuff like it's got vitamins and minerals in it.
The Mayo Clinic has blood on their hands….
Don't Believe The Hype…
To read the original transcript, click here: Flu-Shots-During-Pregnancy-Reduce-Autism-Transcript
~Poppy
For more blogs by Poppy click here.