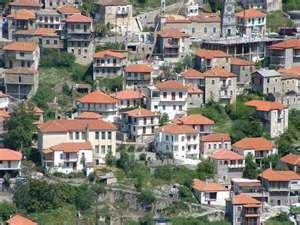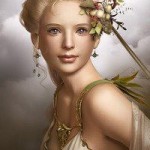 I don't often talk about all the family help we have with Harry.  Don't get me wrong, I appreciate it (Ohhhh do I appreciate it), but I often feel guilty talking about it.  I have friends who have no family support, or worse, have downright hostile, judgmental extended families who make life more difficult.  I have friends that are single parents with no spousal support, who are raising more than one child on the spectrum.  Friends whose own parents hint at institutionalism to make life "easier".  So I usually keep my mouth shut.  I am going to write about My Village today though, in hopes that others will share this with their families and open their eyes to what raising a child on the spectrum should be like.
My father grew up in Europe on a farm.  He lived a humble and communal life with his parents, six siblings and all kinds of relatives, until he won a college scholarship to study in America and met my Mom, who was born in the Bronx.  Even though my Dad's family was thousands of miles away and we rarely saw them, he instilled in us what they valued, leading by example.  He turned down a lucrative promotion because it required too much travel away from us.  He was home at 5:45 on the dot each night so we could eat dinner as a family…two things I have not done with my own family, because just maybe I had my priorities skewed. 
My Mom grew up a city girl.  To this day she doesn't do well driving in places without grid streets.  She retired a NYC school teacher who ran her own type of charity…I would often visit her school and see my old coat on a girl in the hallway, there were families she brought groceries to each week, and there was even a family of five she took in for a time so they could get back on their feet. 
Growing up, I had two dedicated, fully supportive parents.  They never missed a swim meet or softball game.  They told me I could do anything and be anything I wanted (someday we'll get into the part where I was convinced I would be a rockstar).  They weren't as permissive as I would have liked (I am so sorry 8th-grade-boyfriend that my dad hung up on you every time you called), but I knew they would always be there for me.
My parents had retired and built a place on my father's family's land by the time I had Harry, but they arrived before the birth and settled into our in-law suite because they were going to watch the twins while I went back to work.  By four months when Harry's exorcist-style puking began, they were the ones cleaning it up all day.  After his six-month shots, they knew something was wrong too.  They would watch R. babble and listen to Harry scream "AHHHHHHHH".  And by diagnosis day, they were not at all surprised. 
What may be surprising to others is what happened next.  We went gluten-free-casein-free-soy-free cold turkey, but I had no idea what to actually feed my child who ate milk, cheerios, chicken nuggets and gyro meat.  My Dad loves to cook. As we got results from lab testing, my Dad hopped online and researched which foods would combat inflammation and scavenge free radicals.  He made an organic ground beef mixture that had every veggie (painstakingly diced by hand) imaginable in it and would freeze it in batches as it became Harry's staple. Cholesterol too low?  He would add organic eggs and bacon to the recipe.  Constipation?  Eggplant, beans, and extra olive oil went in.  That mixture brought Harry from failure-to -thrive to a healthy height and weight and began the healing on many levels.  
When he wasn't cooking for Harry, he was sitting teaching Harry baby signs.  It shouldn't have been a surprise to us last month when we discovered Harry could read sight words…he's been shown them on flashcards and dvd's most of his life.  They watched speech dvd's and he would put his face in front of Harry's exaggerating the mouth movements to form certain sounds.  They had computer time together, learning all kind of hand movements to children's songs on YouTube.
Meanwhile, my Mom ran Harry around to speech therapy, occupational therapy, physical therapy and oral motor therapy, so my husband and I could work to afford Autism.  She sat in the room and learned what to do, and practiced the oral motor exercises with Harry twice a day, every day…something I couldn't wrap my head around at the time as I had two other toddlers, endless Autism research and a fulltime job to contend with.  She did HBOT with him.  She taught him how to do puzzles, worked on threading beads on a string, let him paint on an easel, taught him how to pedal a trike.  She did brushing techniques, pushed him to try new foods, and generally did a lot of the unrewarding parts that help heal our kids. 
Don't get me wrong.  We are hands-on parents in our own right, but with three little ones, the one who needs the most attention doesn't always get it.  It takes a village to raise a child with Autism. And my village was all-in.  My brother and sister, and my sisters-in-law jumped in too, providing any assistance we needed.  They learned how to sign, they babysat, or just simply listened.  Which was sometimes the best thing of all.  They never once made us feel like Harry wasn't a full part of our family.  He was accepted and loved, just the way he was. 
Through these early years, my husband's parents lived nine hours away from us.  They were not as involved in the day-to-day, but they were fiercely supportive in other ways.  There was an $11,000 month-long super intensive program I wanted to try.  My in-laws whipped out a check without being asked.  Our septic system gave up…guess who was there to bail us out so we didn't have to cut back on anything for Harry?  To this day they stash extra money in his 529 account, and now that we live closer, they too have a special bond with my son, learning signs so they can communicate and making sure he gets all the tickles he asks for.  They marvel at all he can do and how far he's come.   They have opened their minds to views I am sure they never would have considered a few years ago.  My husband's extended family often visits in the winter, and we get nothing but love from them too.  Efforts to engage Harry abound, and he is never left out of any gift-giving or celebration.  They ROCK. 
I've got a great village.  I can't imagine it better than this.  At times, it makes Autism…not easy, but definitely easier.  To have an invested team behind you, taking turns running the ball with you and cheering you on from the sidelines until you reach your goal—recovery—is an amazing thing.  I just wish everyone had what I have.  It made the early years bearable—splitting things up and working as a team. 
So, here is my plea.  Grandparents.  Get involved in any and all ways you can.  Bond with your grandchild.  Get to know—really know—the child with autism.  It is hard, but it is ultra-rewarding too.  Support your sons and daughters as they try to heal their very ill child.  Offer to babysit.  Slip them money for supplements.  Your child will be grateful for the money as Autism is expensive, but will also feel like you're fighting with them, supporting them, backing them up in their time of need. 
Brothers and Sisters, support your sibling.  Be there to listen.  Don't judge.  Don't make comparisons or comments about behavior…I mean, do you really think your sibling doesn't notice their child flipping a light switch on and off 300 times?  They do.  They are really, really grateful when you pretend you don't.  Learn how to communicate with their non-verbal child.  Find something special to connect with him or her.  Encourage—and by encourage I mean make it mandatory — cousins to include the child with Autism at birthday parties.  I mean, it may be the only party he or she is invited to all year.  Put yourself in your sibling's shoes.  How would you want your family to treat you? 
I promise you that your efforts will be deeply appreciated.  And will not be forgotten.  Reach out, make amends if you need to.  Start today.  Your village can be an amazing legacy.  It takes a little effort, but that effort will be rewarded many more times over than you realize. 
My parents just returned from a trip to Europe.  I brought Harry to their house the minute they returned.  He burst through the door and flung himself in my father's arms.  No words were needed to convey how much he had missed him, or how glad he was that he was back.  That bond is irreplaceable and they are both better off for having it.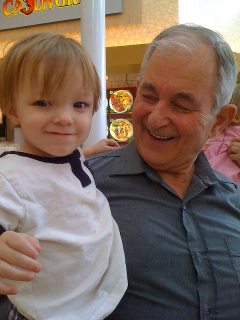 I leave you, dear reader, with a question…I hope you'll comment and that the comments will be read by grandparents, aunts, nieces, nephews, brothers, sisters, uncles and cousins and that action will be taken and villages will be built, repaired, expanded as a result. 
What is the one thing you wish your family would do that would positively impact your child with Autism?  What do you want your village to look like? 
Love,
Goddess   xx