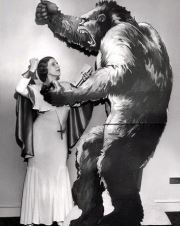 A mom of a newly diagnosed child with autism tells her pediatrician that she hears from a group of (thinking) moms that her child can be "recovered."
She is told by her pediatrician, who administered said child's vaccines (all of them…every last one on the schedule because you can never ever be to careful):
That those moms are simply…imagining it.
That's right. Imagining recovery.
And you know what? He is absolutely right.
As a young woman I imagined I would someday marry the man of my dreams.
I did.
I imagined I would have a beautiful family.
I do.
I imagined I would have a home that would be grounded in love that would be used to bless others.
I have that. And I am using it for that purpose.
I imagined an amazing group of friends who would always love and support me. NO MATTER WHAT.
I have that.
I imagined several months ago, when I became ill, that I would lose 30 pounds.
I did that.
I imagined I would use less and less pharmaceutical solutions to control my asthma.
I am doing that. I actually leave the house without my inhaler and don't realize it.
I imagined and continue to vividly imagine everyday that our son Noah IS RECOVERED FROM AUTISM.
And it's happening.
Could you imagine what could happen for the children of this country if we ALL used our imaginations?!?!?!?!?!?! Yes sir, Dr. Pediatrician. You are 100% correct. We imagined it. We humbly invite you to do the same.
Much love and respect to you and yours during this holiday season!
~The Rev
An article to support your imagination:  Some Autistic Children Can Recover, Study Shows
For more blogs by The Rev click here.