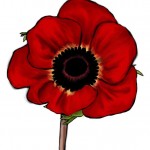 This past weekend, The Fellas and I went on our longest road trip adventure ever.  We had planned to drive north to Georgia and visit fellow Thinking Mom Blaze and her beautiful family.  The night before we left was spent checking lists, baking GFCF muffins for the ride, preparing lunches, and making sure the iPads were loaded up with movies and charged to the max. You know the routine. Considering a two hour drive to Disney is about as much as we can all typically take in the car, I was pretty anxious and figured it would take us about 9 hours to pull off a six hour trip.  No matter.  Summer has been kicking my ass and I was determined to get out of town and hang with my girl.
After getting gas for the car (and a large cream & sugar for Mommy) we were off…..and 15 minutes into the trip, I hear it….
Little Son asks,  "Ma…..are we in Georgia yet??"
This was going to be a looooooooong day.
After the first hour of them kicking the crap out of each other in the back seat, I busted out the headphones and precious iPads…..the rest of the trip was smooth sailing (with the exception of a few frantic  "MOMMY I GOTTA PEE!!" cries while doing 75 mph…..good thing I got that large cup of coffee 😉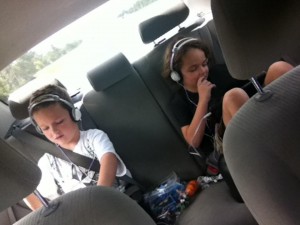 Thank you, Mr. Jobs 😉
 Six hours door-to-door  (SHOCKED, BTW) and a tank of gas later, we were at Chateau Blaze and welcomed by smiling faces.  The Fellas instantly ran up to Blaze and gave her humongous hugs and proceeded to run inside and start playing with Little Miss AB and my buddy P like they were long lost friends.  They played together for hours while The Grown Folk did some catching up and chatting on a warm Georgia evening.
Blaze had the place STOCKED with organic fruits and veggies, local clean organic bacon, ground beef, GFCF bread, dozens of farm fresh eggs, and a variety of gluten-free ciders, wine, and other assorted libations.  She took great care of us.  It felt fantastic to not feel like a freak when I came in with my suitcases and a cooler full of food and Kombucha .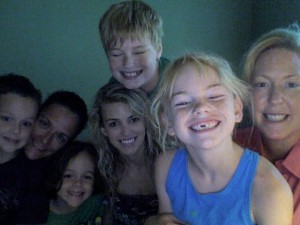 Friday, I was lucky enough to meet Haley, the young Thinker that was our original Featured Blogger (read it here).  What a DOLL!  It was so refreshing to sit and talk with this young gal who has her head on straight and her eyes open to what's really going on in the world.  She is an incredible individual that will do great things in this world.  Mark my words.  I also got to meet another avid TMR reader and fellow Thinker, Allie.  Love her!  Another Momma that totally "gets it".  You can read more about her son Aiden and his healing journey here
On Saturday, we headed Downtown and checked out the sights.  We decided to get lunch at The Mellow Mushroom because they have gluten-free AND casein- free pizza.  We loaded into a booth and checked out the menu.  They even had Hard Cider!  Where has this joint been all my life???  We placed our order and the kids patiently waited for their food.
Our pizzas came out and we went to town!  I looked around at the kids enjoying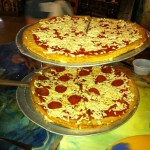 themselves, their food, and the people watching and got all verklempt.  This was the first time in over three years that we sat together in a restaurant and ate food that I didn't have to worry about.   Food that I didn't have to prepare….or clean up after!!   Something so seemingly insignificant to most….going out for a pizza and beer with the family….is a treat not available to the majority of families with kids like ours.  I am eternally thankful for The Mellow Mushroom and am thrilled to see that there are a few not far from me.  We will be return customers, for sure!
Who knew that something so simple as a few pizzas and a cold cider could make me so freaking happy?
Sometimes when the world is kicking your ass, you've got to stop and appreciate the little things…
Thank you Blaze for being a fabulous hostess.   I may make it through this summer afterall. xo
~Poppy
For more blogs by Poppy, click here