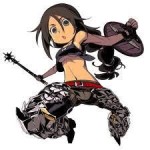 "What we want to see is the child in pursuit of knowledge, not knowledge in pursuit of the child." George Bernard Shaw.
About 10 years ago, I went to see a psychic.  At my reading, she told me that I would homeschool my children.  I thought she was nuts, to be quite honest.  Fast forward a few years later, and I found myself homeschooling my special needs son.  He had just started having seizures, and I wasn't comfortable sending him to school in case he were to have an episode there.  Thus began my introduction into the wonderful world of homeschooling.
I remember that day so well, in the IEP meeting, when I said that I was pulling my son out of regular classes and would start homeschooling him.  The look of scorn on the teachers' faces was obvious to say the least.  How dare I think that I could do a better job than they could!  They were all appalled that I would even think of educating him at home.  It was intimidating, I'm not going to lie, but I was steadfast in my decision and I wasn't going to be swayed.  (New York State passed a law that children who are homeschooled are still entitled to receive speech, OT and PT services–so I would continue to take him to school for those.)
The idea of homeschooling really appealed to me because I was able to have him with me for medical issues, and I was able to teach him in a way that we were both comfortable with, in a less structured more easygoing way.  So I handed in my necessary forms stating my intent, and I was good to go!
I immediately contacted my local homeschooling association and attended a workshop at my local library.  I was pretty surprised at how many people are actively homeschooling their children or who are considering it for their preschoolers.  More and more parents are viewing this as a viable option for many reasons.  There may be bullying issues, or a child may just learn better in a more "unschooling" way.  Whatever the reason, homeschooling is becoming more popular every year.
The first thing people jumped on when they found out I decided to homeschool was socialization.  That's always the knee-jerk reaction when you say you homeschool your child: "What about socialization?"  Fact is, kids who are homeschooled learn to interact with people of all age groups and not just with kids their own age.  There have been numerous studies showing that adults who were homeschooled are more productive and succeeding quite well in a variety of careers. Here is a link to a great study that surveyed almost 12,000 students and the results of that survey.
One of the obstacles I faced, at first, from the school administration was they felt I may not be educated enough to teach my child.  Of course, they didn't say it that way to me directly, but it was certainly implied.  I was quick to inform them that I had my Bachelor's degree, and that I was more than capable of developing a curriculum that was suitable for my son.
I had found a terrific online program that my son absolutely loved, Time4Learning.  It encompassed all the basics and followed right along with our New York State curriculum.  Plus, because it was computer based, he was able to learn better as he is a much better visual learner.  A lot of children with autism whose skills tend to be scattered and that was very true of my son.  The Time4Learning software allowed us to be at one grade level in math, and another grade level in English and science. So we were able to go at his pace and progress when he was ready.
Of course with the pros, there are also some cons.  You have to be ready to put the time in.  In my case, our learning time was 3-4 hours a day, every day.  That leaves very little Mommy time.  You have to be prepared for that and make sure you're up for the challenge.  For me, most days were really easy, but, I'm not going to lie, some days did get frustrating.  Those were the days I had to dig down deep and be really patient and learn to recognize my son's limits.  You also have to be really organized.  REALLY organized.  That was one of the hardest parts for me considering I'm not an organized person at all.  In New York State, it's required that you keep detailed records and submit them on a quarterly basis to the school district in order to continue homeschooling.  The Time4Learning program was such a help to me because they designed a Parent Portal to keep track of everything your child works on.  I simply had to log on and print it out and include it with my quarterly reports.
My son did extremely well that year, and my husband and I debated about continuing his program.  We were fortunate to  have a new autism classroom in our district that was being taught by a fantastic teacher. So the following year we did enroll him back in public school.  He has done very well in this program, but I always keep in the back of my mind that if things aren't going the way I would like, or if he shows signs that he no longer is doing well there, I wouldn't hesitate to start homeschooling again.  I've learned to take my cues from my son and his needs, and it's worked for us so far!
~Savage
For more posts by Savage, please click here.