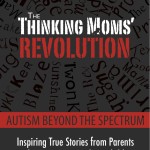 You've read our book and gotten to know us, our children and our stories.  What we have heard, over and over again, is that YOU WANT TO SHARE YOUR STORY too.  We listened.  Here's your chance:
The Thinking Moms' Revolution is just weeks away from launching TEAM TMR, a 501(c)(3) not-for-profit organization whose mission is to provide real help to families struggling with medical, emotional, educational and financial hardship due to complex medical needs faced by their children diagnosed with autism and other developmental disabilities.
Help comes via funds to defray costs for practitioner appointments, recommended treatments, travel expenses to the experts in the field, materials to start homeschool or purchase an augmentive and alternative communication (AAC) device that helps facilitate communication, expenses related to autism conferences and legal expenses, as applicable.
Our first fundraising endeavor incorporates YOU.
Write YOUR chapter, tell the world what happened to your child and what you've done about it.  Submit it to us, along with a release, and we will include it in an ebook that we will sell online.  The proceeds (100%) from the sale will fund TEAM TMR and help families in need of treatment.
To start, let us know you are interested in learning more about participating by sending a private message to our Facebook page that says "I'm Interested!"  On December 1st, we will send you the details and the fine print.  We can only publish 20-25 stories, so don't wait!
Thank you for walking with us on our journey!
~ The Thinking Moms' Revolution
PS – Special thanks to one of our readers for an amazingly excellent idea!