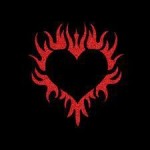 This was originally run January 16, 2013.  We're rerunning in honor of our upcoming eConference on food. Good nutrition and diet changes individual to the child have been so integral to the healing of our kids at TMR, we are hosting an eConference on food with a phenomenal line up of presenters. You can read all about the online conference HERE and Register HERE.

Today I'm going to rant.  Vent.  Complain.  It's about food.  You know, that stuff we are constantly shoving in our bodies.  I'm thinking parents everywhere are trying to do the best they can to feed their children right.  We start with breastfeeding while eating right ourselves.  We figure out how to puree organic veggies and freeze in ice trays for later. As the child ages, we make sure to send lunch to school instead of allowing the jail-quality slop in the lunchroom and, if necessary, send in alternative snacks for special occasions and birthday parties.  Juicing, bone broths, fermenting, organic and local veggies and meats and special diets . . . all these approaches are at an all-time high in popularity.  GMOs?  Fuggedaboutit.  But, now that my children are getting older, I have less and less opportunity to feed them thoughtfully at home, and the world out there is set up to sabotage me.  Here's the "dish":  No matter what you do INSIDE your home, OUTSIDE your home the food situation is WORSE THAN EVER, regardless of the heightened awareness.
Here are some examples of situations that send me over the edge; as my husband says, they "crack my tablet."
1.  Cupcakes everywhere, and I don't mean homemade from scratch.  Bright blue and red icings and highly processed.  You know what I mean.  Classroom birthdays and every holiday, Sunday school, whatever, they are everywhere.
2.  Pizza is everywhere, too.  The life of a child has turned into one big fat pizza party.  All that gluten and cheese?  Back in the day, this would have sent Patrick right back into Autism World for days.  Now, with enzymes, he does okay.  But since it is everywhere, and I have said "yes" every once in a while, now I'm faced with, "Can he or can't he?" constantly.  It is stressful.
3.  School fundraisers involving pizza delivery and McDonald's.  Here, have a healthy dinner, school families, we know you will be at your best and ready to learn tomorrow if we supply you with this nutritious  supper tonight! *eyeroll*  I mean, just look at this article linking fast food, asthma and eczema!
4.  School projects using edible junk as manipulatives.  GMO Skittles or M&Ms for math (and ABA rewards), and look at this letter I got from school so my daughter's class could learn about the landscape of our state.  "Congratulations!" (On what?  I get to spend $20+ on two grocery bags of crap that you are going to feed all of those kids?  Don't you have a hard enough time keeping your class calm and productive without feeding them this hot mess?)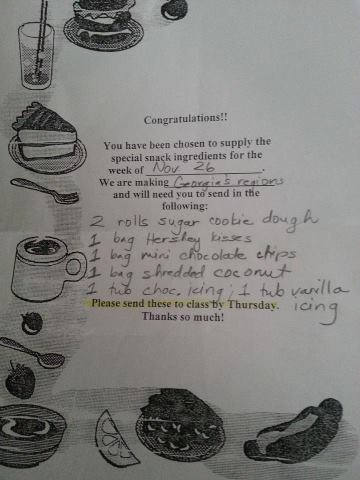 5.  Girl Scout Cookies?  Boy Scout popcorn?  Shite.
6.  Hawaiian Punch and Capri Sun to drink?  How about some blue Powerade?  Conventional milk in the lunchroom with NO option for WATER?  What is wrong with just drinking water all day?
7.  If you are out and about, doing after-school activities, running errands and the kids start to scream hunger (and you didn't bring anything with you), where are you supposed to stop?  One of the new yogurt places that are on every corner?  Drive thru?  Get everyone out of the car and into the grocery store to get their "safe" snacks?  All a huge PITA.  No good options.
8.  One of the worst things I've seen lately was when I observed a self-contained middle school classroom with a friend.  Those kids had cans of coke on their desks, a token-economy store with full-sized Snickers and bags of Doritos to buy, and Friday life skills lessons on cooking . . . cooking processed crap.  The other classrooms in this school would never allow this.  Why would you give the kids with the worst learning and behavior problems this poison?  As much as I blame the administration for this, my real concern is with the teachers.  Why do you want to make your job harder by feeding kids foods proven to ruin behavior?  Boggles my already scrambled mind.
The whole thing just burns my beans.
Booty Kicker summed it up the other day when discussing a situation she had faced at Sunday school last week: "I am just so sick of how food-obsessed we all are. I mean, he is in church for just a bit over an hour. WHY is a snack necessary??? WHY do we have to feed our kids JUNK???" (Let's not leave out the fact that the brightly colored cupcakes in the Sunday school room caused her son to have an allergic reaction, and we don't think he even snuck one, they were just in the same room.  But that's a whole other blog post.)
I've been so discouraged by all the food issues at school, that I sent both of our principals this book for Christmas.  When I heard the story of the Atlanta elementary school principal who banned sugar and added bottled water at her school, I was in love, as her school's test scores went up TWENTY-FIVE percent in ONE year.  She even put the teachers on an exercise schedule. WOW!
It would be a breath of fresh air if others who spend time with my children (family, teachers, therapists, friends' parents) would leave it up to ME to be the one to give the "treats" that everyone seems to believe kids deserve every day.  When I worked at a pediatrician's office sharing information about dietary interventions for autism and ADD, it was shocking how many mothers couldn't even consider a special diet because so many people (including husbands, ex-husbands, parents and in-laws) would undo it behind their backs, wasting their money, effort and time.  It's a sad state of affairs.
I think one of my new goals is to get through a week completely comfortable with the foods my children have ingested.  All of it.  I'm telling you, every time I bend the "rules" and let them have something outside my comfort zone, my stomach hurts and I get really mad at myself, and oftentimes we even get big meltdowns.  I was very diligent when my son was in a more severe place, and I have got to keep up the effort to keep both of my children as healthy as possible, no matter how hard it is to say "no" to them and to the ones who want to give him the bad stuff.  It would be really nice if more people would realize the importance of this issue and make it a healthier world for all of our children.  People need to open up the peepers and get with the program.  Food can make the difference for our children.  No doubt about it.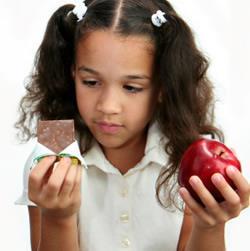 ~ Blaze
For more blogs by Blaze, please click here.