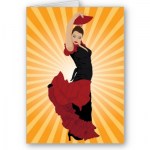 I find that when I discover information that's been helpful for me I want to immediately tell it to other people.  One of the most amazing parts of our community is how much we are able to share with each other.  From analyzing medical tests, to forwarding links to vaccine studies, to sending coupon codes to reduce expensive supplement shopping orders, many of us strive to help another Thinker out.
Reading everything and anything we can get our hands on is more than a pastime.  I feel like I've devoured every sort of magazine, guide and book about autism, vaccine injury and special education.  Whatever I could get my hands on, if I thought it might help me help Ronan, I read.  If it did help Ronan, I made sure to pass the info along to another parent hoping it would help them, too.  So, a few years ago, when I discovered The Autism File ,  ". . . a bi-monthly magazine dealing with all aspects of autism . . . ," I added it to my 'must read' reading list.  I was more than pleasantly surprised with that discovery–here was a great magazine packed with articles written for parents like me by parents like me!
Never in a million years did I think I'd end up being one of the parents to share my ideas in a magazine.  But I feel very lucky to have done just that in The Autism File magazine.
If you haven't discovered The Autism File yet yourself, consider this an introduction from one friend to another.  I do believe once you've read the magazine and checked out their website, you will walk away learning something new.  From topics that include vaccination coverage, diet and nutrition, recipe pages for gluten and casein-free diets, sibling and family views on treatments tried and tested, and books, videos, and websites, the team of writers and their passion for providing meaningful information to the autism community shines through each and every page.
Thank you, Autism File, for being a source for so many.  Here is one of my recent articles that I hope you enjoy.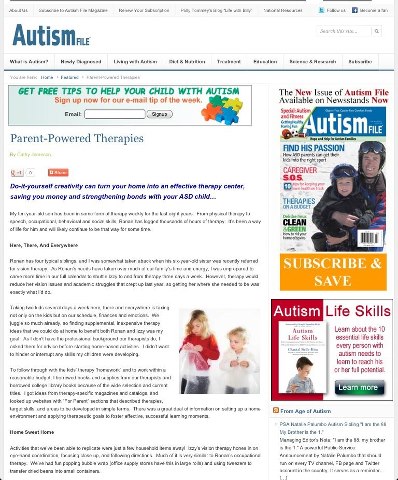 "Parent-Powered Therapies" by Cathy Jameson, Autism File. Please click on the image to read the article in full or click here. Alternatively, you can copy and paste this URL on your browser 
http://www.autismfile.com/treatment-therapy/parent-powered-therapies
~ Mamacita
For more blogs by Mamacita, please click here.