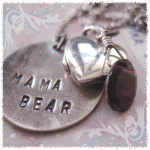 March 8, 2012: Mama Bear takes a look at friendships. Enjoy ♥
"I realized that the same people who had once grabbed my hand and giggled with me in agreement about unimportant things, were the same people who wanted nothing to do with my now "broken" family.  I went into mama bear mode and was always one step ahead of Nicky.  
I became the weirdo.  I became antisocial.  I became sheltered."
Please read the full article here Friend or Foe by Mama Bear.