Meet the generation we refuse to lose to Autism and let's turn awareness into action TOGETHER!
If you are unable to view the video above, please click on this link Meet The Generation of Children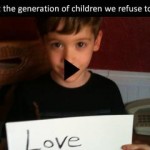 The Thinking Moms' Revolution would like to thank all those who voiced and showed their support during the AutismOne/ Generation Rescue Conference 2012.
We enjoyed meeting each and every one of you and sharing our stories of hope and recovery.
We're here.  We're listening.  We're fighting.
Read our Blog and join us daily as we forge forward, hand in hand, into a future full of hope.