I can do all things through Him who strengthens me. –Phillipians 4:13 (and the opening bible quote for Mel's chapter in our book, The Thinking Moms' Revolution)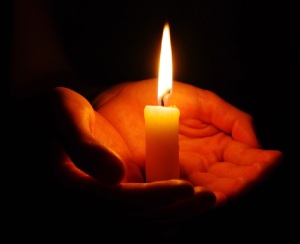 Mel was sort of an odd addition to our motley group of 24. Many of us potty mouthed, observing no particular faith or religion, our only common link the voracious pursuit of recovery for our children; Mel was the quiet, strong, unwavering presence of a faithful follower of Christ amidst our miasma of beliefs and disbelief. When you have a child who has been injured as ours were, it changes you. Your heart and mind can become infested with distrust, anger, and unbelief, rage, jealousy and rancor. It is so hard to remain trustful and loving in the presence of a child who suffers day in and day out. It is hard to remain optimistic, caring and open minded; much less allow others into your world. Yet, somehow, our group of 24 cleaved to one another like the families we wished we were born into. Mel, was the mature voice of the big sister I never had, even though she was many years my junior.
Mel accomplished many things during her time with us. She kept her marriage together (and a priority), sought recovery for her precious Luke, authored a chapter in our book, that spoke to the hearts and minds of THOUSANDS of parents —while she was either enduring cancer or recovering from it! I do not have cancer, and there are days I wake up wishing so much that I could go back to bed instead of face the day. Caring for our incredibly high needs kids is very hard labor, mentally and physically.
I sincerely never, EVER heard Mel complain about it. She talked from time to time about her pain, but—it was always with a bent toward a solution…not just to say she hurt, but to seek answers as to how she could fix it. She was always in the process of finding answers for herself and for Luke. She was always doing everything in her power despite tremendous odds to be a part of the solution. She wanted everyone whose lives she touched to see the face of Jesus in her deeds and actions.
I know lots of Christians who want to be good Christians; Melanie actually was one. She defined selfless love and service in so many ways. In ways we would not typically think. When she and Luke were not warmly received by certain factions in her faith, she spoke out. Many, feeling spurned and rejected, would turn to gossip and anger. Not Melanie. Melanie spoke with an admirable directness and a righteous anger about these episodes in a way that inspired others to find their voice and speak out in their churches. She gave others the courage to create special needs ministries that demonstrate compassion and the true embodiment of the concept of including ALL GOD'S CHILDREN…in particular "the least of these."
Her courage and increased faith in the face of rejection was probably one of her most admirable qualities. I would be the one to become angry at the church in general when she and I discussed this. "LJ, these are just people who follow Jesus, not Jesus. It's the people. Not God." She had a marvelous knack for separating the person from the sin and loved the person anyway. Politicians and diplomats could learn a thing or two from Mel's policies on forgiveness and communication.
If you've read her chapter, you know, her real life was quite a departure from the vision she held as a child. She talks about the romantic wedding, life in a monstrous house in the burbs, lots of kids and money, glorious money. Knowing her character as all of us TMRs do—none of that mattered to her, really. She did marry the man of her dreams, but, then their pride and joy became ill. That pretty much nixes the house in the burbs and any notion of wealth flies out the window. Recovery is obscenely expensive. Watching your child suffer is excruciating—and that suffering now becomes the focus of your entire life, every single day, until that suffering is alleviated. Melanie defined the experience of parenting a special needs child who suffers as Luke does, in a way that was actually freeing for many people who could not themselves qualify or describe, the pain we all endure. Her heart ached for her son. Upon meeting Luke for the first time, Dragon Slayer and I were overcome with emotion. We held out our hands to touch his frail frame and shared a good cry. We all yearn for recovering for our children, but, I believe Mel ached for it.
Her love for Luke was so pure and so powerful, I am sad the words I have been given are not enough to describe it. You could feel it in her presence. They were one in so many ways. When you enter the "recovery culture" it is often frowned upon to be anything less than positive—the idea being that we have to keep ourselves up for our kids, for our families—always on the trajectory of healing. Mel's way of approaching her life always gave me permission to see things in my life as they really were. She was hopeful and faithful and strong and committed but she recognized and legitimized when issues needed to be dealt with and when things were less than great. She was so very honest. She saw what was good and said so, she saw what was bad, and said so too. It is a much less complicated life, and a good one, to live as she did. When Luke was having a great day, we all got to share in that joy. It was raw and wonderful and splendid and we all rejoiced. When he had a bad day, we all came together—offered virtual hugs and prayed for their relief.
Mel inspired me, and so many others to keep going. Fall down, get up, pray…keep praying, stay strong and faithful. That was Mel. She lived her mission completely. You knew she was a follower of Christ because of her actions. She never had to open her mouth to evangelize because she was constantly living the example. We are all so much better for having known her and so blessed to have called her our friend. She will live on in our hearts always. Her love, commitment and compassion will define our decisions as Thinkers, as we move forward. We love you forever and you are always with us Booty-Kicker! Love, your faithful TMs (and Sunil!)