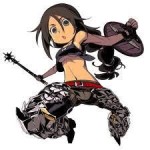 Today is my son's 10th birthday.  Officially double digits.  I can't believe it.  I've been thinking back to the time I was pregnant and after he was born, and I keep thinking, "Has it been 10 years already?"  It just doesn't seem possible that an entire decade has gone by.  While the United States has been engaged in two wars during this time, I've been fighting a decade-long war of my own — healing the damage inflicted by vaccines, anesthesia, and environmental toxins.  It has been a tour of duty that has tested me on a daily basis, with long uphill battles and struggles I couldn't even have imagined when I first held him in my arms.
Back in 2002, autism was on my radar, but I didn't know 1/10th of what I know now.  I literally depended on my pediatrician for the answers to all my questions about vaccines.  I knew he would do what was best for my child, and would be honest and truthful and always look out for the best interests of my child.  Oh, how times have changed!  Back then, I did do some research on the internet, but it was very limited because 10 years ago the internet wasn't what it is now.  I think I got my first computer in 1999!  And I didn't spend very much time on it either.  I was planning a wedding and starting a new job.  When it came time to have a baby, I went to my OB/GYN for all of my questions thinking that he would have all the right answers.  Fast forward 10 years and I have no faith in the medical community anymore, and I've had choice words with more than one so-called "expert."
When my son was a newborn, I read What To Expect The First Year like it was my Bible to make sure he was hitting all of his milestones at the right time. For the most part, he did.  He was a little late on some things, but nothing that would have raised any red flags.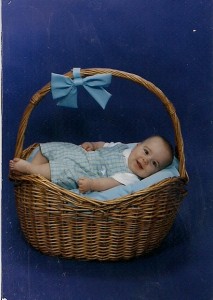 Of course, after every round of vaccinations, he developed a  very high fever and hysterical crying for three days, but that was all "normal."  When he said his first word at 10 months old, my husband was thrilled that it was "dada."  By 11 months old he was babbling away with "mama" and "dada" and a few other words.  This is a picture I took when Michael was 11 months old.  We had a happy, developmentally on-track baby, responding to his name, and terrific eye contact.  At 12 months, our tour of duty began.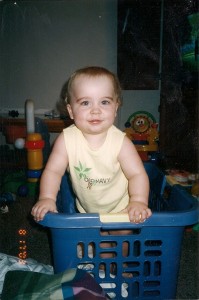 At his 12 month old well-baby visit, my son received a round of vaccines that he never recovered from.  By 13 months, he lost all speech, had low muscle tone, and minimal eye contact.  He was zoned out most of the time and stopped responding to his name.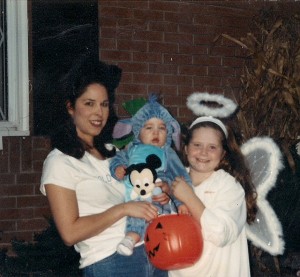 The vaccines he received still contained thimerosal in 2003, two years after it was supposedly taken out, coupled with the MMR and Varicella shots, all at the same visit.  By this time, I was reading What To Expect the Toddler Years and would rifle through the pages with increasing anxiety.  Every month that went by, he was not hitting his milestones.  Panic began to set in.
At 15 months, Michael was diagnosed with hip dysplasia.  Both hips dislocated.  I was devastated.  Having to go through the two weeks in traction, the hip operation and hip spica casts was a time in my life I don't want to relive ever again.  I hated watching my child suffer.  He was such a trooper through all of it, even learning to crawl with his cast on.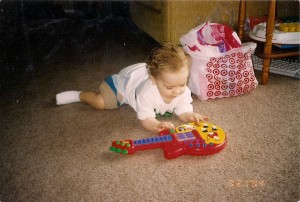 After six months in the cast, he finally took his first steps five months later, right after his second birthday — another milestone.  We started PT, OT and speech right about this time as well.  A month before his third birthday, we got the diagnosis of autism.  This was 2005; ironically, the year Autism Speaks came on the scene.  At this time, I was able to use Google to do my research about vaccines and the autism connection.  What I read was chilling.  I came across a website detailing a secret meeting the CDC held about the vaccine-autism connection at Simpsonwood Retreat in Norcross, Georgia in June of 2000.  This was TWO YEARS before my son was born.  Could my son's autism have been prevented if mainstream doctors knew this information?  Did the pediatricians know this and choose to ignore it?  I'll never know the answers to these questions.
My anger turned into advocacy for my son. I Googled nonstop between therapy sessions and school and IEP meetings.  I changed our diets and the way I looked at food.  I became more educated, all the while being amazed at the fact that I didn't know any of this before.  It's not something the news channels talk about.  It's not something your pediatrician will talk about.  We only get the propaganda that vaccines are good for you, and how dare you not vaccinate your baby!
At five years old, my son was diagnosed with hypothyroidism and type 1 diabetes.  At six years old, he was diagnosed with a seizure disorder.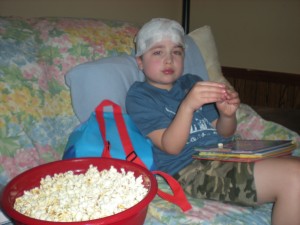 While this latest diagnosis was another devastating blow for us, Michael started to say letter sounds about this time.  We were elated for this!!  I have always prayed for speech.  We waited five long years for anything speech-wise, and it was finally emerging.  But with the good has always come the bad.  Dealing with the medical issues he's developed from these early toxic insults to his immature immune system has been a 24-hour/7-days-a-week, full-time job.
My heart aches for my son.  He's very limited in what he can do.  Not only does the autism hold him back, but so do all of his medical problems.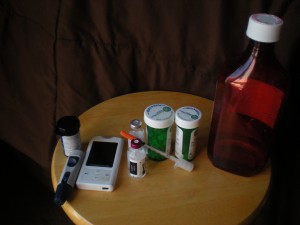 It gets very frustrating for his sister too.  Even though she is very patient and understanding, she's only 7 years old and wants to know why Michael can't do the things she does.  As much as we try to allow her time to do her own things, she still misses out on parties and activities because her brother's sensory issues just can't tolerate it.
So here we are at 10 years old.  We've had a lot of ups and downs along the way.  A lot.  People have told me they don't know how I do it.  I tell them that my son is my hero and inspiration, and my love for him will always make me learn more, fight harder, and advocate louder.  As we embark on his second decade of life together, my resolve is still the same — recovery is always in my rear view mirror.  Always.  Many people have told me to just give up the hope of recovery and enjoy your life and accept the autism.  Look at this precious face.  Could you tell him, "I'm giving up on you and the potential of what you could be?"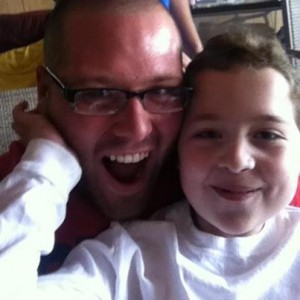 We hit a pretty big milestone just this past summer.  My son is able to say "I Love You, Mom."  I had to wait nine long years to hear those words, and it was absolute Heaven to my ears!  My birthday wish for you, Michael, on your 10th birthday is to continue to grow and find your voice every day.  You will achieve more milestones in the coming years, and we will celebrate together.  Know that I will continue to fight and advocate for you.  Always.  Love, Mom.
~ Savage