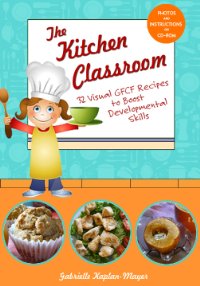 Since my GFCF children's cookbook, The Kitchen Classroom, was published two years ago, I've had the opportunity to speak with many parents, live and over Skype, who are doing dietary interventions to support their children's healing. In my workshops and presentations, I offer parents simple steps to bring their children into the cooking process, and to work on a range of skills — from sensory integration to reading and math — while they cook.
I often share a bit about my own family's story — how when my son George was four, we started both an RDI (Relationship Development Intervention) program and the GFCF diet, and that cooking simple foods together — that George could eat — not only supported his nutritional health, but also gave us an experience we could share. I would hold the bowl; George would stir. I would slice a lemon; George would squeeze its juice. For a child who regularly shut me out, our time cooking together created a space in which we could easily relate to one another.
The experience of cooking together brought me — and still brings me — great joy. In our healing journeys, we don't often get to think about the impact on us, as parents, of raising a child who doesn't naturally relate socially. When George was younger, and my regular state of mind vacillated between despair and overwhelm, I don't think that I recognized the importance of creating an activity for George and me that brought us so much joy.
Now, with the space that I've created to reflect on my life, I have no doubt that the connections we've shared in the kitchen have bubbled over and extended into other moments. Five years since we started cooking together, we easily connect during lots of other activities: working on George's reading program, taking walks, swimming, blowing bubbles together. George's recovery comes in waves; there are so many areas in which he still struggles (especially communication), and there are so many areas in which we have seen great healing (especially in his digestive system).
My husband and I have accepted and embraced that we are running a marathon with George's healing process, and at times we slow down, at other times we pick up speed. But we do our best to stay present, to seek out joy, to live as a happy family, supporting each other with love and patience (on most days!). We have moved through our grief.
I'm not willing to wait until George has perfect healing to start our family life. Right now, many social situations are awkward, and George requires a lot of support in so many ways. And yet, because we have slowed down and focused on simple ways to connect and communicate, we are a much more joyful family than many of our peers with typically developing children.
Please watch The Kitchen Classroom Quick Tips #1 video. Prep work for cooking: Gabrielle and her son demonstrate how to break eggs with your child. For a child who has sensory issues, prep work provides the perfect way to engage in the recipe.
If you are unable to view the video, please click here.
So when I share my experiences and techniques with parents, I encourage them not only to get in the kitchen and start cooking with their kids, but also to slow down and adapt whatever activity they love to do for an experience that they can share with their child. If you love to fish, find a way to teach your child to fish. If you love to sew, to paint, to sing in your church choir, don't hold off on sharing those experiences with your child.
For me, cooking is a passion and our whole family is so much healthier cooking simple, nutrient-dense, unprocessed food. My recipes and techniques are all about simplicity and connection, and I am here to support you in your healing journey.
~ Gabrielle Kaplan-Mayer
* Gabrielle Kaplan-Mayer is the author of The Kitchen Classroom: 32 Visual GF/CF Recipes to Boost Developmental Skills. She presents to autism support groups via Skype all over the world, and would love to bring The Kitchen Classroom to your group. She also does private parent consulting to start cooking programs in your home. Check out her blog at www.kitchenclassroom4kids.com.